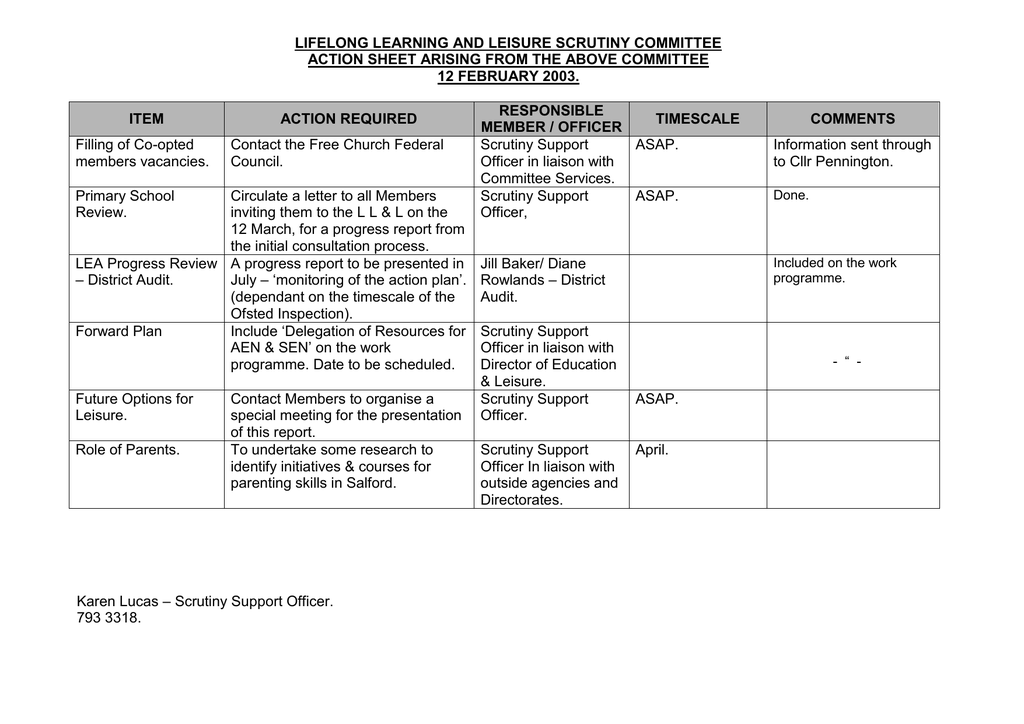 LIFELONG LEARNING AND LEISURE SCRUTINY COMMITTEE
ACTION SHEET ARISING FROM THE ABOVE COMMITTEE
12 FEBRUARY 2003.
ITEM
Filling of Co-opted
members vacancies.
ACTION REQUIRED
Contact the Free Church Federal
Council.
Primary School
Review.
Circulate a letter to all Members
inviting them to the L L & L on the
12 March, for a progress report from
the initial consultation process.
LEA Progress Review A progress report to be presented in
– District Audit.
July – 'monitoring of the action plan'.
(dependant on the timescale of the
Ofsted Inspection).
Forward Plan
Include 'Delegation of Resources for
AEN & SEN' on the work
programme. Date to be scheduled.
Future Options for
Leisure.
Role of Parents.
Contact Members to organise a
special meeting for the presentation
of this report.
To undertake some research to
identify initiatives & courses for
parenting skills in Salford.
Karen Lucas – Scrutiny Support Officer.
793 3318.
RESPONSIBLE
TIMESCALE
MEMBER / OFFICER
Scrutiny Support
ASAP.
Officer in liaison with
Committee Services.
Scrutiny Support
ASAP.
Officer,
Scrutiny Support
Officer In liaison with
outside agencies and
Directorates.
Information sent through
to Cllr Pennington.
Done.
Included on the work
programme.
Jill Baker/ Diane
Rowlands – District
Audit.
Scrutiny Support
Officer in liaison with
Director of Education
& Leisure.
Scrutiny Support
Officer.
COMMENTS
- " -
ASAP.
April.