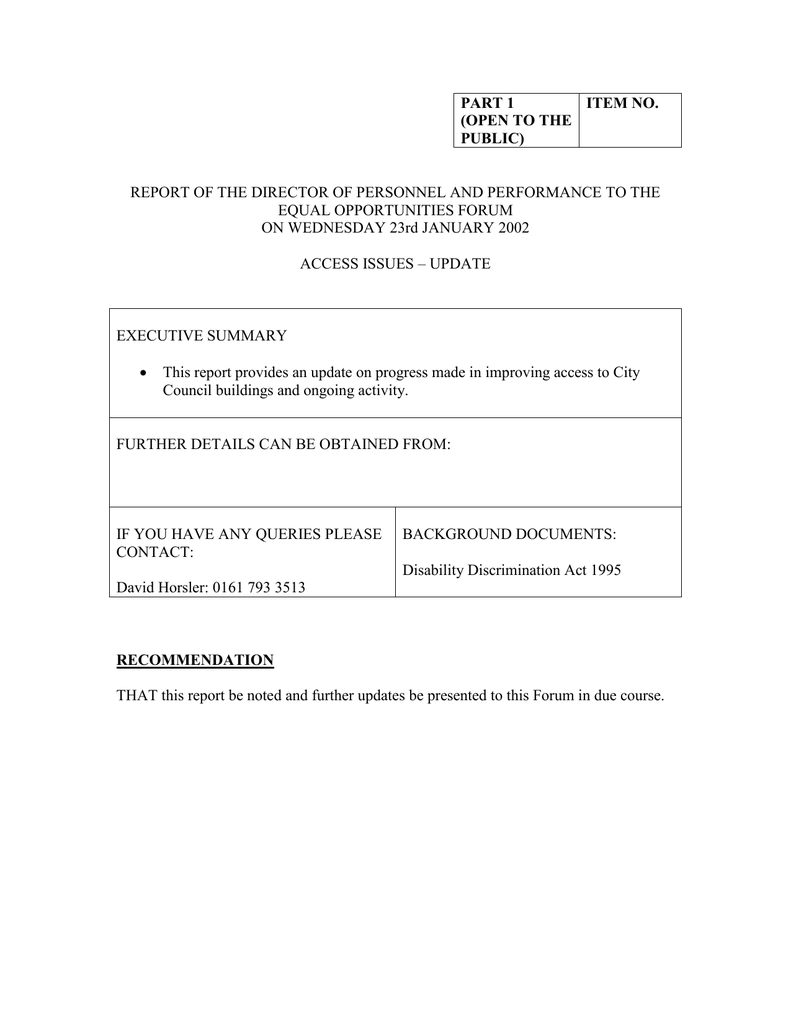 PART 1
ITEM NO.
(OPEN TO THE
PUBLIC)
REPORT OF THE DIRECTOR OF PERSONNEL AND PERFORMANCE TO THE
EQUAL OPPORTUNITIES FORUM
ON WEDNESDAY 23rd JANUARY 2002
ACCESS ISSUES – UPDATE
EXECUTIVE SUMMARY

This report provides an update on progress made in improving access to City
Council buildings and ongoing activity.
FURTHER DETAILS CAN BE OBTAINED FROM:
IF YOU HAVE ANY QUERIES PLEASE
CONTACT:
BACKGROUND DOCUMENTS:
Disability Discrimination Act 1995
David Horsler: 0161 793 3513
RECOMMENDATION
THAT this report be noted and further updates be presented to this Forum in due course.
1.
BACKGROUND
1.1
Part 3 of the Disability Discrimination Act, 1995 (Access to Goods, Facilities
and Services) came into force on 2nd October 1999. It requires service
providers like the City Council to take reasonable steps to change policies,
practices and procedures which make it impossible or unreasonably difficult
for a disabled person to use Council facilities. The requirement to make
alterations to the physical environment to ensure services are more accessible
becomes a statutory duty from 2004.
This Forum considered a report on 'access' and 'services' for disabled
people in January 2001.
That report identified proposals to establish funding within the capital
programme and within the maintenance and repairs budget to make specific
resources available to upgrade City Council buildings in line with the
statutory requirements identified by the Disability Discrimination Act 1995.
1.2
Monies have been made available in 2001/2 for this purpose. In addition an
appointment has been made to the post of Access Officer for the authority.
This post reports to the Director of Personnel and Performance who
continues to liase with the Director of Development Services to ensure best
value.
1.3
This report identifies a number of projects promoted as a result of these
arrangements and proposals for the next phase of improvements.
2.
DETAIL
2.1
An audit has been compiled of all City Council buildings. Criteria have been
established to determine priorities for access improvements. As a result of
this process a number of projects have been progressed within the current
financial year.
The Criteria are as follows:
 Future of the building
 Relationship with other alterations to be made
 Volume and variety of use
 Variety of the client base dependant on need
 Ease of adaptation
2.2
Civic Centre Access
The first phase of work to improve access to the Civic Centre was completed
in the late autumn. Drop kerbs, new ramping and railings have been built to
ensure easier access for people with a variety of impairments to the reception
area of the Civic Centre.
The second phase of the adjustments is now underway. This involves
replacing the entrance doors with a power-door system. There will also be a
new exterior intercom system. The new system has two levels of intercom
access so that people who use wheelchairs and taller people can both access
the system. The intercom button will be contrasting in colour as to stand out
visually and is to stand proud so that people can easily push it.
2.3
Loop System – Civic Centre
Investigations have been made concerning the cost and availability of
providing a 'loop' system in the Council Chamber, Committee Rooms and
Reception of the Civic Centre to help hearing impaired Members, Officers
and members of the public.
Following consultation the following programme of work has been agreed;
 Install induction loop system in the Council Chamber utilising the
existing sound system.
 Install induction loop system in 4 Committee Rooms.
 Install one fixed miniloop within the reception area.
 Install one fixed and supply one portable miniloop within the Licence
Office.
 Supply 2 portable miniloops for use within other meetings rooms.
This work will be carried out in the next few weeks.
2.4
Crompton House
An detailed survey of the entrance and ground floor of the Community and
Social Services facilities at Crompton House was undertaken in December.
Areas for improvement have been identified with regard to;
 Road crossings
 Parking
 Signage
 Front door access
 Lighting
 Reception arrangements
 Offices
 Lifts
A further survey of the second and third floors will be undertaken in early
February.
Following the completion of the survey, plans will be drawn up to bring
these facilities up to standard with work being phased within budgetary
constraints.
2.5
Minerva House
The Access Officer has been working closely with the Director of Education
and Leisure to improve access to Minerva House in parallel with the
relocation of offices to this site.
Most of the adjustments identified have been in terms of signage and other
small works.
3
THE DISABILITY DISCRIMINATION ACT AND SCHOOLS
Part II of the DDA – Special Educational Needs and Disability Act 2001
2001 Act deals with disability and discrimination in education.
Chapter 1 of Part II applies to schools and Chapter 2 of Part II deals with
further and higher education institutions.
At the request of the Director of Education and Leisure the Access Officer
has been consulted about the most cost effective way of auditing all schools.
A decision on the best way forward will be advised in due course.
4
OTHER ISSUES
The Access Officer has been involved in consultations regarding a number of
issues of access within the built environment of Salford which do not strictly
fall within the remit above, but which are of importance to disabled citizens.
In such circumstances best advice has been given.
The areas include;




5
Access to 'RADAR key' toilets at Salford Shopping City.
Wheelchair access to Salford Quays.
Car parking at the Lowry.
Black Cab parking.
CONCLUSION
Since the previous report to this Forum significant progress has been made
with regard to disabled access to City Council buildings. Additionally the
profile of the needs of disabled people has been raised both across the City
and with employees.
There is still a significant agenda to be addressed but it is recognised that
with close inter-Directorate working demonstrable advances are being made.