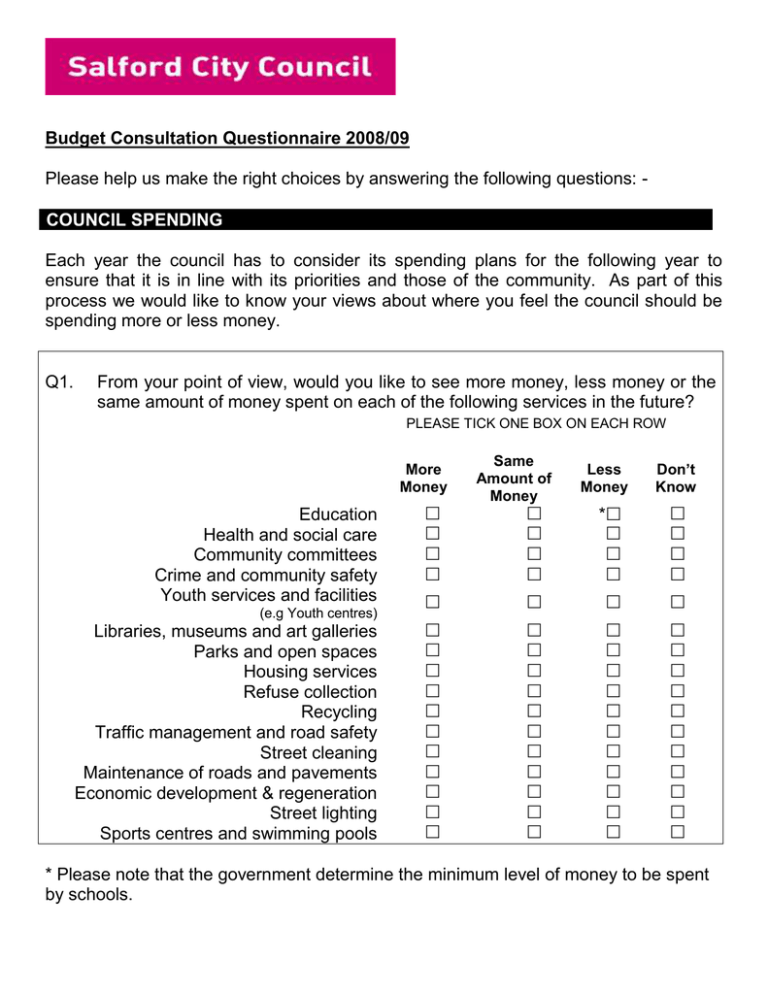 Budget Consultation Questionnaire 2008/09
Please help us make the right choices by answering the following questions: COUNCIL SPENDING
Each year the council has to consider its spending plans for the following year to
ensure that it is in line with its priorities and those of the community. As part of this
process we would like to know your views about where you feel the council should be
spending more or less money.
Q1.
From your point of view, would you like to see more money, less money or the
same amount of money spent on each of the following services in the future?
PLEASE TICK ONE BOX ON EACH ROW
More
Money
Education
Health and social care
Community committees
Crime and community safety
Youth services and facilities
(e.g Youth centres)
Libraries, museums and art galleries
Parks and open spaces
Housing services
Refuse collection
Recycling
Traffic management and road safety
Street cleaning
Maintenance of roads and pavements
Economic development & regeneration
Street lighting
Sports centres and swimming pools
Same
Amount of
Money
Less
Money
Don't
Know








*























































* Please note that the government determine the minimum level of money to be spent
by schools.
Q2.
In 2007/08 the average council tax paid in Salford was £941 per household.
Which of the following options for next year do you feel is most appropriate?
PLEASE TICK
ONE BOX
An increase in council tax of 3% to maintain council services at
existing levels?

An increase in council tax above 3% in order to improve
priority council services?

A decrease in council tax levels even if it meant a reduction in
the level of services?

Council tax to remain at the current level with some reduction
in the level of service?

Q3. Do you agree/disagree with any of the following statements about Salford City
Council?
Definitely
agree
Probably Neither
agree
/ nor
Probably
disagree
Definitely
disagree
Don't
know
PLEASE TICK ONE BOX ON EACH ROW
Salford City Council
provides good value for
money for the council
tax that residents pay






Salford City Council
provides better value
for money compared to
a year ago






Salford City Council
has its level of council
tax about right






SATISFACTION WITH COUNCIL SERVICES
We are interested to know your views about council services.
Q4.
Q5.
Overall, how satisfied or dissatisfied are you with the services provided by
Salford City Council?
PLEASE TICK ONE BOX
Very
satisfied
Fairly
satisfied
Neither
satisfied nor
dissatisfied
Fairly
dissatisfied
Very
dissatisfied





Is there one service which you are particularly dissatisfied with?
If so, which service is it and why?
PLEASE WRITE IN
SERVICE:
WHY?
COMMUNICATION
Q6. In which community area do you live?
Claremont/Weaste

East Salford

Eccles

Irlam & Cadishead

Little Hulton & Walkden

Ordsall & Langworthy

Swinton

Worsley/Boothstown

Q7. We are looking to improve the way we consult the public in future and would like
to be able to communicate by e-mail where possible. If you would like
information to be sent by this method please supply your e-mail address below.
If you wish to receive details of the consultation feedback please provide your
name and address below. The address you have provided will not be used for
any purpose other than budget consultation.
Post code
E-mail
Thank you for taking the time to complete this questionnaire.
If you have any specific questions regarding the council's budget contact us by:
 Email: [email protected]
 Writing to: Budget Consultation, FREEPOST-RLUE-CELG-RHST, Unity
House, Civic Centre M27 5FJ
 Telephoning: 0161 793 3057
A public meeting will be held to discuss the council's budget for 2008/09 on 15th
January 2008 at the civic centre, Chorley Road, Swinton at 6 p.m. Come along
and give your views on what the council's priorities should be for next year.
More details of the budget proposals for next year can be found at
www.salford.gov.uk/budget-consultation
Please return completed questionnaires using the Freepost address above by
16th November 2007.