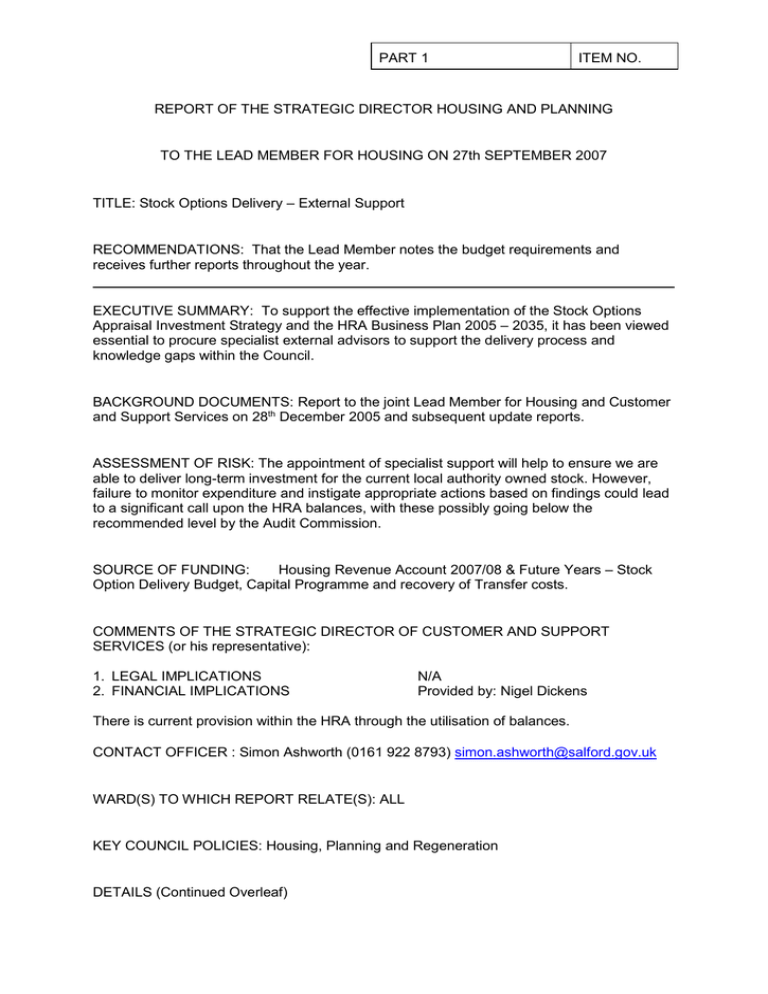 PART 1
ITEM NO.
REPORT OF THE STRATEGIC DIRECTOR HOUSING AND PLANNING
TO THE LEAD MEMBER FOR HOUSING ON 27th SEPTEMBER 2007
TITLE: Stock Options Delivery – External Support
RECOMMENDATIONS: That the Lead Member notes the budget requirements and
receives further reports throughout the year.
EXECUTIVE SUMMARY: To support the effective implementation of the Stock Options
Appraisal Investment Strategy and the HRA Business Plan 2005 – 2035, it has been viewed
essential to procure specialist external advisors to support the delivery process and
knowledge gaps within the Council.
BACKGROUND DOCUMENTS: Report to the joint Lead Member for Housing and Customer
and Support Services on 28th December 2005 and subsequent update reports.
ASSESSMENT OF RISK: The appointment of specialist support will help to ensure we are
able to deliver long-term investment for the current local authority owned stock. However,
failure to monitor expenditure and instigate appropriate actions based on findings could lead
to a significant call upon the HRA balances, with these possibly going below the
recommended level by the Audit Commission.
SOURCE OF FUNDING:
Housing Revenue Account 2007/08 & Future Years – Stock
Option Delivery Budget, Capital Programme and recovery of Transfer costs.
COMMENTS OF THE STRATEGIC DIRECTOR OF CUSTOMER AND SUPPORT
SERVICES (or his representative):
1. LEGAL IMPLICATIONS
2. FINANCIAL IMPLICATIONS
N/A
Provided by: Nigel Dickens
There is current provision within the HRA through the utilisation of balances.
CONTACT OFFICER : Simon Ashworth (0161 922 8793) [email protected]
WARD(S) TO WHICH REPORT RELATE(S): ALL
KEY COUNCIL POLICIES: Housing, Planning and Regeneration
DETAILS (Continued Overleaf)
1.
Monitoring
1.1
Appropriate systems have now been established to monitor expenditure in relation to
Stock Options Delivery, between the Option Delivery Team and Finance. Individual
costs centre have been established for the following areas:






Housing Options Team
Change Management
Common Service Provider
Public Finance Initiative
Local Housing Company
Arms Length Management Organisation
1.2
A brief summary of the expected project costs at this point in time through to the
establishment of the new organisations and PFI contract is outlined below.
1.3
As announcements are made and timetables become firmer together with functions
and tasks to be undertaken, then the figures quoted below can be refined.
£
Total
Budget
£
2007/08
£
2008/09
£
2009/10
£
2010/11
950,000
950,000
0
0
0
58,000
58,000
0
0
0
CSP
250,000
250,000
0
0
0
PFI
2,521,000
1,274,000
859,000
374,000
14,000
Transfer
1,672,000
1,372,000
300,000
0
0
ALMO
749,000
749,000
0
0
0
Total
6,200,000
Budget
Areas
Housing
Options Team
Change
Management
1.4
4,653,000 1,159,000 374,000
14,000
Outlined in the table below is a breakdown of headline expenditure for each budget
area identified in the summary table above. The information has been brought
together following discussions with the various project leads and forecasts made in
relation to the expected implementation timetable and contracts already approved.
£
2007/08
Budget
Housing Options Team
Change Management
CSP
PFI
Transfer
ALMO
Total
£
Actual
Spend
950,000
590,253
58,000
24,866
250,000
139,108
1,274,000 110,954
1,372,000 310,755
749,000
861,201
4,653,000 2,037,138
1.5
Although the ALMO costs have exceeded the budget it must be remembered that the
budgets were set based on a June launch date and because the launch actually took
place in July further costs were incurred during June. Additionally the original budget
did not fully allow for Legal costs for both the Council and Salix, plus all the
accommodation costs associated with the fitting out of Diamond House.
1.6
It should be noted that by working with officers from Salix it has been possible to
offset some of the implementation costs in the Management Fee. Additionally all
costs now being incurred are being borne by Salix within their approved Management
Fee.
1.7
Following the successful ballot for the transfer of West Salford's Housing stock to the
Local Housing Company this budget is now under review to determine the financial
requirements post ballot. This will inform the basis of the section 25 application to
Government for costs that will have to be incurred by the Council on behalf of City
West due to it not being established. It is anticipated that this will be reported to Lead
Member in the next couple of months once the figures have been worked through.
2.
Strategy for Funding Implementation Costs
2.1
As indicated above the possible future lifetime project costs identified are £6,200,000
and these will need careful monitoring.
2.2
It must be remembered that these costs cover the current financial year 2007/08 for
all the above functions and through to 2010/11 for PFI, although the transfer cost
profile and budget will require amending in the light of the Section 25 application.
2.3
The table below indicates a possible course of action for funding the costs:
Indicative Costs
£
6,200,000
Less Possible Transfer Set up Costs Recovery
1,000,000
Less Capitalisation of Stock Implementation Costs
1,500,000
Requirement from HRA Resources
3,700,000
Use of Balances in HRA 2007/08
Provision needed in 2008/09 HRA Budget & Future Years
3,300,000
400,000
2.4
The current level of HRA balances is £3.27m and if the above scenario arose then
this would leave balances at nil by the end of 2007/08. However as reported in the
HRA report this is a worst case scenario.
2.5
Additionally based on the current forecasted requirements for 2008/09 and future
years there should be the scope to re-establish balances to a more prudent level in
line with Audit Commission recommendations and as such the requirement for
2007/08 could be viewed as a timing issue.
3.
Recommendations
3.1
That the Lead Member notes the budget requirements and receives further reports
throughout the year.