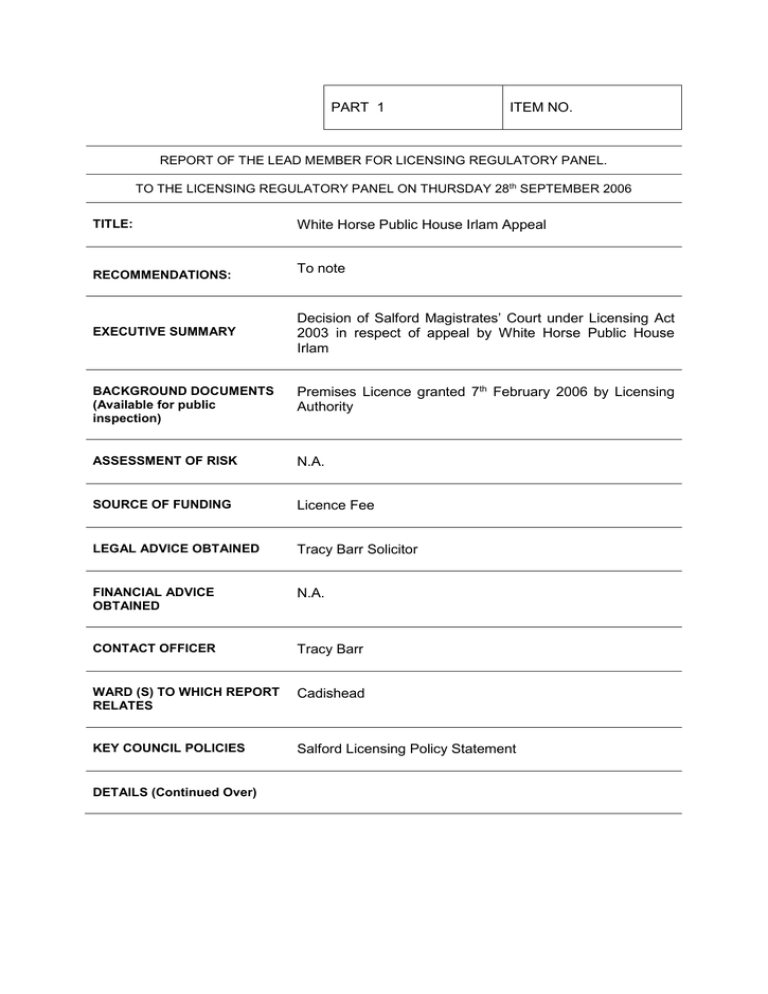 PART 1
ITEM NO.
REPORT OF THE LEAD MEMBER FOR LICENSING REGULATORY PANEL.
TO THE LICENSING REGULATORY PANEL ON THURSDAY 28th SEPTEMBER 2006
TITLE:
White Horse Public House Irlam Appeal
RECOMMENDATIONS:
To note
EXECUTIVE SUMMARY
Decision of Salford Magistrates' Court under Licensing Act
2003 in respect of appeal by White Horse Public House
Irlam
BACKGROUND DOCUMENTS
(Available for public
inspection)
Premises Licence granted 7th February 2006 by Licensing
Authority
ASSESSMENT OF RISK
N.A.
SOURCE OF FUNDING
Licence Fee
LEGAL ADVICE OBTAINED
Tracy Barr Solicitor
FINANCIAL ADVICE
OBTAINED
N.A.
CONTACT OFFICER
Tracy Barr
WARD (S) TO WHICH REPORT
RELATES
Cadishead
KEY COUNCIL POLICIES
Salford Licensing Policy Statement
DETAILS (Continued Over)
This report is to inform Members that the first appeal from a decision of the Licensing
Authority under the Licensing Act 2003 came before Salford Magistrates' Court on 5th
September 2006.
The appeal was lodged by the premises licence holder of the White Horse Public House in
Irlam. It followed a hearing before the Licensing Authority in February when the premises
had applied for a 24 hour licence.
The application sought the 24 hour sale of alcohol, regulated entertainment of every kind
and the maximum period of late night refreshment. Representations had been received from
3 responsible authorities, namely Noise Pollution, Health and Safety and the Police, as well
as a number of local residents.
At the hearing before the Licensing Authority, some of the representations were withdrawn
on the basis that the applicant agreed to abide by a number of conditions. The Licensing
Authority heard the evidence presented on the day, considered the written representations
and made a decision on the merits of the application before them.
Seven months later, when the case came before the Court on appeal, the circumstances
were totally different. In essence, only 2 of the original objectors wished to be heard by the
Court. On the strength of these objections, the licence holder reached agreement with the
objectors and in effect changed the whole substance of the application. The key points
involved the licence holder agreeing with the local objectors that he could sell alcohol until
2am, allow consumption for one further hour, provide regulated entertainment until 2.30am
indoors and until 11pm outdoors. The agreement incorporated virtually all conditions
imposed by the Licensing Authority.
The Court made an order in the terms of the agreement.
The Court also went on to order the licence holder to pay the Licensing Authority substantial
costs. This was on the basis that the appellant could have resolved the issues much sooner
and saved the Authority some of its legal costs in preparing the appeal.