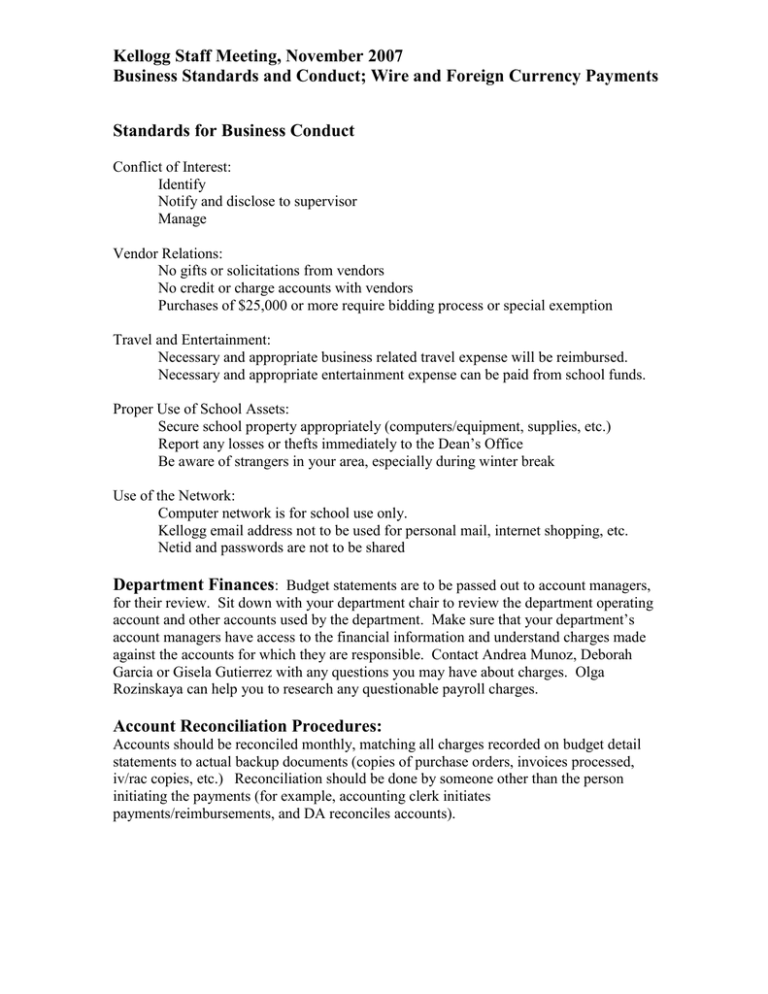 Kellogg Staff Meeting, November 2007
Business Standards and Conduct; Wire and Foreign Currency Payments
Standards for Business Conduct
Conflict of Interest:
Identify
Notify and disclose to supervisor
Manage
Vendor Relations:
No gifts or solicitations from vendors
No credit or charge accounts with vendors
Purchases of $25,000 or more require bidding process or special exemption
Travel and Entertainment:
Necessary and appropriate business related travel expense will be reimbursed.
Necessary and appropriate entertainment expense can be paid from school funds.
Proper Use of School Assets:
Secure school property appropriately (computers/equipment, supplies, etc.)
Report any losses or thefts immediately to the Dean's Office
Be aware of strangers in your area, especially during winter break
Use of the Network:
Computer network is for school use only.
Kellogg email address not to be used for personal mail, internet shopping, etc.
Netid and passwords are not to be shared
Department Finances: Budget statements are to be passed out to account managers,
for their review. Sit down with your department chair to review the department operating
account and other accounts used by the department. Make sure that your department's
account managers have access to the financial information and understand charges made
against the accounts for which they are responsible. Contact Andrea Munoz, Deborah
Garcia or Gisela Gutierrez with any questions you may have about charges. Olga
Rozinskaya can help you to research any questionable payroll charges.
Account Reconciliation Procedures:
Accounts should be reconciled monthly, matching all charges recorded on budget detail
statements to actual backup documents (copies of purchase orders, invoices processed,
iv/rac copies, etc.) Reconciliation should be done by someone other than the person
initiating the payments (for example, accounting clerk initiates
payments/reimbursements, and DA reconciles accounts).