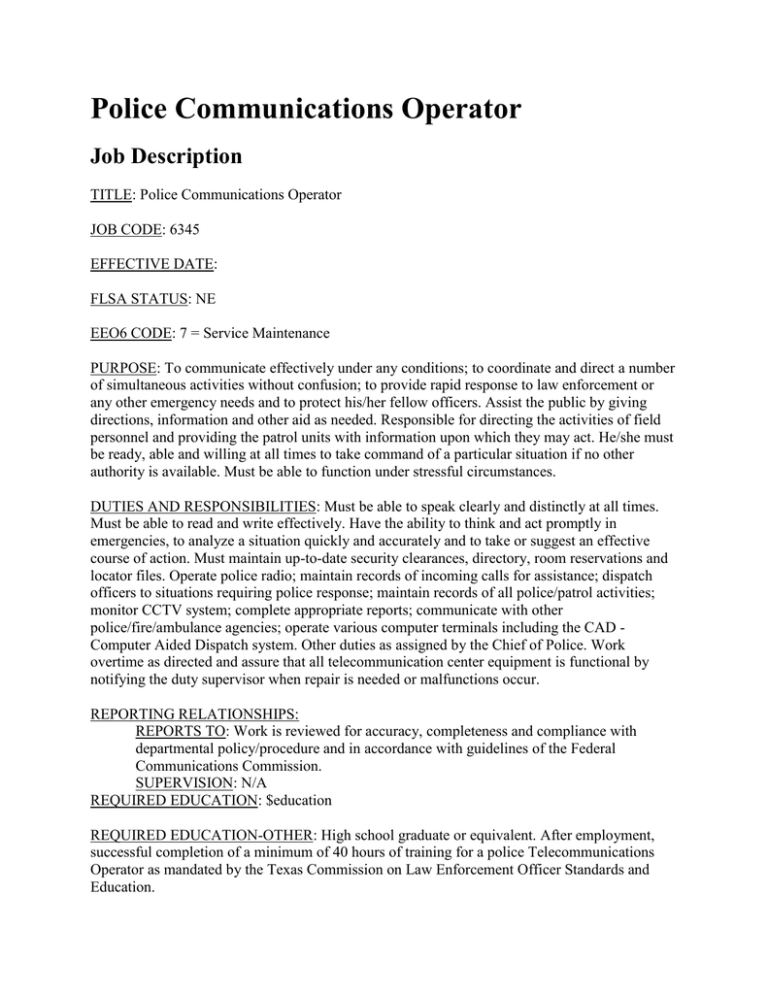 Police Communications Operator
Job Description
TITLE: Police Communications Operator
JOB CODE: 6345
EFFECTIVE DATE:
FLSA STATUS: NE
EEO6 CODE: 7 = Service Maintenance
PURPOSE: To communicate effectively under any conditions; to coordinate and direct a number
of simultaneous activities without confusion; to provide rapid response to law enforcement or
any other emergency needs and to protect his/her fellow officers. Assist the public by giving
directions, information and other aid as needed. Responsible for directing the activities of field
personnel and providing the patrol units with information upon which they may act. He/she must
be ready, able and willing at all times to take command of a particular situation if no other
authority is available. Must be able to function under stressful circumstances.
DUTIES AND RESPONSIBILITIES: Must be able to speak clearly and distinctly at all times.
Must be able to read and write effectively. Have the ability to think and act promptly in
emergencies, to analyze a situation quickly and accurately and to take or suggest an effective
course of action. Must maintain up-to-date security clearances, directory, room reservations and
locator files. Operate police radio; maintain records of incoming calls for assistance; dispatch
officers to situations requiring police response; maintain records of all police/patrol activities;
monitor CCTV system; complete appropriate reports; communicate with other
police/fire/ambulance agencies; operate various computer terminals including the CAD Computer Aided Dispatch system. Other duties as assigned by the Chief of Police. Work
overtime as directed and assure that all telecommunication center equipment is functional by
notifying the duty supervisor when repair is needed or malfunctions occur.
REPORTING RELATIONSHIPS:
REPORTS TO: Work is reviewed for accuracy, completeness and compliance with
departmental policy/procedure and in accordance with guidelines of the Federal
Communications Commission.
SUPERVISION: N/A
REQUIRED EDUCATION: $education
REQUIRED EDUCATION-OTHER: High school graduate or equivalent. After employment,
successful completion of a minimum of 40 hours of training for a police Telecommunications
Operator as mandated by the Texas Commission on Law Enforcement Officer Standards and
Education.
REQUIRED EXPERIENCE / COMPETENCIES-OTHER:
REQUIRED EXPERIENCES/COMPETENCIES: None.
OTHER REQUIREMENTS: Ability, through training, to acquire a knowledge of and skill in the
use of police radio equipment, telephones, various computer equipment (data entry) and
typewriters. Must be able to work on any assigned shift, with varying days off. Proficiency in all
phases of duties performed. Must have physical ability to perform assigned duties as detailed
above. Will be subject to a thorough character background investigation. Specific job
requirements or physical location of positions allocated to this classification render the position
security sensitive and thereby subject to the provisions of Section 51.215 Texas Education Code.