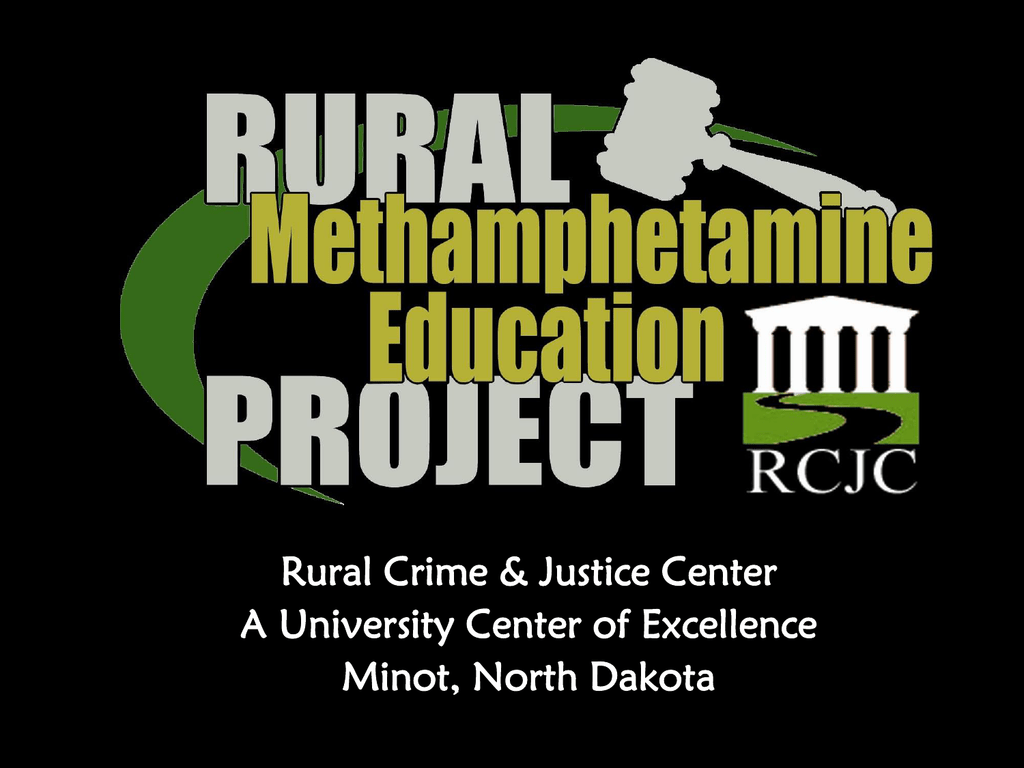 Rural Crime & Justice Center
A University Center of Excellence
Minot, North Dakota
Routes of administration
• Smoked
• Injected
• Snorted
• Ingested
• Absorbed
Meth & the brain
• A powerful central nervous system stimulant
• Neurotransmitters affected are
 Dopamine - pleasure system, motor control
 Epinephrine - appetite, mood, "fight or flight"
 Serotonin - mood, sleep
 Norepinephrine - sleep, mood
• Normal reuptake is inhibited
Meth & the brain
Immediate Effects
• Euphoria
• Increased heart rate
• Increased metabolism
• Blood vessels constrict
• Pupils dilate
• Increased body temperature
Following normal stimulation, the body should return to
normal. Methamphetamine sustains these effects for hours,
which places an extended burden on the nervous, respiratory
and circulatory systems leading to further adverse effects.
US HHS, CSAT 1999, NIDA 2002
Short-Term Effects
• Increased state of alertness
• Inflated sense of confidence
• Decreased appetite
• Hyperactivity
• Tremors and/or dizziness
• Palpitations
• Hyperthermia
• Seizures
Long-Term Effects
• Lowered resistance to all types of ailments
• Intense body odor
• Extreme weight loss
• Insomnia
• Mood instability
• Amphetamine psychosis
• Severe depression
• Stereotyped activity to include persistent,
compulsive and repetitive behaviors
Effects by ROA
Orally
Severe tooth decay.
Intranasal
(snorting)
Sinusitis, loss of sense of smell, congestion, atrophy of nasal
mucosa, nosebleeds, perforation or necrosis of the nasal
septus, hoarseness, problems swallowing, and throat
ailments.
Hoarseness, problems swallowing, throat ailments, and a
productive cough with black sputum.
HIV, hepatitis, tuberculosis, lung infections, pneumonia,
bacterial or viral endocarditis (inflammation of the lining of
the heart), cellulitis, wound abscesses, sepsis (the toxic
spreading of infection), thrombosis (blood clot), renal
infarction (partial or whole kidney death), and
thrombophlebitis (inflammation of a vein wall).
Smoking
Injecting
CA Dept of Alcohol & Drug Programs
Warning Signs
• Changes in attitude & persona
• Dramatic changes in appearance
• Lack of motivation or interest in school
• Avoiding family & friends
• Changes in sleep & eating patterns
• Lying/dishonesty
• Increase in borrowing money/stealing
• Evidence of drug paraphernalia
www.TargetMeth.com
www.theantidrug.com
The Partnership for a Drug-Free America
Other Signs & Effects
Rotten Teeth
Teeth Grinding
Dr. A.N. Morton, DDS
Washington State DOC
Other Signs & Effects
"Crank Bugs"
"Meth Mites"
Drug use over time
This is a series of arrest photographs of the same
woman taken over the course of 10 years that
graphically shows the changes to the human body.
Year
Year
Year
Year
Year
Year
YearSeven
Three
Eight
One
Two
Four
Nine
Five
Ten
Six
Any Questions?