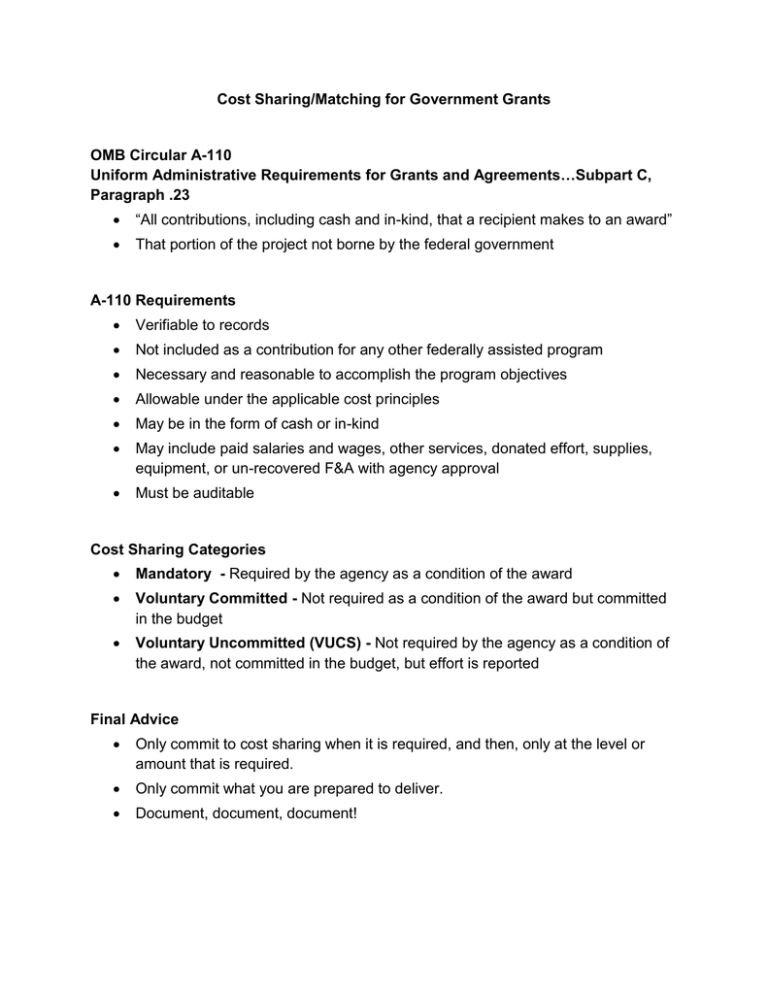 Cost Sharing/Matching for Government Grants
OMB Circular A-110
Uniform Administrative Requirements for Grants and Agreements…Subpart C,
Paragraph .23

"All contributions, including cash and in-kind, that a recipient makes to an award"

That portion of the project not borne by the federal government
A-110 Requirements

Verifiable to records

Not included as a contribution for any other federally assisted program

Necessary and reasonable to accomplish the program objectives

Allowable under the applicable cost principles

May be in the form of cash or in-kind

May include paid salaries and wages, other services, donated effort, supplies,
equipment, or un-recovered F&A with agency approval

Must be auditable
Cost Sharing Categories

Mandatory - Required by the agency as a condition of the award

Voluntary Committed - Not required as a condition of the award but committed
in the budget

Voluntary Uncommitted (VUCS) - Not required by the agency as a condition of
the award, not committed in the budget, but effort is reported
Final Advice

Only commit to cost sharing when it is required, and then, only at the level or
amount that is required.

Only commit what you are prepared to deliver.

Document, document, document!