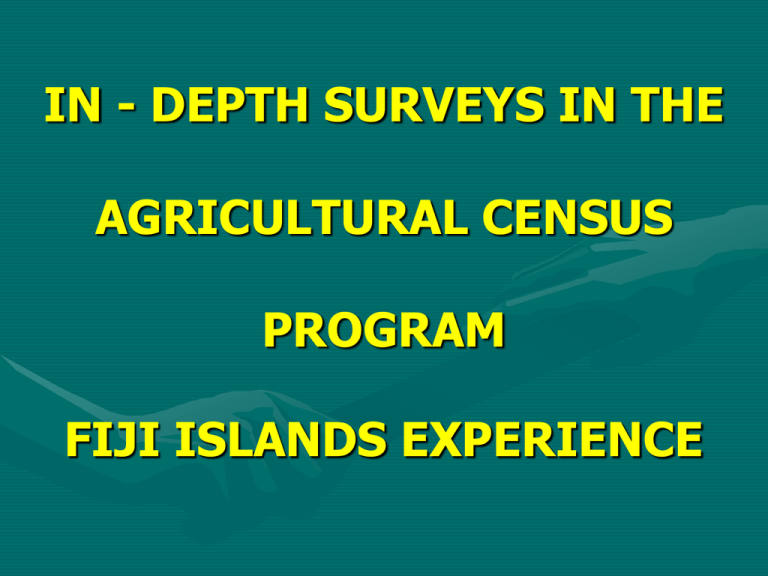 IN - DEPTH SURVEYS IN THE
AGRICULTURAL CENSUS
PROGRAM
FIJI ISLANDS EXPERIENCE
INTRODUCTION
• An Agriculture Sector Study (1995) conducted
by ADB revealed the importance of generating
up to date data on primary production sectors
for planning sustainable development programs
• Fiji Govt made budgetary provision in 1997 to
establish and maintain reliable and timely
agricultural statistics information system
• 1998 FAO TCP program " Development of an
Agricultural Statistics System"
IN DEPTH SURVEYS; FIJI EXPERIENCE
• Conducted the first agriculture survey in 1999 as part
of FAO TCP assistance
• Objectives:
 Identify priority data needs and draw up a plan for
the development of agriculture statistics
 Develop sustainable methodology for field level data
collection and create a capacity within the ministry
to
introduce and maintain the system and to process &
analyse resultant data
 Generate increased awareness on the use of agricultural
data for planning; policy and decision making purposes
1999 NATIONAL AGRICULTURE
SURVEY [Production]
• Scope: Based on WCA Publication
• Farm on enumeration day:
(identification, total land, land use, type i.e.
subsistence commercial, others)
• Farmer on enumeration day: (identification, sex, age, education)
• Temporary Crops in pure, mixed and inter planted
stands in 1999: (planted, irrigated and harvested areas; production and
yields)
• Permanent Crops in pure, mixed, inter planted and
associated stands:( planted, irrigated, and productive age, area on
enumeration day, productions and yields in 1999)
• Livestock and Poultry on enumeration day:
(no. of
cattles by sex, age and use (dairy, beef, non-dairy, non-beef), milk
production (on the last day), other livestock (goats, sheep, pigs) by sex and
age, commercial and home poultry
1999 AGRI SURVEY - [Cont'd]
• Pilot Survey conducted in 1998:
• Sub sample of 75 segments selected from 1991
census frame
• Experiences were used to adjust methodologies,
data collection instruments and other procedures
to prepare for the 1999 survey
1999 AGRICULTURE SURVEY
• ASF Updating:
(updated the 1991 census frame according to
changes in land use)
• Methodology: Introduction of MSF [Combination
of Area & List Frame]
• Sub sample design and selection from ASF: (200
SMs selected from 1991 Census [1294]. Financial resources
available, management capabilities of national counterpart and
processing, analysis and precision required for estimations)
• Sample design and selection of LSF: (Cut off of 50ha)
• Photography and Cartography: (same 200 photos used
in 1991 census scale 1:4000, 1: 6000 and 1: 10000 including topo
maps)
1999 AGRI SURVEY – [Cont'd]
• Questionnaires, Instruction Manuals & Tabulation Plan: (Main
Quest & auxiliary segment questionnaire used, field manual,
coding and data entry manual and consistency manuals,
Tabulation plan consisting of 27 tables )
• Training: (MSF Construction, Enumerator training, data
coding & entry including consistency analysis)
• Database: SPSS (Data Entry Builder and Data Entry Station)
• Results: National Basis only [small sample selected]
RECOMMENDATIONS OF THE
1999 SURVEY
• Conduct the second round of the survey be
conducted in 2000 using the same sample.
• 2000 survey to be simple as possible using
the same sub sample, questionnaires and
other instruments used in 1999 project
• Rotational sampling technique to be used
after the second round of survey.
PROBLEMS/CONSTRAINTS
• Concept of MSF was new to local staff
• LSF has weaknesses in terms of low coverage
rate
• Financial constraints and political situation of
the country affected the continuity of this
agriculture survey
• Our Data Processing Expert [Fiji Govt funded]
left the project with everything so we could
not continue !!!!!