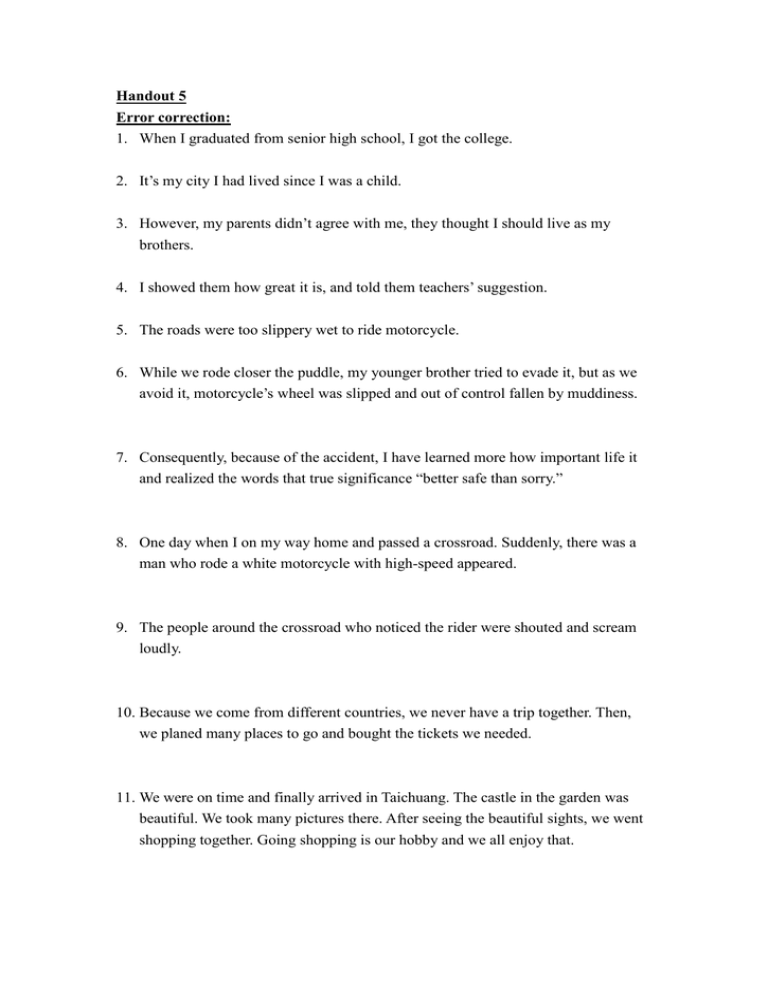 Handout 5
Error correction:
1. When I graduated from senior high school, I got the college.
2. It's my city I had lived since I was a child.
3. However, my parents didn't agree with me, they thought I should live as my
brothers.
4. I showed them how great it is, and told them teachers' suggestion.
5. The roads were too slippery wet to ride motorcycle.
6. While we rode closer the puddle, my younger brother tried to evade it, but as we
avoid it, motorcycle's wheel was slipped and out of control fallen by muddiness.
7. Consequently, because of the accident, I have learned more how important life it
and realized the words that true significance "better safe than sorry."
8. One day when I on my way home and passed a crossroad. Suddenly, there was a
man who rode a white motorcycle with high-speed appeared.
9. The people around the crossroad who noticed the rider were shouted and scream
loudly.
10. Because we come from different countries, we never have a trip together. Then,
we planed many places to go and bought the tickets we needed.
11. We were on time and finally arrived in Taichuang. The castle in the garden was
beautiful. We took many pictures there. After seeing the beautiful sights, we went
shopping together. Going shopping is our hobby and we all enjoy that.
12. He advised me to practice around the circles because every circle can get more
power to control.
13. Not only their teachers were not good at teaching but also they had a terrible
environment to study.
14. Why do we usually sleep and not pay attention to teachers on class? We should
study hard and make use of what we have resources in Taiwan now.
15. My friend told me, "Maybe you lost it in the restaurant we just had dined."
16. My friend comforted me and said, "You should keep watch for your personal
valuable things."
17. When we got off transport, we found that the bumper of the car was destroyed by
other car.
18. We all are bad luck. For this matter, learned to drive a car to keep a safe distance
and concentrate on driving.
19. Before I met it, I practiced riding bicycle very poor and I often felt instability.
20. The police told the man if we decided to accuse, the result may no9t good to him.