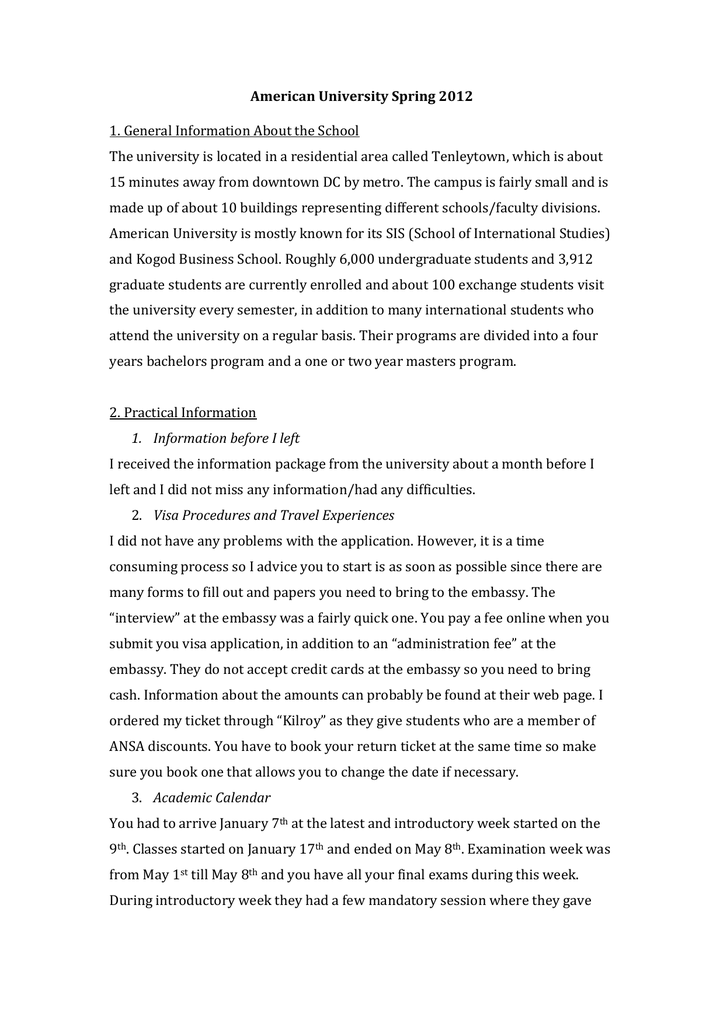 American University Spring 2012
1. General Information About the School
The university is located in a residential area called Tenleytown, which is about
15 minutes away from downtown DC by metro. The campus is fairly small and is
made up of about 10 buildings representing different schools/faculty divisions.
American University is mostly known for its SIS (School of International Studies)
and Kogod Business School. Roughly 6,000 undergraduate students and 3,912
graduate students are currently enrolled and about 100 exchange students visit
the university every semester, in addition to many international students who
attend the university on a regular basis. Their programs are divided into a four
years bachelors program and a one or two year masters program.
2. Practical Information
1. Information before I left
I received the information package from the university about a month before I
left and I did not miss any information/had any difficulties.
2. Visa Procedures and Travel Experiences
I did not have any problems with the application. However, it is a time
consuming process so I advice you to start is as soon as possible since there are
many forms to fill out and papers you need to bring to the embassy. The
"interview" at the embassy was a fairly quick one. You pay a fee online when you
submit you visa application, in addition to an "administration fee" at the
embassy. They do not accept credit cards at the embassy so you need to bring
cash. Information about the amounts can probably be found at their web page. I
ordered my ticket through "Kilroy" as they give students who are a member of
ANSA discounts. You have to book your return ticket at the same time so make
sure you book one that allows you to change the date if necessary.
3. Academic Calendar
You had to arrive January 7th at the latest and introductory week started on the
9th. Classes started on January 17th and ended on May 8th. Examination week was
from May 1st till May 8th and you have all your final exams during this week.
During introductory week they had a few mandatory session where they gave
you practical and academic information. They also had quite a few social events
that were optional.
4. Reception
The faculty and staff were very well prepared and they gave us all the necessary
information. We also had a session about the American school system, which was
very useful, as the teaching style and requirements as quite different from what
we are used to at BI. As mentioned earlier the school has a lot of international
students so the teachers are well prepared for and used to having international
students in their classes. As an abroad student you have the option of having an
"AU Buddy" who can show you around. Since I already knew a student who had
studied a semester at BI I chose not to have a buddy. I would advise you to make
contact with exchange students from American University if they attend BI.
5. Housing
You can choose to live on or off campus. However, it is mostly freshmen and
sophomores who live on campus and I would advise you to try and find
something off campus. If you decide to live on campus you do not have a kitchen
and will have to buy a "meal plan" at the cafeteria, which can be quite expensive.
When you receive practical information from the university they also give you
information about a web page that students use to post off campus listings.
Housing in DC is quite expensive and you will most likely have to share a
bedroom with a roommate. In my case my roommate had the bedroom and I
slept in the living room. There are two apartment buildings close to campus
where students tend to live. They are called "the Berkshire/berks" and "the
Avalon". The later one is a little nicer, but also more expensive. Make sure to ask
if electricity and utilities are included in the rent. My rent was about $850 a
months including electricity.
6. Costs
American textbooks are extremely expensive, costing around $200 dollars each.
DO NOT BUY THEM. I would advice you to look for your textbooks on either
amazon or rent them through agencies like bookrenter.com or
campusbookrentals.com
They also have most of the textbooks on reserve at the library where you can
rent then for a few hours or a day. They also have MACs and PCs that you can
rent there for free! As mentioned earlier rent is quite high in DC, but food is a lot
cheaper than in Norway so in general your total living costs are about the same
or a little bit less.
7. The International Office
There is an international office called "Abroad at AU" and they are located in a
building on campus and easy to get in touch with. You get an adviser who is
responsible for you and whom you would go to if you have any questions. He or
she is also the one who has to approve of your academic schedule or make any
changes of your classes if you would like that. During the first two weeks you can
add and drop classes and I would advice you to attend as many classes as
possible, as the same class taken with different professors can be very different.
8. Exchange Promotion
They had a stand where they promoted the different exchange programs they
had. I was supposed to attend, but I was sick. They only give you about a week's
notice, so it would be a good idea to get some brochures from BI that you can
bring with you in your luggage.
9. Social Activities
American students are easy to get to know, which makes the US a perfect place to
go on an exchange for a semester. Since the classes are so small (about 20-25 in
each) it's easy to make contact with fellow classmates. The AU abroad office also
arranges different activities for the abroad students about 1-2 times a week.
There are also clubs you can join. I really enjoyed being a student at AU. Both the
students and the staff are very friendly and helpful.
10. Culture and Language
I did not have much difficulty with the language. It takes a little time getting used
to reading in English, as the amounts of reading for each class can be fairly large,
but when you start thinking in English it becomes easier. The professors have
office hours several days a week and they are easy to approach if you have any
questions or need extra help with some material.
11. Cultural and Social Effects from the Exchange Experience
Since AU is such an "international school" you get to know people from many
different cultures and backgrounds. Since it is also a popular destination for
exchange students you will be a part of a big and diverse group. Since this was
my second time studying in the US I was already pretty used to the culture, but
for others it might be a little culture shock in the beginning. However, it is
usually a positive one. I have learned how to be more friendly and open to new
people and the importance of and skill of networking. I am sure that my
exchange experience has had a positive effect on my future career possibility as
it teaches you how to cope with new surroundings and people.
3. Academic Information
1. The teaching situation
Depending on the level of classes you choose, the level is about the same as at BI.
I choose 300 and 400 classes. The teaching is both practical and theoretical, but
the teaching style is much more interactive and the students are expected to
participate in discussions much more than they are at BI. You just have to throw
yourself out there and talk as much as possible in class, after a while you get
more used to it and it helps both your learning and your grades. The class size is
about 20-25 students and the students are much more used to participating. In
all of my business courses I had group projects. However, the process of group
projects is much more formalized to avoid the typical problems associated with
group projects. Therefore, I really enjoyed them and it's a nice way to get to
know the other students. In the beginning, the workload feels a lot heavier at AU
than at BI since there is much more required assignments, papers, quizzes, and
exams. After awhile you get used to it, and I really enjoyed having multiple ways
of being evaluated, compared to just one final exam. It also makes it easier to
learn the material when you have required assignments to do as you read the
material. BUT, AU is not a place to you if you want an easy exchange semester
with as little workload as possible. It is the place to go if you want to learn new
things from a different perspective. All the teachers I had were really involved
teachers and I must say that I learned more from them than I did from the
teachers are BI. Therefore, it is a great place to go if you like learning and
participating in class.
The relationship between faculty and students is very relaxed. They are
highly involved in their students and have office hours several times a week. I
still keep in touch with all of my professors. The relationship between students is
also closer than at BI.
The level on the readings is about the same as on the English literature
used at BI. It is mainly used for broad overview, not to cram details.
The exams are based on both the literature and the lectures. You can only
miss 1-2 classes before it affects your grade and to do well on the exams you
need to participate in the classes. Most of the professors give out power points,
which are nice to use when you study for the exams. I advice you to read the
readings before class so that you can participate in the discussions.
Throughout the semester I was given either a group project or 1-2
individual papers in addition to 2-3 exams in each course. Therefore, the exams
do not cover as much material as they do at BI, which is nice. Since you
participate so much in class I usually knew the material quite well and didn't
have to study as much for the exams as I do back home. Sometimes they also give
you a review sheet for the exam, listing the key points you need to know. This is
a good study guide and a good outline for notes.
2. Description of Courses
I would especially recommend you to take the class "leading high performance
teams" if you think of taking a managerial class.
Course name
Prereq.
ACCT-340 Intermediate Accounting
Financial & managerial accounting
Exams: 3 written ones
Course name
Prereq.
Econ-370 International Economics
Macro & Micro
Exams: midterm and final, 2 individual papers, 1 group presentation.
Course name
MGMT-353 Mgmt & Organizational Behavior
Prereq.
Completion of 12 credits in business courses
Exams: 3 exams. Two group projects.
Course name
MGMT-381 Managing Human Capital
Prereq.
Junior or senior standing
Exams: Two exams, one debate project, 3 individual assignments
Course name
MGMT-409 Leading High Performance Teams
Prereq.
Junior or senior standing
Exams: 2 exams, 4 individual reflection papers, 1 group project.