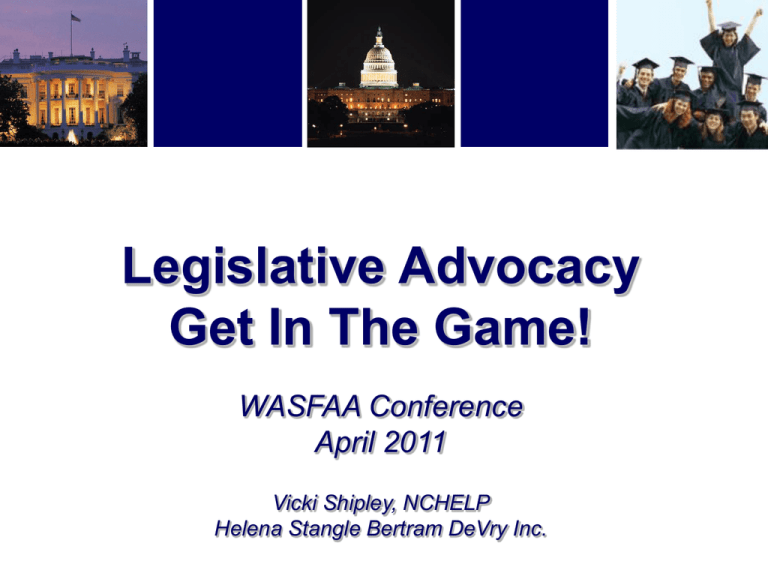 Legislative Advocacy
Get In The Game!
WASFAA Conference
April 2011
Vicki Shipley, NCHELP
Helena Stangle Bertram DeVry Inc.
Agenda
 Process Overview and Key Players
− House
− Senate
− Administration
 Role of the Department of Education
 Your Role and Responsibilities
 Grassroots –Get In The Game!
 What Works and What Doesn't
2
The Federal Process
Why Should You Care?
 The majority of student aid is the
product of and exists within some sort
of political environment
− National politics
− State politics
− Institutional politics
 Understanding the basic concepts and
structures can help you anticipate
change and possibly influence the
process
4
Government
 Legislative – makes laws
− United States Senate
− 51 Democrats, 47 Republicans, 2 Independents
− United States House of Representatives
− 242 Republicans, 193 Democrats
 Executive – administers/regulates laws
− President
− Secretary of United States Department of
Education (ED)
 Judicial – interprets laws
− United States Attorney General
5
Who's Responsible?
Congress
 Creation and
Modification of
Programs
 Need Analysis Formula
 Maximum Grant and
Loan Amounts
 Amount of Funding
 Priorities in Awarding
Aid
 Tax Benefits
Executive Branch
 Cash Management on
Campus
 Disbursement of Funds
 Audit Criteria
 Enforcement (L, S & T)
 Special Conditions
 FAFSA Design
 Reporting
Requirements
 Tax Forms
6
Legislation vs. Regulation
 Legislation – passage of laws
− Congress proposes & adopts
− President signs or vetoes
− Amends the U.S. Code -- the "statute" (e.g. the
Higher Education Act (HEA))
− Public Laws (112-XX)
 Regulation - interprets and adds operational
detail to statute
−
−
−
−
Cannot change the statute
Hearings, comment periods
Federal Negotiated Rulemaking
Reviewed by Office of Management and Budget
(OMB) and ED Attorney General
− Interim, Interim-Final & Final Regulations
7
Authorization vs. Appropriation
 Authorizing Legislation
− Introduced by a Representative or Senator
to amend or create a federal statute, such
as the HEA
− Creates programs
− Authorizes expenditure ceilings
 Appropriating Legislation
− Budget Bills
− Determines the actual amount of funding,
usually less than the amount appropriated
8
Show Me The Money!
 Appropriations and Budget Processes
− Set annual spending caps for individual
programs
− Discretionary spending
 Pell Grants
 Campus Based Programs
 Trio, GEAR-UP
− Mandatory spending (Entitlements)
 FFELP
 FDLP
9
Budget Process
 Budget Resolution
− Sets framework for annual spending
− Establishes totals for discretionary and
mandatory spending
− May require "reconciliation" – impacts
mandatory spending & taxes
− Does NOT require Presidential signature
 Reconciliation becomes important part
of deficit reduction process
10
What Is Reauthorization?
 Reauthorization of the Higher Education Act of
1965, as amended
− Originally enacted as part of President Johnson's
"Great Society" programs
− Authorizations "sunset" and must be renewed
− "Authorizes" virtually all federal higher education
programs
 Student Aid Programs
 Aid to Minority Serving Institutions
 TRIO and GEAR-UP Programs
− Reauthorized in 1968, 1972, 1976, 1980, 1986, 1992,
1998 and 2008
 Significant changes made outside of
reauthorization (e.g. reconciliation)
11
Federal Legislative Process
 Committee process
– Hearings on Issue (optional)
– Bill is introduced
– Subcommittee "Mark-Up"
 Legislation "Reported"
– Full Committee "Mark Up"
 "Floor" action
– Passage or rejection
 Sent back to Committee or referred
to other Chamber
12
Federal Legislative Process
(Final Action)
 Conference Committee
− Attempts to resolve differences between
House and Senate-passed bills
− Result is a "Conference Report" -- includes
explanatory language and recommendations
 Final vote
− Identical Conference Report must be
approved by House and Senate before it can
be sent to the President
 President signs or vetoes
13
Congress
Senate Education Committee
Tom Harkin(D-IA)
Chairman, Committee on
Health, Education, Labor & Pensions
Michael Enzi(R-WY)
Ranking Member, Committee on
Health, Education, Labor & Pensions
14
Congress
House Education Committee
John Kline (R-MN)
Chairman
Education & the Workforce Committee
George Miller (D-CA)
Ranking Member
Education & the Workforce Committee
Virginia Foxx (R-NC)
Chair
Subcommittee on Higher Education &
Workforce Training
15
Secretary of Education
Arne Duncan
16
U.S. Department of
Education (ED)
 Hot issues
−
−
−
−
−
Pell Grant Cuts and/or Overhaul?
Gainful Employment Regulations
Graduation Rates
Cohort Default Rates
Adequate services for students and
schools
− Simplification and transparency of
information
− Emphasis on transparency, accountability,
college cost and consumer information
17
Negotiated Rulemaking (NegReg)
 Mandated by the HEA
− All rules implementing changes to the HEA
and revisions to regulations
− Secretary consults with the "community"
 Secretary selects negotiators
− Representative of affected communities
(e.g., schools, students, lenders,
guarantors, servicers, and more)
 Secretary's representative has veto
power
18
NegReg
 First negotiate, then regulate
 The process
− Non-federal negotiators nominated by the
field, appointed by the Secretary
− Issues proposed for regulation
− Proposed language submitted by ED
− Regulations approved by full consensus
− If no consensus on all language, authority to
write all regulations under discussion reverts
to the Secretary
19
NegReg (cont.)
 Result is Notice of Proposed Rulemaking
(NPRM) Published in Federal Register
− Public comment solicited (30 - 90 Days)
− Negotiators who are part of consensus cannot
disagree with NPRM
− Final Rule published, including responses to
public comments
 Results in Better Rules – reflecting
"Realities" of those who must implement
the regulations
 Master calendar
20
NegReg and You
 Your role during NegReg
− Know who represents your segment or
interests
− Follow the issues (IFAP, WASFAA and
NASFAA)
 Your role after NegReg
− Review NPRM in Federal Register
− Respond within comment period
 Send Comments to
− ED (see Federal Register)
− Federal Issues Committees
− NASFAA
21
Other Opportunities to
Comment
 Annual Requests for Comments
− FAFSA design & ISIR Comment wording
− FISAP layout
 Where to find deadlines
−
−
−
−
−
Federal Register
IFAP
NASFAA News
Higher Ed News
Association alerts
22
Other Agencies Influencing
Federal Financial Aid Policy
 National Advisory Committee on
Financial Aid
− Hearings
− Requests for comments
 National Higher Ed Associations
− NASFAA, ACE, AASCU, NAICU, CCA and
Student Assoc
 Special interest groups
 State Attorney General
 College president or lobbyist
23
You are the Expert ―
Be Heard!
 Pick your topic & voice your opinion
 Get to know your legislators & be in
contact with them – phone, email, and
visits
 Join WASFAA and NASFAA committees
 Respond to request from association to
write your legislator
 Invite legislators to your campus
 Write an article for the association
newsletter
 Get your students involved!
24
Mobilizing the Grassroots
 All politics are local.
 Elected officials are focused on their
constituents.
 What elected officials do or don't do is
often a function of who has their attention.
25
What is/does "Grassroots"
mean?
 "Grassroots" lobbying is when everyday
citizens contact their own legislators to try
to influence legislation and policy.
− Your success depends on the support of the
people you mobilize.
 "Grasstops" lobbying is the mobilization of
people with a close personal connection
to an elected official to influence
legislation and policy.
26
Grassroots Issue Advocacy 101
 Keep to your long-term vision:
− Grassroots work is not for the short winded;
it's a long distance race
− Vision should include achievable goal(s)
 Understand your goal(s):
− Clearly articulated
− Appeal to your broadest constituency
− Include incremental gains
27
Grassroots Issue Advocacy 101
(continued)…
 Strategy and tactics should be:
− Organic
− Adjustable given changing circumstances
− Include an equal blend of leading and listening
 Your ultimate purpose is two-fold:
− Mobilize
− Channel enthusiasm and resources into action
28
Do Your Homework
 Understand both sides of the issue; know
your facts.
− Know where you stand in terms of negotiation
and compromise.
− Be prepared to be counter-lobbied.
 Research your opposition and elected
officials' position on the issue.
− "Electeds" include the members that represent
you, your campus, your students, alumni, etc.;
House/Senate leadership; jurisdictional
committees; appropriators; regulators; etc.
29
Organize
 Identify the appropriate member(s) to
engage.
− Your delegation, committee chairs,
appropriators, conference committee
members, regulator?
 Identify your "leader" or campaign
spokesperson
 Identify your "constituents"
− Students, faculty, alumni, institutional support
staff, etc.
30
Organize (continued)…
 Most individuals won't take action unless
approached more than once with
compelling facts.
− Assume that potential participants aren't fluent
on the issue.
 Find an angle that motivates people. Call
should be:
− Accurate
− Well crafted (written/spoken)
− Persuasive
31
Organize (continued)…
 Provide a wealth of knowledge in a
condensed format.
− Explain why engagement is important and
needed
− Clearly identify what specific action you want
 Communicate
−
−
−
−
−
Website (student portal, "Action Center")
Social media (Twitter, Facebook, LinkedIn)
Calls / emails (current students, alumni)
Campaign signage / collateral
Via staff/faculty during scheduled classes
32
Implement
 Actions/expectations should be specific:
− Phone Tree (scripted vs. free form): Includes
calling members explaining position "for" or
"against" a particular measure or to thank
them.
− Letter Writing Campaign (original vs. form):
Includes asking the grassroots participants to
write letters to elected or appointed officials
explaining a position "for" or "against" a
particular measure or to thank them.
33
Implement (continued)…
− Face-to-Face Meetings (champions):
Includes organizing the grassroots to engage
with elected officials and/or their staff in
person in Washington D.C., at a state capital,
at a district office location, town hall meeting,
community function, etc.
 Provide participants with specific tasks
and the resources needed to accomplish
those tasks.
− Mobilize X number of students/faculty/alumni
− Participate in X number of editorial board
meetings
34
Build
 Cultivate relationships before they're
needed.
 Grassroots also includes:
− Participating in "Hill Days" that include
students, alumni, faculty and campus
leadership, etc.
 Fact sheets, testimonial materials
 Other pertinent and salient information
− Participating in district office meetings
− Hosting elected officials at your campus
− Engaging elected officials as guest speakers
35
Build (continued)…
− Assisting elected officials with town hall and
community events
− Finding other unique touch points including
quarterly newsletters and recognition events
− Sign up for elected/appointed officials
monthly newsletters
− Regularly check elected/appointed officials
websites for events and opportunities
− Regularly check local papers for activities
involving campus elected officials
− Finding opportunities to network, such as K-20
councils, educational partnership events,
36
Chamber meetings, etc.
Engagement Resources
 Who represents me?
− US House of Representatives: www.house.gov
− US Senate: www.senate.gov
− List of State Legislatures: http://www.ncsl.org/?tabid=17173
 Legislative Process:
− http://thomas.loc.gov/home/lawsmade.toc.htm
 Outside resources:
− Congress.org: www.congress.org
− NASFAA:
http://www.nasfaa.org/Advocacy/Legislation/Your_Legislative
_Contacts.aspx
− List of Higher Education Organizations:
− http://www.ihep.org/Resources/organizations.cfm
37
Thank you!
Questions
or
Comments?