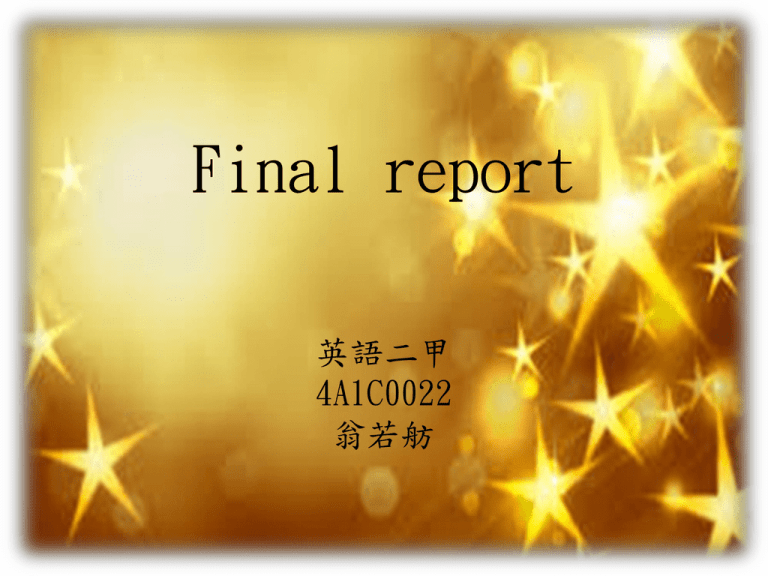 Final report
英語二甲
4A1C0022
翁若舫
Student's background
• Female
• 20
• 資傳系二年級
• 對英文口說沒信心
• 不流暢
Problem 1
• television [ˋtɛlə͵vɪʒən]
Solution
Show videos
how to pronounce
A voiced consonant sound feel friction as
your voice buzzes between the blade of
your tongue and your gum ridge
practice
•ʒ
tʃ
Garage Garach
•ʒ
ʃ
Vision
• Pleasure
Massage
Vition
Casual
Problem 2
• race [res]
Solution
Show videos
How to pronounce
Lightly touching the inside edge of your
upper back teeth.
Keep your mouth slightly open and release
the voice around the tongue
Practice
•
•
•
•
Role
Rot
Berry
Fearing
Dole
Lot
Belly
Feeling
• Raw carrots are good for children.
• Ray received a ribbon for running the race.
Reflection
• Develop [dɪ`vɛləp]
• Prefer [prɪˋfɝ]
• Interest [ˋɪntərɪst]
[dɛ`vələp]
[prɛˋfɝ]
[ˋɪntərɛst]
END
Thank you for your listening.