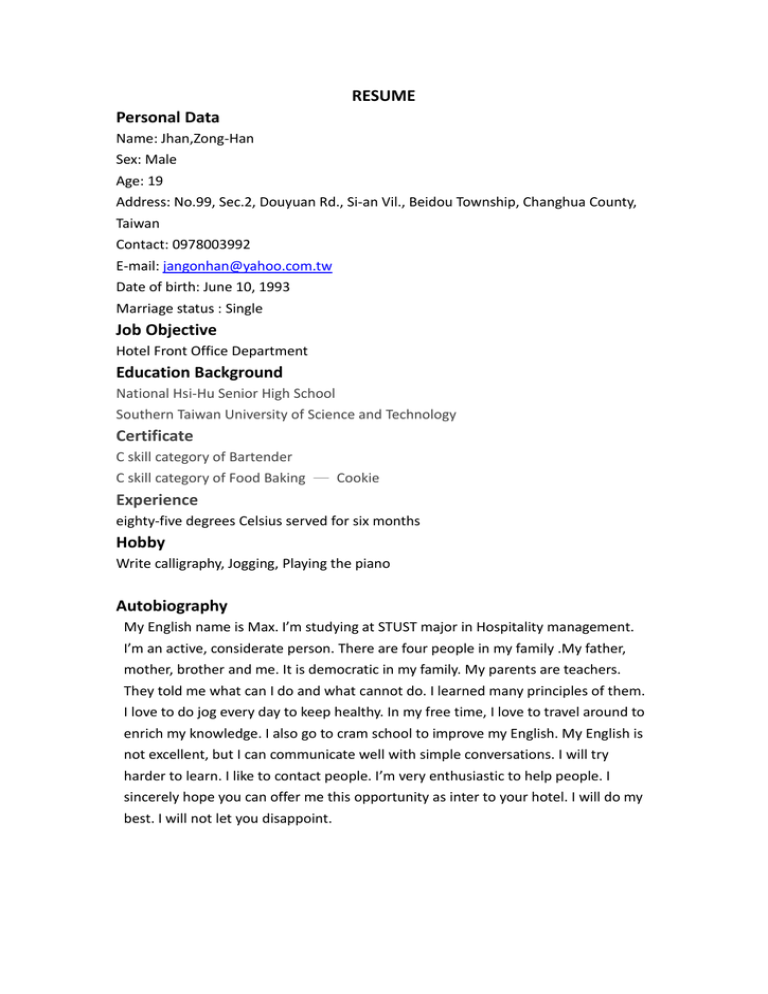 RESUME
Personal Data
Name: Jhan,Zong-Han
Sex: Male
Age: 19
Address: No.99, Sec.2, Douyuan Rd., Si-an Vil., Beidou Township, Changhua County,
Taiwan
Contact: 0978003992
E-mail: [email protected]
Date of birth: June 10, 1993
Marriage status : Single
Job Objective
Hotel Front Office Department
Education Background
National Hsi-Hu Senior High School
Southern Taiwan University of Science and Technology
Certificate
C skill category of Bartender
C skill category of Food Baking ─ Cookie
Experience
eighty-five degrees Celsius served for six months
Hobby
Write calligraphy, Jogging, Playing the piano
Autobiography
My English name is Max. I'm studying at STUST major in Hospitality management.
I'm an active, considerate person. There are four people in my family .My father,
mother, brother and me. It is democratic in my family. My parents are teachers.
They told me what can I do and what cannot do. I learned many principles of them.
I love to do jog every day to keep healthy. In my free time, I love to travel around to
enrich my knowledge. I also go to cram school to improve my English. My English is
not excellent, but I can communicate well with simple conversations. I will try
harder to learn. I like to contact people. I'm very enthusiastic to help people. I
sincerely hope you can offer me this opportunity as inter to your hotel. I will do my
best. I will not let you disappoint.