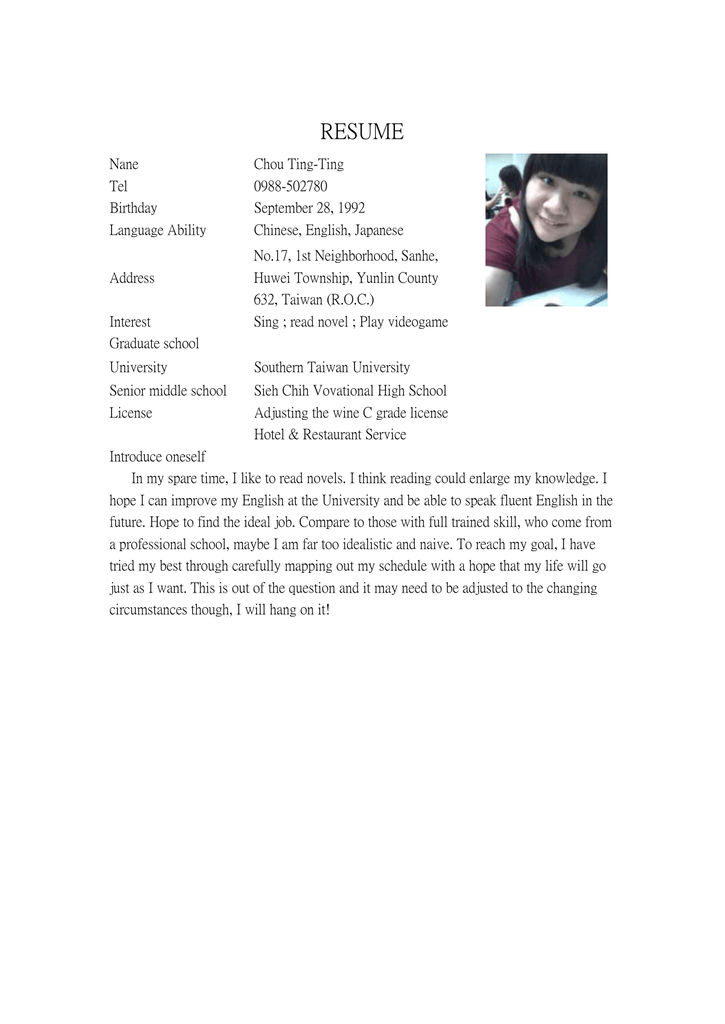 RESUME
Nane
Tel
Birthday
Chou Ting-Ting
0988-502780
September 28, 1992
Language Ability
Chinese, English, Japanese
Address
No.17, 1st Neighborhood, Sanhe,
Huwei Township, Yunlin County
632, Taiwan (R.O.C.)
Interest
Graduate school
Sing ; read novel ; Play videogame
University
Southern Taiwan University
Senior middle school
License
Sieh Chih Vovational High School
Adjusting the wine C grade license
Hotel & Restaurant Service
Introduce oneself
In my spare time, I like to read novels. I think reading could enlarge my knowledge. I
hope I can improve my English at the University and be able to speak fluent English in the
future. Hope to find the ideal job. Compare to those with full trained skill, who come from
a professional school, maybe I am far too idealistic and naive. To reach my goal, I have
tried my best through carefully mapping out my schedule with a hope that my life will go
just as I want. This is out of the question and it may need to be adjusted to the changing
circumstances though, I will hang on it!