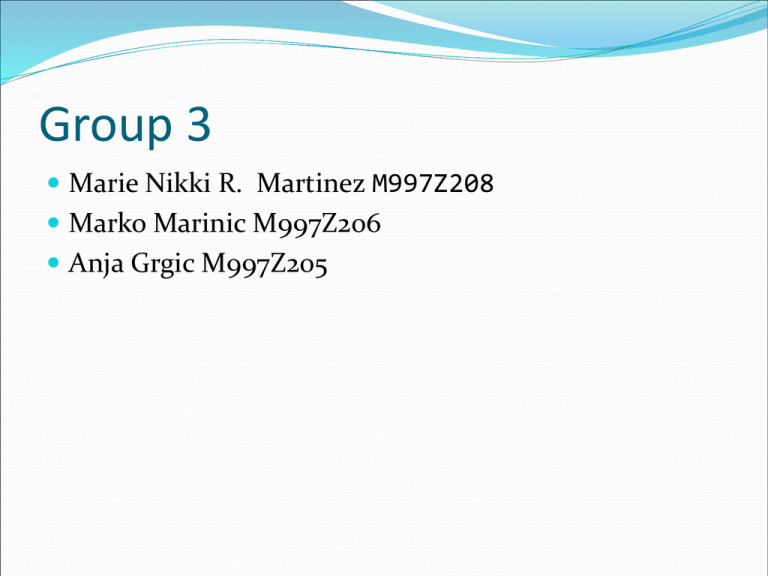 Group 3
 Marie Nikki R. Martinez M997Z208
 Marko Marinic M997Z206
 Anja Grgic M997Z205
 YAHOO!
 David Filo & Jerry Yang
 Jerry's Guide
 Yahoo popularity
 Competing services
 Starting a business
 Funding
 Sell Yahoo! vs Corporate Partnership vs Venture
Capital
Founders and Potential Investor
 Jerry Yang, Founder
 David Filo, Founder
 Michael Moritz, Partner, Sequoia Capital
 Yahoo!´s first business plan was developed by Tim
Brady
Business Strategy
 Yahoo!´s goal is to remain the most popular and widely
used guide to information on the Internet
-> the goal of making useful information easy to find for
individuals
 Yahoo!´s strategy is to:
1. Continue to build user traffic and brand strenght
2. Develop and intergrate the leading technology
3. Extend the reach to a broader audience
4. Extend the reach and appeal to inernational userd
5. Retain the users ("readership") of Yahoo!
6. Rapidly extend the product line
Market Analysis
 Market segmentation:
Large businesses using the Internet for wide area
information
2. Small home businesses using it for information
relevant to the small business
3. The individual user/consumer using information for
entertainment
1.
Market Analysis (cont.)
 Market Trends
1.
There is large scale adoption of enabling technology in the areas of
2.
3.
4.
5.
6.
7.
network hardware and software, as well as communication hardware
and software
Telecomunication companies are rushing to put in place basic "hookups" in high bandwidth platform
The price for high-speed computer is still high
Home adoption of Internet acces is on the rise
Formerly closed network online services such as America Online,
Compuserve and Prodigy are now offering Internet access
Companies as Yahoo! Which provide means to navigate the Web are
growing rapidly as measured by amount of end user traffic
These high traffic sites already provide a high volume platform for
delivering electronic advertising
Market Analysis (cont.)
 Competition
- Yahoo intends to effectively beat any emerging
competitors by:
1. Establishing broader distribution earlier than any
other competitor
2. Broadening the product line faster
3. Staying ahead of the competitors with regular core
product updates
4. Delivering high quality audiences and compelling
results to advertisers
Market Analysis (cont.)
 Risks
1. The ability to increase traffic and enhance the Yahoo!
2.
3.
4.
5.
6.
Brand
Ability to introduce key new products faster and better
than the competition
Ability to develop an international presence and leading
brand internationally before the competition
The introduction of competitive products internally
developed by access providers
Ability to scale our support of both the traffic through
our main site
That the growth of the Internet industry as a whole slows
significantly
Yahoo!`s core strategic advantages
 It´s strong brand
 Yahoo´s scalable core technology in search engine,
database structure and communication software
WHAT MAKES YAHOO! AN ATTRACTIVE
OPPORTUNITY
(and not just a good idea)?
 Good management
 Clear intellectual property
 Growing client base
 Clear view of the business going forward
HOW WILL YAHOO! MAKE
MONEY?
 Banner / General advertising
 Targeted advertising
 Lots of advertisers bidding on many millions of
keywords, and hundreds of millions of users doing
billions of searches, a small charge each time
somebody clicks on an ad, and you get a big business.
MAJOR
RISKS
 Technology
 The race has been ongoing for many years.
 Inaccurate information
 Ability to introduce key new products faster and better
than the competition
 Market
 Changes preferences
 Likes it personalized
 Team
 Has to always work together and cooperate
 Traffic -control
 Financial
 Unstable stock value
COMPANY
REUTERS
ADVANTAGES
DISADVANTAGES
•Provide news service
from a well-known source
•Reuters was a Londonbased media service,
which could help
publicize Yahoo!
•Poor negotiating
position
•Integration of news
service would prevent
free development of
Yahoo!
ISN
•Popularity
•Revenue generating
•Potential taints
(associated with a
shopping network)
NETSCAPE
•Netscape is about to go
public.
•Publicity and great
timing
•High-profile founders
and backers
•Yahoo! would be bought
COMPANY
ADVANTAGES
DISADVANTAGE
S
CORPORATE
PARTNERSHIPS (AOL
PRODIGY AND
COMPUSERVE and
KPCB)
•Large funds, money,
stock and possible
positions
•Less risk when it comes
to competition
•Good reputation
•Potential taints
•Lack of control
SEQUOIA
•One of Silicon Valley's
most influential
venture-capital firms
•Has funded successful
companies such as:
Apple, Oracle, Atari,
etc…
•Top management team
assembly
•1 million dollar fund
•24-hour deadline
•A significant percentage
will be given up by
Yahoo!
MY RECOMMENDATION
 THE LAST OPTION:
Sequoia Capital
 WHY?