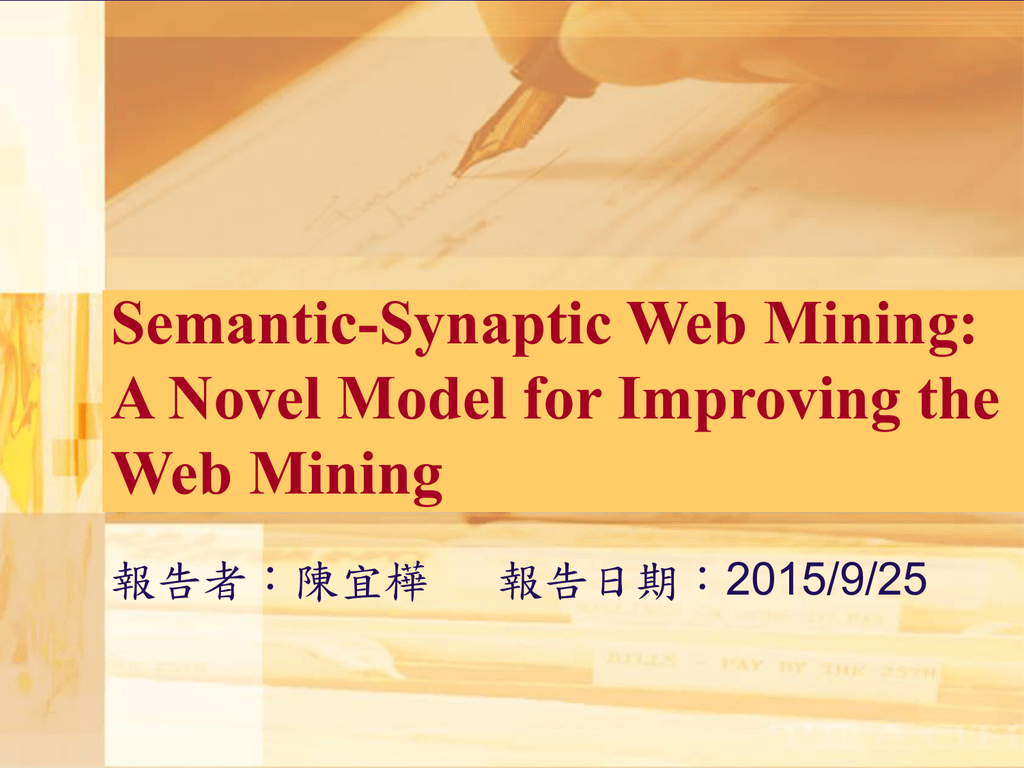 Semantic-Synaptic Web Mining:
A Novel Model for Improving the
Web Mining
報告者:陳宜樺
報告日期:2015/9/25
outline





Introduction
Semantic web
Synaptic web
Entropy
Semantic-Synaptic web mining architecture
Introduction
The enormous amount of unstructured
information available on the web, results in
inaccuracy and irrelevant information while
user extract desired information from the web
Semantic web
Semantic web, a technique to manage
content and process with creation and use of
semantic metadata
Synaptic web
Synaptic web, it is the connection between
different neurons in the brain
the synaptic connections between objects
(Content/ Information) are more important than
the object themselves makes the smarter web.
Entropy(1/2)
Information Theory
Entropy(熵),is a measurement of uncertainty
and inconsistency in random variable, which
evaluate the information content in a message.
Mostly, the information content is the
uncertainty of each event.
Entropy(2/2)
Semantic-Synaptic Web
Noisy-Unorganized Web
Semantic-Unorganized
Web
Noisy-Synaptic Web
Semantic-Synaptic web mining
architecture
the nodes are to be
distributed at a hierarchical
range of entropy which
results in relevant and
accurate data
Thank You!