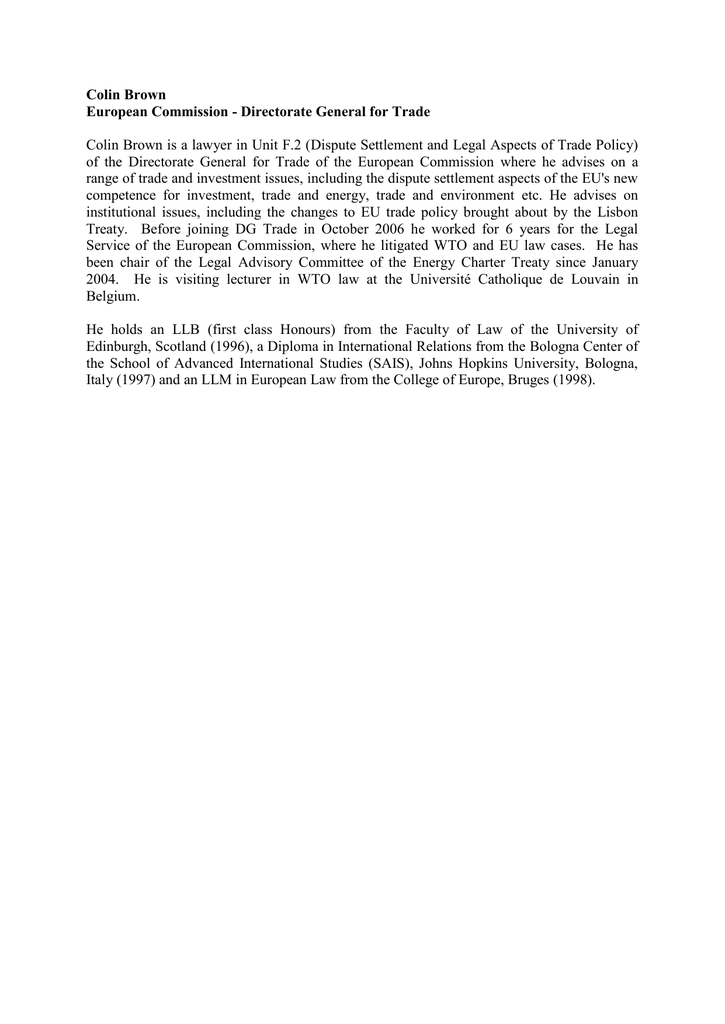 Colin Brown
European Commission - Directorate General for Trade
Colin Brown is a lawyer in Unit F.2 (Dispute Settlement and Legal Aspects of Trade Policy)
of the Directorate General for Trade of the European Commission where he advises on a
range of trade and investment issues, including the dispute settlement aspects of the EU's new
competence for investment, trade and energy, trade and environment etc. He advises on
institutional issues, including the changes to EU trade policy brought about by the Lisbon
Treaty. Before joining DG Trade in October 2006 he worked for 6 years for the Legal
Service of the European Commission, where he litigated WTO and EU law cases. He has
been chair of the Legal Advisory Committee of the Energy Charter Treaty since January
2004. He is visiting lecturer in WTO law at the Université Catholique de Louvain in
Belgium.
He holds an LLB (first class Honours) from the Faculty of Law of the University of
Edinburgh, Scotland (1996), a Diploma in International Relations from the Bologna Center of
the School of Advanced International Studies (SAIS), Johns Hopkins University, Bologna,
Italy (1997) and an LLM in European Law from the College of Europe, Bruges (1998).