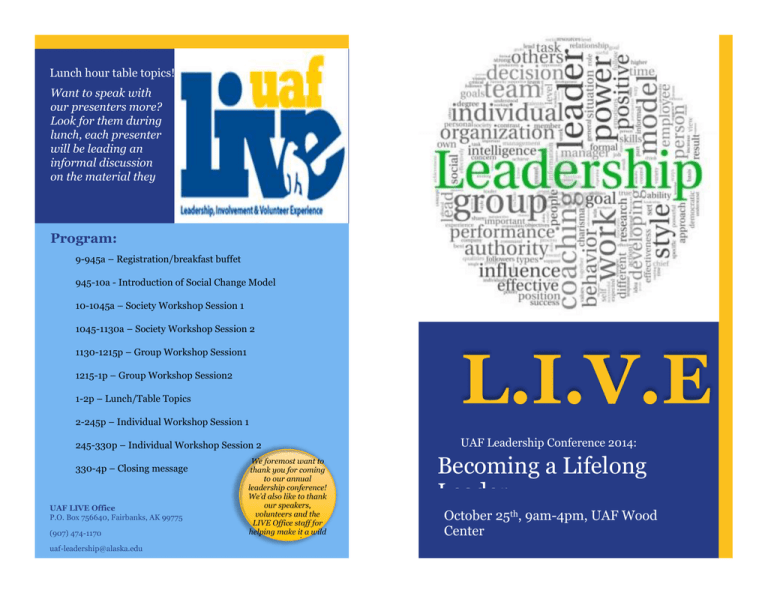 Lunch hour table topics!
Want to speak with
our presenters more?
Look for them during
lunch, each presenter
will be leading an
informal discussion
on the material they
presented. Enjoy!
Program:
9-945a – Registration/breakfast buffet
945-10a - Introduction of Social Change Model
10-1045a – Society Workshop Session 1
1045-1130a – Society Workshop Session 2
1130-1215p – Group Workshop Session1
1215-1p – Group Workshop Session2
1-2p – Lunch/Table Topics
2-245p – Individual Workshop Session 1
245-330p – Individual Workshop Session 2
330-4p – Closing message
UAF LIVE Office
P.O. Box 756640, Fairbanks, AK 99775
(907) 474-1170
uaf-leadership@alaska.edu
We foremost want to
thank you for coming
to our annual
leadership conference!
We'd also like to thank
our speakers,
volunteers and the
LIVE Office staff for
helping make it a wild
success!
L.I.V.E
.
UAF Leadership Conference 2014:
Becoming a Lifelong
Leader
October 25th, 9am-4pm, UAF Wood
Center
About the
conference
:
This year's conference is
titled "Becoming a
Lifelong Leader". It is
based on the social
change model of
leadership: that in order to be a successful leader you must
operate in three different spheres of life: the individual, the
group and society. Our conference is based on this model,
providing workshops that focus on each sphere and address
the characteristics of the sphere. The workshops will be lead
by community professionals to provide not only an
experienced presenter but also give the you the opportunity to
network with these community members during the lunch
break table topics.
"Societal sphere" speakers:
Advocacy – Marylee Bates
I am devoted to carrying out the mission of Fairbanks Youth
Advocates and passionate and knowledgeable about youth
homelessness issues. I became aware of the issues surrounding
students who drop out during my tenure as a Fairbanks North Star
Borough teacher. I began volunteering at Fairbanks Counseling
and Adoption's street outreach program. Other agencies in the
community were doing what they could to support this vulnerable
population; the time was right for Fairbanks Youth Advocates to
be part of the solution to youth homelessness.
Speakers:
"Group sphere" speakers:
Leadership in the Workplace - Keli Hites McGee
Keli Hite McGee founded Hites Consulting, Inc. out of Alaska in
2002.
She has
a Masters
in Professional
Communication
the
Keli Hite
McGee
founded
Hites Consulting,
Inc. from
out of
University of Alaska Fairbanks (UAF). Keli provides executive
Alaska in 2002. She has a Masters in Professional
coaching and consulting to leadership teams training them to
Communication
from the University
of Alaska
Fairbanks
increase
employee productivity
and accountability.
She enjoys
(UAF).a Keli
provides
coaching
consulting
writing
business
columnexecutive
in the Fairbanks
Daily and
News-miner.
to leadership teams training them to increase
Volunteering
and
Leadership
– Jason She enjoys
employee
productivity
and accountability.
Kempthorne
a business
column
inSisters
the Fairbanks
Iwriting
am the current
Big Brothers,
Big
EnrollmentDaily
and NewsMatching
miner. Specialist. I have worked with kids and teens
throughout my career. In church ministry I have had to wear
many hats from fundraiser to program coordinator, counselor,
therapist, and friend. I enjoy being able to manage volunteers and
work to develop lasting relationships with all my volunteers and
youth throughout the years.
"Individual sphere" speakers:
Personal leadership – Terri Babers
I call myself a Positive-Changes-Coach because as a Leadership and
Life Coach, I work with people who want to make a difference in
the world. With coaching help, people can lead themselves to make
those changes in their lives more easily, with a greater sense of
well-being, and fulfillment.
Leadership Wellness – Kaydee Miller
Kaydee is the UAF Wellness Director and is responsible for the
programming of the SRC; Intramurals, Personal Training, Group
Fitness, Youth Day Camps as well as anything involving wellness
programs for students.
Citizenship – Lt. Ronald Wall
In 1989 I received a BA in Justice from UAF and was hired by the
Alaska State Troopers in 1990. After several assignments I
returned to Fairbanks and worked as a patrol Sergeant,
Investigations Supervisor, Drug Unit Supervisor, Rural Supervisor
and most recently the Deputy Detachment Commander in
Fairbanks. Other collateral duties include a being the Team
Leader for the Northern Special Emergency Reaction Team. In
2009 I graduated from Northwestern University School of Staff
and Command. I own a millwork business and I am currently
taking graduate courses from UAF seeking a MA in Justice
Administration. I am also a coordinator for the AST Citizen's
Academy here in Fairbanks.
Want to know more about the
social change model?
Check out the book Leadership for a Better World
by Komives and Wagner. Grounded in student
experiences, this book includes student voices,
stories, and contemporary case studies. Written in
an informed and approachable tone, it provides a
coherent set of guiding principles about how
knowing oneself, meaningfully engaging with
others, and adopting a systems perspective can
promote the socially responsible leadership so
needed in the world today.