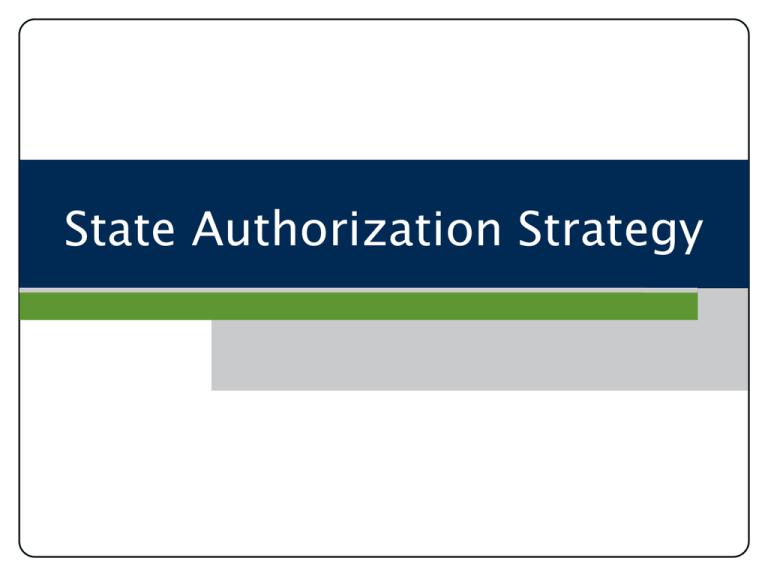 State Authorization Strategy
State Authorization Strategy
Dr. Pamela Shay
Franklin University
Vice President of Accreditation &
Institutional Effectiveness
• Nonprofit, private institution
• Online & campus-based programs
• Associate, Bachelor, and Master
degrees
• Students enrolled nationwide
Strategic Planning
Your School
State Regs
& Triggers
Key Players
State
Strategy
Know YOUR School
• Where do your students reside?
• What activities does your school conduct?
• What are your strategic plans (2-3 years)?
Know STATE Regulations
• Review relevant statutes and regulations
– "IT DEPENDS" on type of institution, delivery formats, level of
activities
• Compare multiple sources of information
• Create your own spreadsheet/table to
track information
Review Statutes and Regulations
• Definitions
• Exemptions
• Licensure programs with curricula or
requirements dictated by state professional
licensing boards, e.g. education, nursing,
social work
Identify "Triggers"
• Activities that may give rise to "physical
presence", therefore impacting School's status
in a specific state.
• Classroom onsite, marketing, recruiting, faculty
residence, attend college fairs, onsite testing,
library resources onsite, practicum/internships.
Compare
Build and Foster Relationships
External
• State Regulators
• Professional Organizations
Internal
• Maintain regular communication with marketing,
financial aid, academics, registrar, and
enrollment, human resources, finance,
assessment departments
• Need information on library resources, facilities,
advising, student services, technology
• Know institution's strategic or growth plan
Build
Strategic Decisions Regarding State Authorization
•
•
•
•
•
Number of students
State expenses (initial, annual, bonds, etc.)
Cost of not serving existing students
Cost of monitoring and maintaining
Cost of personnel
Strategic Planning
Your School
State Regs
& Triggers
Key Players
State
Strategy
Thank you for your time and attention
Pamela Shay
Accreditation & Institutional
Effectiveness
Franklin University
201 S. Grant Avenue
Columbus, Ohio 43215
State Authorization
Resources by Franklin
University
Navigating the Chaos
Workshop
Franklin.edu/authorization-workshop
Consulting Services
[email protected]
Personal consultation on state
processes for your institution
641.947.6135
SA Management Services
Franklin partners with your institution to
complete state authorization
requirements and manage the system
for your institution.