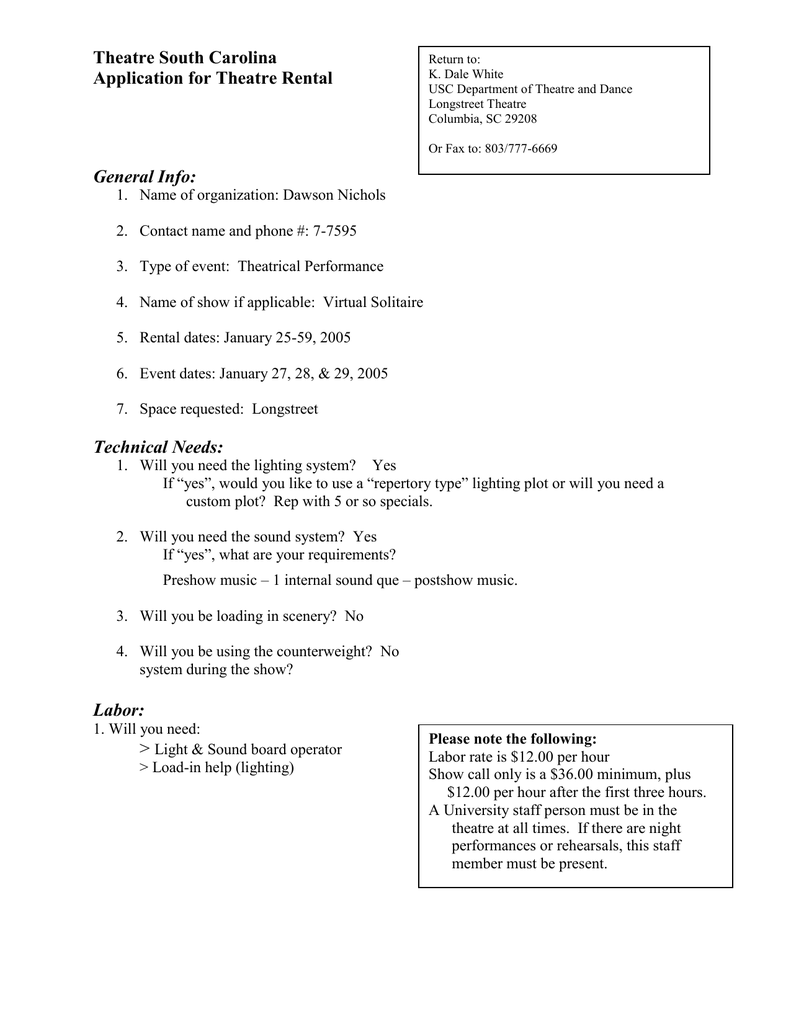 Theatre South Carolina
Application for Theatre Rental
Return to:
K. Dale White
USC Department of Theatre and Dance
Longstreet Theatre
Columbia, SC 29208
Or Fax to: 803/777-6669
General Info:
1. Name of organization: Dawson Nichols
2. Contact name and phone #: 7-7595
3. Type of event: Theatrical Performance
4. Name of show if applicable: Virtual Solitaire
5. Rental dates: January 25-59, 2005
6. Event dates: January 27, 28, & 29, 2005
7. Space requested: Longstreet
Technical Needs:
1. Will you need the lighting system? Yes
If "yes", would you like to use a "repertory type" lighting plot or will you need a
custom plot? Rep with 5 or so specials.
2. Will you need the sound system? Yes
If "yes", what are your requirements?
Preshow music – 1 internal sound que – postshow music.
3. Will you be loading in scenery? No
4. Will you be using the counterweight? No
system during the show?
Labor:
1. Will you need:
> Light & Sound board operator
> Load-in help (lighting)
Please note the following:
Labor rate is $12.00 per hour
Show call only is a $36.00 minimum, plus
$12.00 per hour after the first three hours.
A University staff person must be in the
theatre at all times. If there are night
performances or rehearsals, this staff
member must be present.