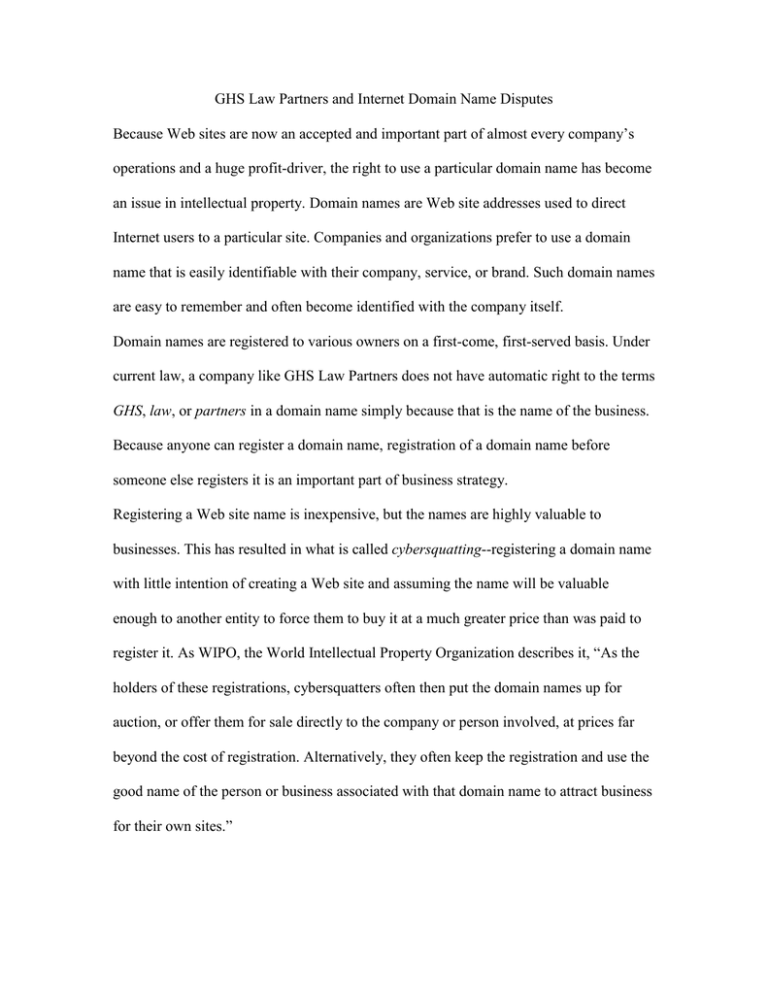 GHS Law Partners and Internet Domain Name Disputes
Because Web sites are now an accepted and important part of almost every company's
operations and a huge profit-driver, the right to use a particular domain name has become
an issue in intellectual property. Domain names are Web site addresses used to direct
Internet users to a particular site. Companies and organizations prefer to use a domain
name that is easily identifiable with their company, service, or brand. Such domain names
are easy to remember and often become identified with the company itself.
Domain names are registered to various owners on a first-come, first-served basis. Under
current law, a company like GHS Law Partners does not have automatic right to the terms
GHS, law, or partners in a domain name simply because that is the name of the business.
Because anyone can register a domain name, registration of a domain name before
someone else registers it is an important part of business strategy.
Registering a Web site name is inexpensive, but the names are highly valuable to
businesses. This has resulted in what is called cybersquatting--registering a domain name
with little intention of creating a Web site and assuming the name will be valuable
enough to another entity to force them to buy it at a much greater price than was paid to
register it. As WIPO, the World Intellectual Property Organization describes it, "As the
holders of these registrations, cybersquatters often then put the domain names up for
auction, or offer them for sale directly to the company or person involved, at prices far
beyond the cost of registration. Alternatively, they often keep the registration and use the
good name of the person or business associated with that domain name to attract business
for their own sites."
When domain name disputes arise for GHS Law Partners' clients, we work under the
Uniform Domain Name Dispute Resolution Policy (UDRP), which was developed by the
World Intellectual Property Organization for domain name disputes worldwide. In cases
under this policy, the following factors are considered:
Whether the domain name is identical or confusingly similar to a trademark or service
mark in which the complainant has rights.
Whether the respondent has any rights or legitimate interests in the domain name (for
example, the legitimate offering of goods and services under the same name).
Whether the domain name was registered and is being used in bad faith.
The policy defines "bad faith" in part as "circumstances indicating that you have
registered or you have acquired the domain name primarily for the purpose of selling,
renting, or otherwise transferring the domain name registration to the complainant who is
the owner of the trademark or service mark or to a competitor of that complainant, for
valuable consideration in excess of your documented out-of-pocket costs directly related
to the domain name."
GHS Law Partners has experience representing clients on both sides of domain name
disputes. We are experts in the complexities of UDRP and have relationships with other
experts in many other countries. We can help our clients in these disputes regardless of
the type or location of the other party.