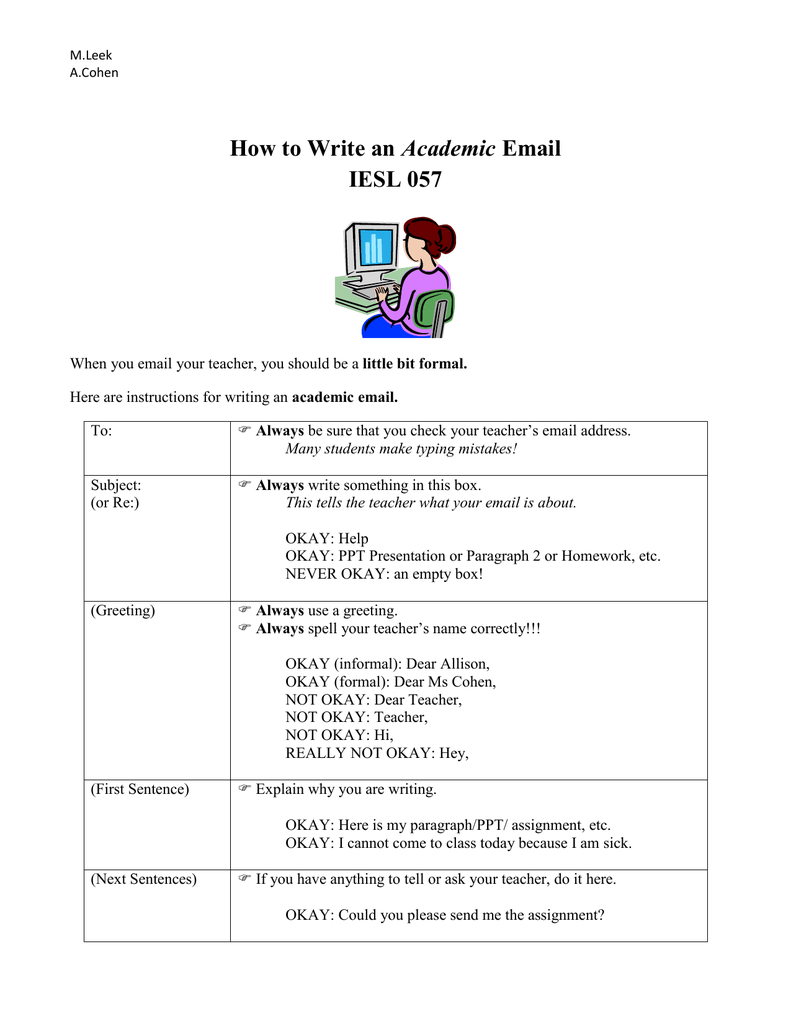 M.Leek
A.Cohen
How to Write an Academic Email
IESL 057
When you email your teacher, you should be a little bit formal.
Here are instructions for writing an academic email.
To:
 Always be sure that you check your teacher's email address.
Many students make typing mistakes!
Subject:
(or Re:)
 Always write something in this box.
This tells the teacher what your email is about.
OKAY: Help
OKAY: PPT Presentation or Paragraph 2 or Homework, etc.
NEVER OKAY: an empty box!
(Greeting)
 Always use a greeting.
 Always spell your teacher's name correctly!!!
OKAY (informal): Dear Allison,
OKAY (formal): Dear Ms Cohen,
NOT OKAY: Dear Teacher,
NOT OKAY: Teacher,
NOT OKAY: Hi,
REALLY NOT OKAY: Hey,
(First Sentence)
 Explain why you are writing.
OKAY: Here is my paragraph/PPT/ assignment, etc.
OKAY: I cannot come to class today because I am sick.
(Next Sentences)
 If you have anything to tell or ask your teacher, do it here.
OKAY: Could you please send me the assignment?
M.Leek
A.Cohen
Closing
 We usually use a "sign off" word before we sign our name.
OKAY (very formal): Sincerely,
OKAY (regular): Thank you,
OKAY (a bit informal): Thanks,
NOT OKAY (too informal/personal):
Bye
Love,
I love you,
Much love,
Lots of love,
(any words about love)
Signature
Always sign your name.
You can use your first name only, or you can use
your names. If you have a nickname, use
that, too.
both/all of
OKAY: Allison
OKAY: Allison Cohen
OKAY: Allison (Allie) Cohen
NEVER OKAY: no sign off
Other information:
What does CC mean (probably between "To" and "Subject")?
If you want to send your email to two (or more) different people, write the other address(es) in
this box. You will send copies to everyone at the same time. (CC = carbon copy, or exact copy)
What does BCC mean? This means "Blind Carbon Copy".
Send a copy of a message to someone (not the person you are writing to).
The person you are writing to cannot see this person's name/address
For example: Your friend, Bob, is having a birthday. You want to surprise him with a party. You
send a message to Bob.
"Let's have lunch on Saturday at 1:00 at my house."
You BCC all of the people you're inviting to the party, so they can see what you're telling Bob,
but he can't see their names or addresses. He doesn't know that you sent the email to other
people.