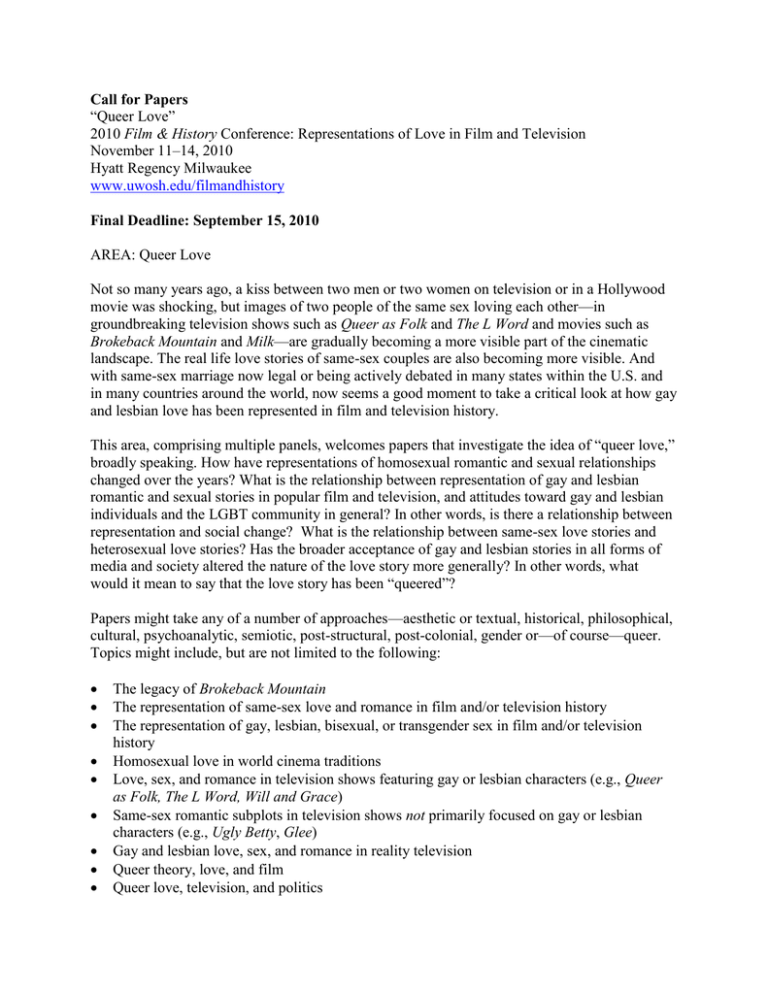 Call for Papers
"Queer Love"
2010 Film & History Conference: Representations of Love in Film and Television
November 11–14, 2010
Hyatt Regency Milwaukee
www.uwosh.edu/filmandhistory
Final Deadline: September 15, 2010
AREA: Queer Love
Not so many years ago, a kiss between two men or two women on television or in a Hollywood
movie was shocking, but images of two people of the same sex loving each other—in
groundbreaking television shows such as Queer as Folk and The L Word and movies such as
Brokeback Mountain and Milk—are gradually becoming a more visible part of the cinematic
landscape. The real life love stories of same-sex couples are also becoming more visible. And
with same-sex marriage now legal or being actively debated in many states within the U.S. and
in many countries around the world, now seems a good moment to take a critical look at how gay
and lesbian love has been represented in film and television history.
This area, comprising multiple panels, welcomes papers that investigate the idea of "queer love,"
broadly speaking. How have representations of homosexual romantic and sexual relationships
changed over the years? What is the relationship between representation of gay and lesbian
romantic and sexual stories in popular film and television, and attitudes toward gay and lesbian
individuals and the LGBT community in general? In other words, is there a relationship between
representation and social change? What is the relationship between same-sex love stories and
heterosexual love stories? Has the broader acceptance of gay and lesbian stories in all forms of
media and society altered the nature of the love story more generally? In other words, what
would it mean to say that the love story has been "queered"?
Papers might take any of a number of approaches—aesthetic or textual, historical, philosophical,
cultural, psychoanalytic, semiotic, post-structural, post-colonial, gender or—of course—queer.
Topics might include, but are not limited to the following:









The legacy of Brokeback Mountain
The representation of same-sex love and romance in film and/or television history
The representation of gay, lesbian, bisexual, or transgender sex in film and/or television
history
Homosexual love in world cinema traditions
Love, sex, and romance in television shows featuring gay or lesbian characters (e.g., Queer
as Folk, The L Word, Will and Grace)
Same-sex romantic subplots in television shows not primarily focused on gay or lesbian
characters (e.g., Ugly Betty, Glee)
Gay and lesbian love, sex, and romance in reality television
Queer theory, love, and film
Queer love, television, and politics





Homoerotic subtexts in heterosexual love stories
Queer love and genre: comedy, drama, sci fi, and more
Fan love – audience response to television and movie characters/actors
Straight viewers who love queer characters
TV and film characters in fanfiction – gay and lesbian romance and slash fiction
Please send 200-word paper proposals to the area chair:
Pamela Demory, Ph.D.
University Writing Program
University of California, Davis
Davis, CA 95616
Email: phdemory@ucdavis.edu (email submissions preferred)
Panel proposals for up to four presenters are also welcome, but each presenter must submit his or
her own paper proposal. For updates and registration information about the upcoming meeting,
see the Film & History website (www.uwosh.edu/filmandhistory).