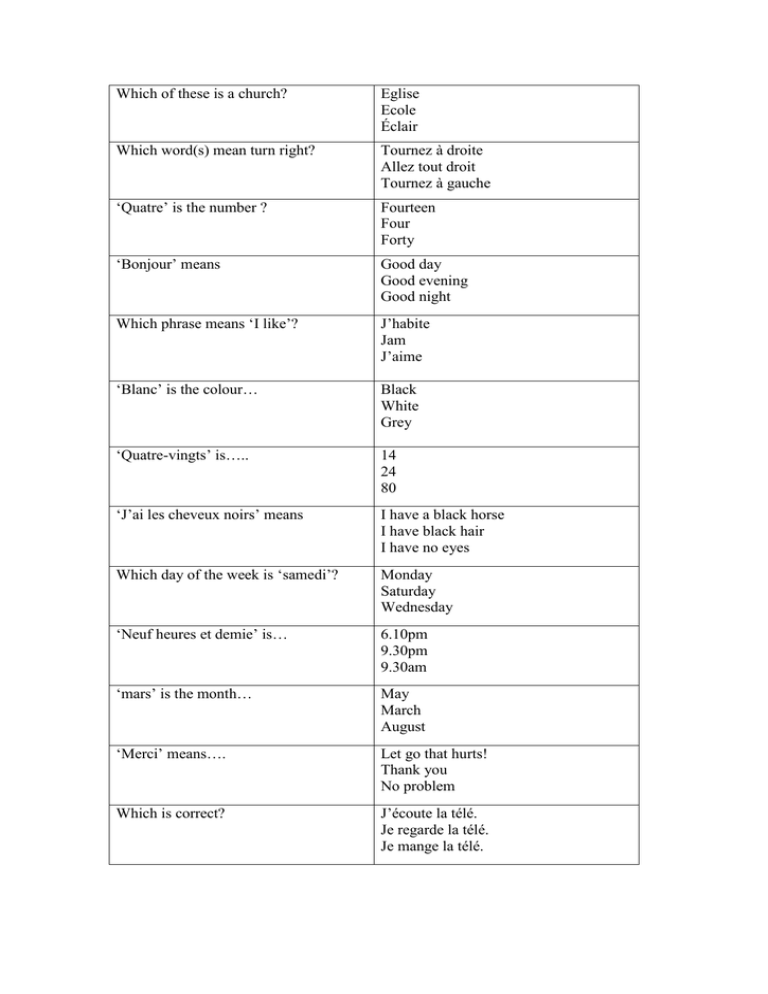 Which of these is a church?
Eglise
Ecole
Éclair
Which word(s) mean turn right?
Tournez à droite
Allez tout droit
Tournez à gauche
'Quatre' is the number ?
Fourteen
Four
Forty
'Bonjour' means
Good day
Good evening
Good night
Which phrase means 'I like'?
J'habite
Jam
J'aime
'Blanc' is the colour…
Black
White
Grey
'Quatre-vingts' is…..
14
24
80
'J'ai les cheveux noirs' means
I have a black horse
I have black hair
I have no eyes
Which day of the week is 'samedi'?
Monday
Saturday
Wednesday
'Neuf heures et demie' is…
6.10pm
9.30pm
9.30am
'mars' is the month…
May
March
August
'Merci' means….
Let go that hurts!
Thank you
No problem
Which is correct?
J'écoute la télé.
Je regarde la télé.
Je mange la télé.
'Je me lève' means…
I wake up
I get up
I get washed
At school I learn….
Le dessin
L'allemand
La musique
'La règle' is …..
Regular
Ruler
Rectangle
'La confiserie' is where…..
You can buy conkers
You can buy chocolate
All your confiscated stuff goes
Which of these would you eat?
La pomme
La poste
La piscine
What do you wear on your legs?
Le pull-over
Le pantalon
Le chapeau
How do you say 3.15pm?
Trente heures et quinze
Trois heures et quart
Treize heures et quart
In my family I have my mum, my dad
and 2 brothers. Which statement is
correct?
J'ai deus frères, ma mère et ma sœur.
J'ai mon père, ma mère et deux sœurs
J'ai ma mère, mon père et deus frères.
What goes WOOF !?
Le chat
Le chien
Le cheval
Which room do you sleep in?
La chambre
La cuisine
Le jardin
Which country is 'nord de
l'Angleterre'?
Scotland
Wales
Ireland
Où habites-tu?
Dans une ville
Dans un cité
Dans un village
What would you do ?
J'apprends la radio
Je fais la radio
J'écoute la radio.
I am 17 years old. Which is correct?
J'ai dix-sept ans.
Je suis dix-sept ans
J'ai dix-huit ans.
How do you say: I like ice-skating?
J'aime les échecs.
J'aime le patinage.
J'aime la natation.