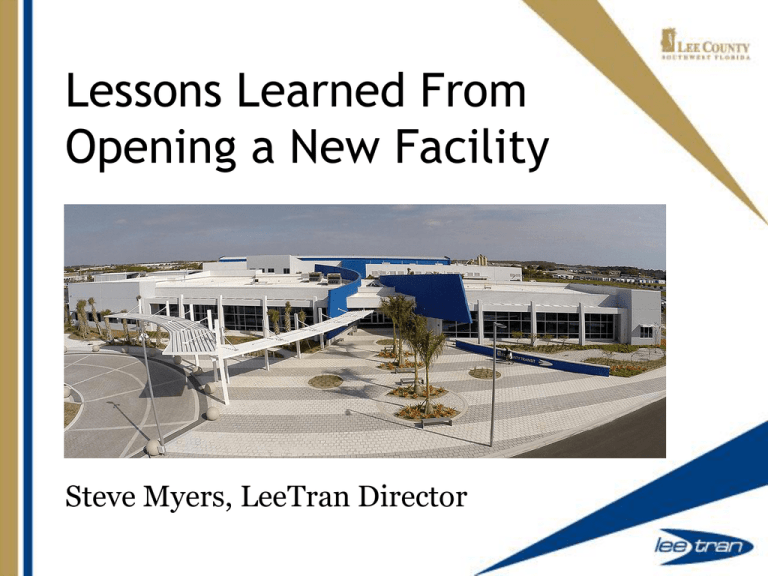 Lessons Learned From
Opening a New Facility
Steve Myers, LeeTran Director
LeeTran Headquarters
•
•
•
•
•
•
23.9-acre site
Total project cost $42.9 million
$32.1 million in federal grants
30,000 s.f. office, 45,000 s.f. maintenance
Ground Breaking: March 25, 2013
Move-in January 2015
Create Synergy
• Design/engineering: AECOM
• Construction management: Gilbane Building
Co.
Include CM during design:
• Constructability reviews
• Cost estimates
• Value engineering
Aerial View 2/21/13
Project Manager
An agency project manager is essential to bring
various disciplines to weekly review meetings
to integrate systems:
• Audio/video
• Security/surveillance
• Telecom & IT systems
• Access management
• HVAC
• Lighting
Continuity of Staff
• Construction management team remained
on the project throughout two-year
project.
• Changes to County team and LeeTran
team during design.
• The more team members you can keep in
place through the project, the less time
loss will be spent on familiarization with
the project.
Plan for IT
IT systems
are critical
to building
function:
Integrate
early in
design
phase
Multi-Department Review
• Review plans in detail
• How will the design function?
• Don't assume the architect understands
your business practices and processes.
• Perform weekly onsite inspections to
prevent costly design errors.
Buy America
• Be proactive in finding alternative products
• Wait for FTA waivers will disrupt project
schedule
Project Wrap-Up
• Internal management of warranty issues
– Asphalt curing
– ADA accessibility of call stations in parking lot
– Shop equipment didn't match power feeds
• Expect adjustments in procedures based
on actual use
– Key card access
– Gate operations
– Added lighting for safety
Questions?