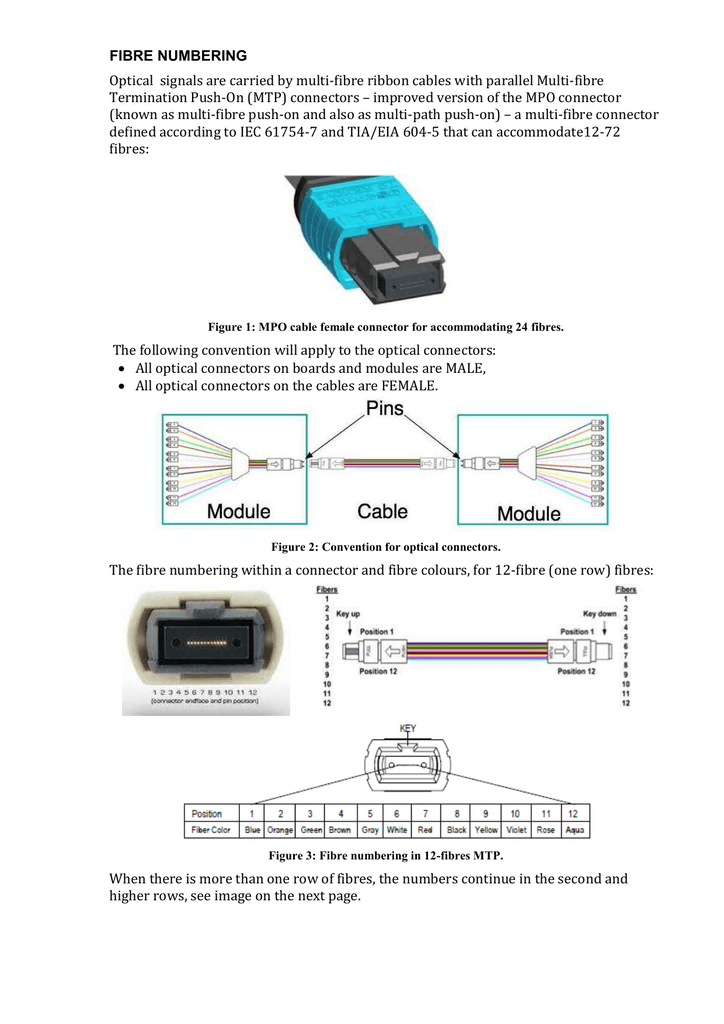 FIBRE NUMBERING
Optical signals are carried by multi-fibre ribbon cables with parallel Multi-fibre
Termination Push-On (MTP) connectors – improved version of the MPO connector
(known as multi-fibre push-on and also as multi-path push-on) – a multi-fibre connector
defined according to IEC 61754-7 and TIA/EIA 604-5 that can accommodate12-72
fibres:
Figure 1: MPO cable female connector for accommodating 24 fibres.
The following convention will apply to the optical connectors:
 All optical connectors on boards and modules are MALE,
 All optical connectors on the cables are FEMALE.
Figure 2: Convention for optical connectors.
The fibre numbering within a connector and fibre colours, for 12-fibre (one row) fibres:
Figure 3: Fibre numbering in 12-fibres MTP.
When there is more than one row of fibres, the numbers continue in the second and
higher rows, see image on the next page.
Figure 4: Fibre numbering in 48-fibres MTP.
Figure 5: Fibre numbering in 72-fibres MTP.