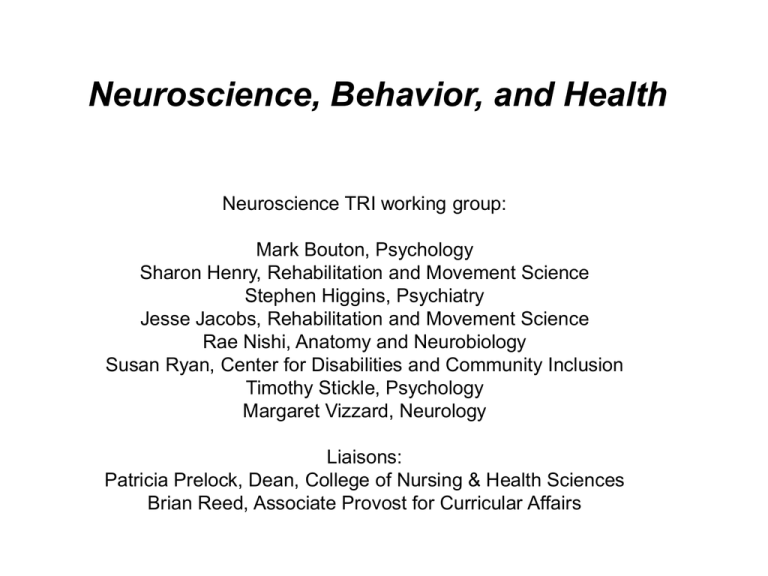 Neuroscience, Behavior, and Health
Neuroscience TRI working group:
Mark Bouton, Psychology
Sharon Henry, Rehabilitation and Movement Science
Stephen Higgins, Psychiatry
Jesse Jacobs, Rehabilitation and Movement Science
Rae Nishi, Anatomy and Neurobiology
Susan Ryan, Center for Disabilities and Community Inclusion
Timothy Stickle, Psychology
Margaret Vizzard, Neurology
Liaisons:
Patricia Prelock, Dean, College of Nursing & Health Sciences
Brian Reed, Associate Provost for Curricular Affairs
• The Challenge:
– Develop something very strong– something that would allow
UVM to be recognized as "one of the best institutions in the U.S"
in this area
• The spire would need to be focused yet inclusive.
• the largest core of units and faculty we can construct that can be
excellent and distinctive.
• The Concept:
– NEUROSCIENCE, BEHAVIOR, AND HEALTH
– A spire that will span the neural, behavioral, and interventional
sciences in order to address a growing 21st century health
problem: Human disease and disability in which behavior plays a
key role.
– More specifically: The spire will investigate personal behavior as
a major risk factor for disease and disability, with the goal of
designing effective strategies for prevention and treatment of
disease as well as better interventions for the disabled.
Rationale
• Many diseases, disorders, and disabilities have a major
behavioral component (e.g., cardiovascular disease,
site-specific cancers, obesity, type 2 diabetes, fetal
alcohol syndrome, etc.).
• These are creating an enormous and growing burden on
the U.S. health care system.
– In the U.S., 40% of annual premature deaths can be attributed to
health-related behaviors (Schroeder, New England Journal of
Medicine, 2007).
– In Vermont, 90% of hospitalizations for chronic diseases involved
disease for which behavior is a primary risk factor (Vermont
Health Care Quality Report, 2009).
– Individuals with low socioeconomic status are disproportionately
at risk.
• Neuroscience, Behavior, and Health would address an
important problem and fill a new niche.
• The concept is unique:
– "Mind, Brain, and Behavior" focus at (e.g.) Princeton University,
University of Arizona mainly focus on cognitive neuroscience, not
health.
– "Social Policy and Health" focus at (e.g.) Brandeis University
does not have a base in basic or applied science.
Basic Neural
Structure and Function
Diseases, Disorders,
and Disabilities
Neural, Behavioral, and
Cognitive Processes
Influencing Health
Neuroscience, Behavior, and Health
Illustrative focus research and training areas
Publications
2003-2009
Addictions
(10 faculty, 4 departments)
Anxiety, Stress, and Mood Disorders
(11 faculty, 4 departments)
Develop. Psychopathology/Neurodevelopment
(18 faculty, 6 departments)
Disability
(10 faculty, 6 departments)
Exercise/Obesity/Cardiovascular Disease
(8 faculty, 5 departments)
Neurovascular Disease and Stroke
(9 faculty, 5 departments)
Pain, Sensory Transduction, and Inflammation
(12 faculty, 8 departments)
Citations
2003-2009
Grants
2007-2009
334
16,760
$19,755,631
350
12,150
$10,035,802
388
15,100
$9,211,776
88
415
$9,401,208
212
11,352
$7,563,000
179
8,949
$14,063,893
241
7,932
$14,073,175
How will we make this work?
• Graduate students are a kind of glue that brings faculty
and research projects together.
– Create new "track" for students enrolled in existing Ph.D.
programs who would take new team-taught transdisciplinary
courses, research rotations, and be co-mentored.
• Construct new building at the site of the Hills Building to
bring members of the spire closer together.
– We can capitalize on the fact that a new psychology building is
already under discussion for this site (2007 feasibility study),
which is directly adjacent to Given, HSRF, Rowell, and Marsh
Life Sciences.
– Such a new building could house many spire investigators,
provide focus, and greatly facilitate new research and teaching
interactions.
• Strategic hires.
– The committee identified several types of hires that would
strengthen multiple working groups at the same time.
Summary
• A spire of excellence in Neuroscience, Behavior,
and Health will
– give additional focus to UVM's existing strengths in
the neural, behavioral, and interventional sciences.
– enhance strong existing Ph.D. programs.
– address an extremely important health problem.
– position UVM as a leader in research, education, and
training in a crucial and emerging area of 21st century
science.