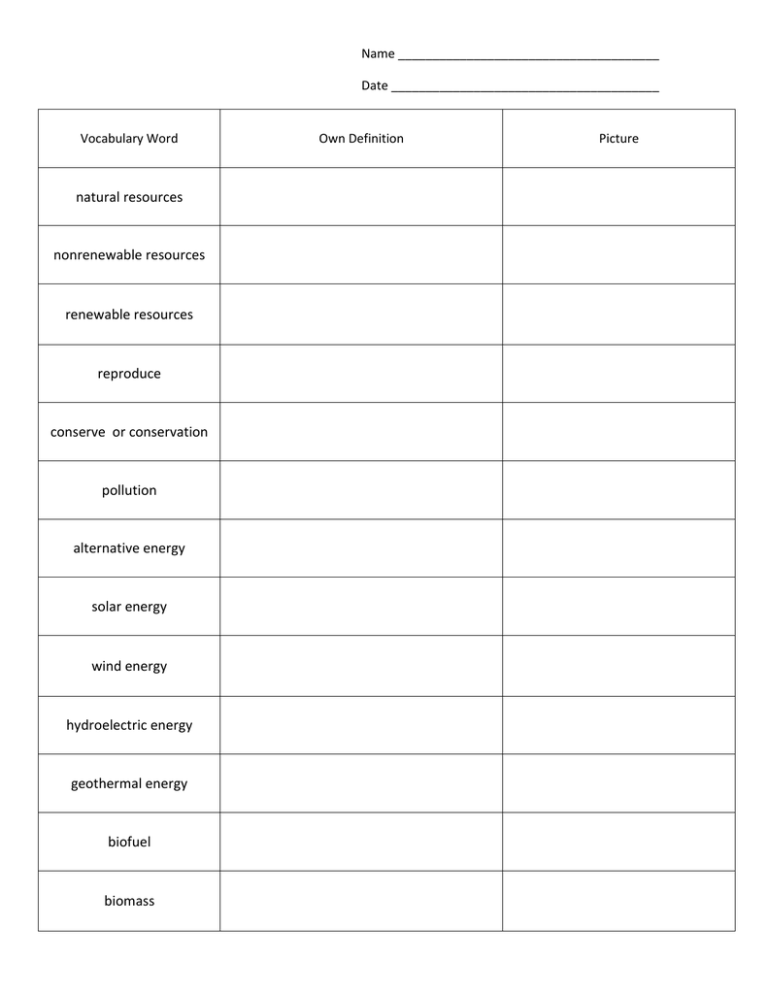 Name ______________________________________
Date _______________________________________
Vocabulary Word
natural resources
nonrenewable resources
renewable resources
reproduce
conserve or conservation
pollution
alternative energy
solar energy
wind energy
hydroelectric energy
geothermal energy
biofuel
biomass
Own Definition
Picture
environment
fossil fuels
natural
resources
surroundings that are
around one (air, trees,
plants, animals, land,
etc.)
fuels formed from the
remains of dead
plants and animals
that were buried in
sedimentary rock
layers over millions of
years
(coal, oil, natural gas)
materials that are
found in nature that
can be used by
people in many
different ways
nonrenewable
resources
coal
oil
natural gas
metals/minerals
rocks/soil
renewable
resources
sun, wind
water, air
trees, plants, animals
biomass
reproduce
are resources found in the
ground. Cannot be
replaced in a person's life
span. They can take
millions of years to form.
are resources that do
not run out or nature
can produce again
within a person's
lifespan
to make more
organisms of the
same kind
conserve
not to use up, spoil, or
waste things
alternative
energy
another choice of
energy that would not
cause pollution and
the supply would
never end
solar
wind
hydroelectric
geothermal
biofuel
solar energy
(solar=sun)
energy created from
the sun's rays
wind energy
energy created from
the force of moving air
hydroelectric
energy
energy created from
the force of moving
water
(hydro=water)
geothermal
energy
(geo=earth, thermal=heat)
energy created from
heat inside the earth
biofuel
(bio=life)
biomass
(bio=life)
a fuel that is from
plant materials
(biomass) that are
changed into a liquid
fuel
organic matter that
can be used as an
energy source (such
as crops, wood, plant
and animal waste,
algae).