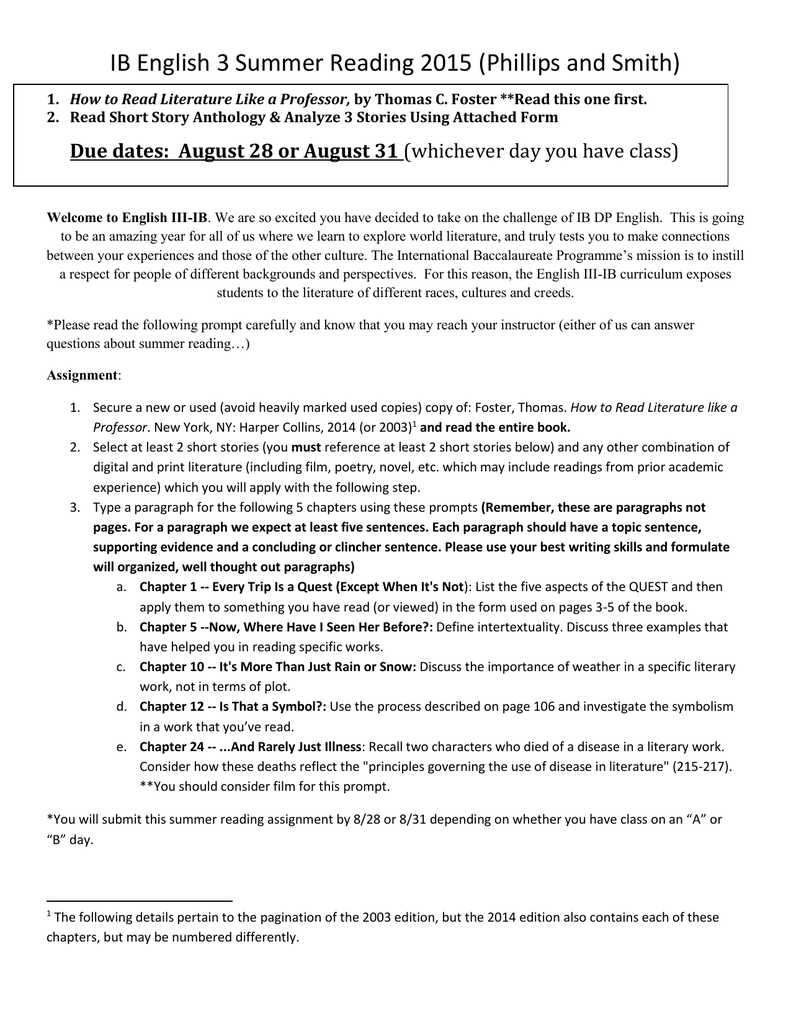 IB English 3 Summer Reading 2015 (Phillips and Smith)
1. How to Read Literature Like a Professor, by Thomas C. Foster **Read this one first.
2. Read Short Story Anthology & Analyze 3 Stories Using Attached Form
Due dates: August 28 or August 31 (whichever day you have class)
Welcome to English III-IB. We are so excited you have decided to take on the challenge of IB DP English. This is going
to be an amazing year for all of us where we learn to explore world literature, and truly tests you to make connections
between your experiences and those of the other culture. The International Baccalaureate Programme's mission is to instill
a respect for people of different backgrounds and perspectives. For this reason, the English III-IB curriculum exposes
students to the literature of different races, cultures and creeds.
*Please read the following prompt carefully and know that you may reach your instructor (either of us can answer
questions about summer reading…)
Assignment:
1. Secure a new or used (avoid heavily marked used copies) copy of: Foster, Thomas. How to Read Literature like a
Professor. New York, NY: Harper Collins, 2014 (or 2003)1 and read the entire book.
2. Select at least 2 short stories (you must reference at least 2 short stories below) and any other combination of
digital and print literature (including film, poetry, novel, etc. which may include readings from prior academic
experience) which you will apply with the following step.
3. Type a paragraph for the following 5 chapters using these prompts (Remember, these are paragraphs not
pages. For a paragraph we expect at least five sentences. Each paragraph should have a topic sentence,
supporting evidence and a concluding or clincher sentence. Please use your best writing skills and formulate
will organized, well thought out paragraphs)
a. Chapter 1 -- Every Trip Is a Quest (Except When It's Not): List the five aspects of the QUEST and then
apply them to something you have read (or viewed) in the form used on pages 3-5 of the book.
b. Chapter 5 --Now, Where Have I Seen Her Before?: Define intertextuality. Discuss three examples that
have helped you in reading specific works.
c. Chapter 10 -- It's More Than Just Rain or Snow: Discuss the importance of weather in a specific literary
work, not in terms of plot.
d. Chapter 12 -- Is That a Symbol?: Use the process described on page 106 and investigate the symbolism
in a work that you've read.
e. Chapter 24 -- ...And Rarely Just Illness: Recall two characters who died of a disease in a literary work.
Consider how these deaths reflect the "principles governing the use of disease in literature" (215-217).
**You should consider film for this prompt.
*You will submit this summer reading assignment by 8/28 or 8/31 depending on whether you have class on an "A" or
"B" day.
1
The following details pertain to the pagination of the 2003 edition, but the 2014 edition also contains each of these
chapters, but may be numbered differently.