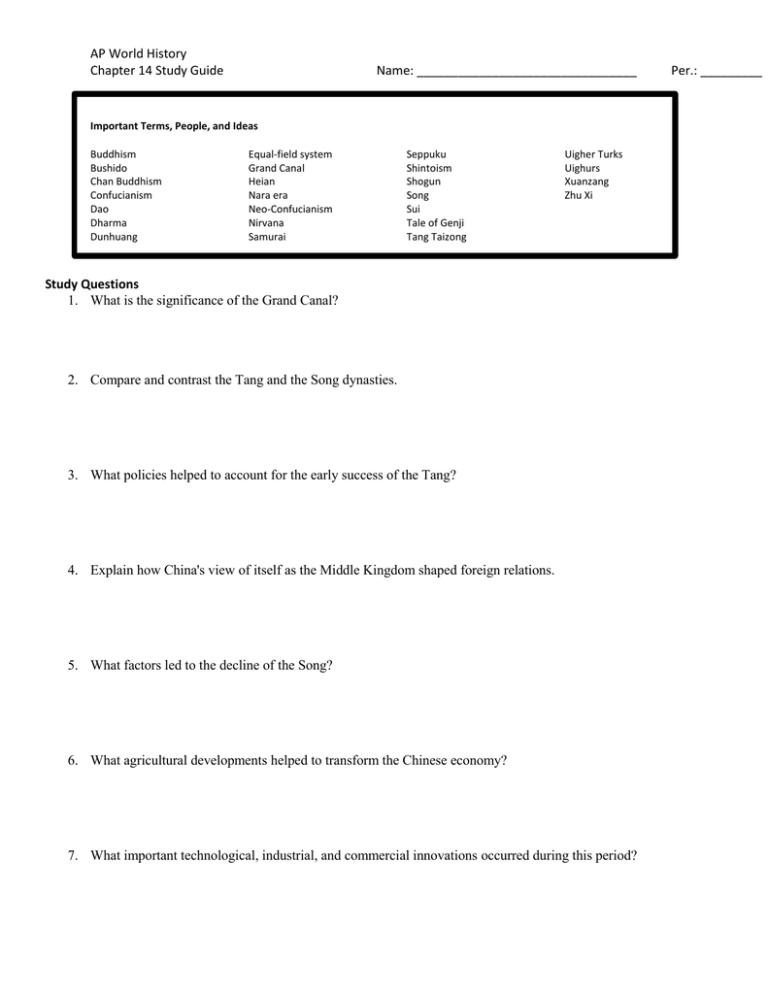 AP World History
Chapter 14 Study Guide
Name: ________________________________
Important Terms, People, and Ideas
Buddhism
Bushido
Chan Buddhism
Confucianism
Dao
Dharma
Dunhuang
Equal-field system
Grand Canal
Heian
Nara era
Neo-Confucianism
Nirvana
Samurai
Seppuku
Shintoism
Shogun
Song
Sui
Tale of Genji
Tang Taizong
Uigher Turks
Uighurs
Xuanzang
Zhu Xi
Study Questions
1. What is the significance of the Grand Canal?
2. Compare and contrast the Tang and the Song dynasties.
3. What policies helped to account for the early success of the Tang?
4. Explain how China's view of itself as the Middle Kingdom shaped foreign relations.
5. What factors led to the decline of the Song?
6. What agricultural developments helped to transform the Chinese economy?
7. What important technological, industrial, and commercial innovations occurred during this period?
Per.: _________
AP World History
Chapter 14 Study Guide
Name: ________________________________
Per.: _________
8. Trace the development of Buddhism in China and how it interacted with Daoism and Confucianism.
9. What was the extent and nature of the influence of China on Korea, Vietnam, and Japan?
10. What is the significance of foot binding?
Inquiry Questions
11. The book refers to China, Byzantine and the Abbasid empires as "the political and economic anchor[s] of the
postclassical world." What does this phrase mean? What did all three of those powers have in common? How did
those factors contribute to their political and economic effectiveness?
12. The Chinese population underwent rapid growth from 600 to 1200. What developments during this period
promoted that growth? What were the advantages and disadvantages of having such a large population?
13. Why was particularly appealing? How did it influence and blend with other belief systems at the time? How did
its influence spread from China?