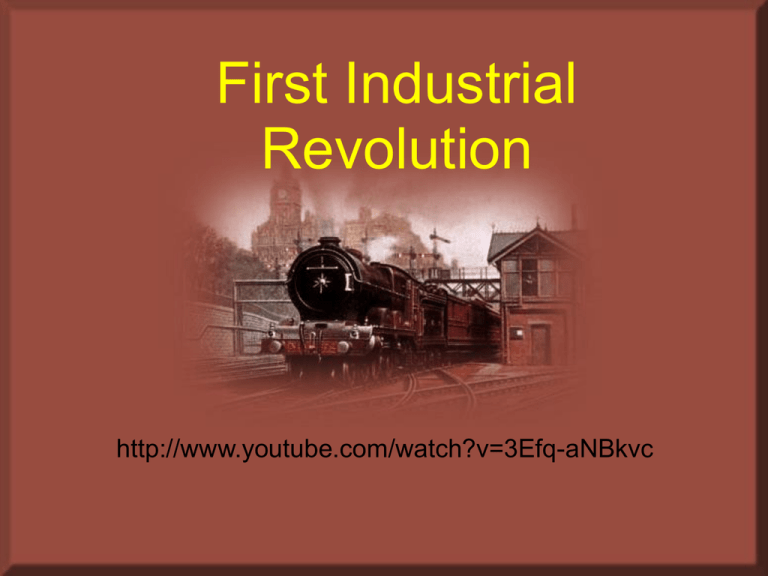 First Industrial
Revolution
http://www.youtube.com/watch?v=3Efq-aNBkvc
Transportation Improvements
• Railroads
• Canals
• Steamboats
Factory System Manufacturing
• Textile Mills –
factory producing
cotton & its products
– Lowell Mills: people
& machines were all
under one roof
• new type of system
to produce more
product
• Mill (factory) towns –
NE & Midwest
Lowell Mills
• Textile mills in Lowell, MA; females =
75% of workers
• Conditions awful; workers went on
strike; unions!
Urbanization
• develop civilization &
technology
• cities are on the rise;
especially on American
east coast
• education on the rise
– "new national literacy
renaissance"
• American west still very
rural (except San
Francisco)
Inventions
• telegraph – transmission of written messages
w/o physical transport of letters
• cotton gin – machine that separates cotton
fibers from seedpods; Eli Whitney & slave
• interchangeable parts – components of a
device that can be used for similar machines
(ex. car parts today); Eli Whitney & gun parts –
puzzle the pieces back
together
• Reaper – Cyrus McCormick;
faster way to harvest crops
SUMMARY
• QUIZ TIME
• 1. What powered the First Industrial
Revolution?
• 2. What was the main way of
transportation during this time?
• 3. Where were most of the products
mass produced during the Industrial
Revolution?
• 4. What invention increased slavery?
• 5. What invention expanded
communication across the country?