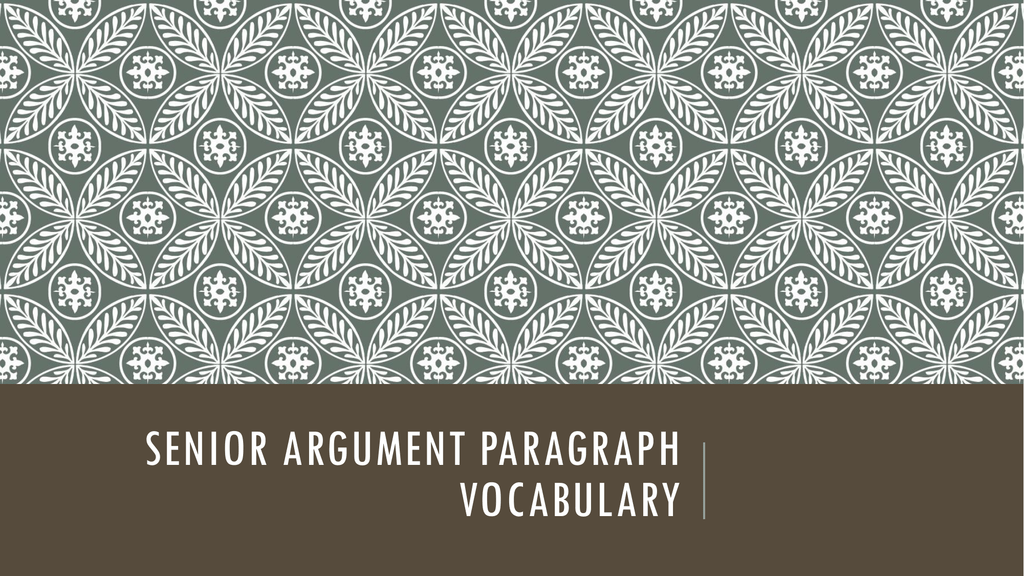 SENIOR ARGUMENT PARAGRAPH
VOCABULARY
argument (n.)
A discussion in which people
express different opinions about
something
In an argument it is important that both
sides respect the others' opinions even if
neither agrees with the other.
claim (n.)
An assertion in the face of possible
contradiction
Although I claimed that Wicked is the
best musical on Broadway.
counterclaim (n.)
An opposing claim;
especially : a claim brought
by a defendant against a
plaintiff in a legal action
My husband disagreed offering the counterclaim that The
Amazing Spiderman is better.
data (n.)
Factual information (as
measurements or statistics) used as
a basis for reasoning, discussion, or
calculation
Without data to support your claim, you are only offering
an opinion.
desecrate (v.)
To treat disrespectfully,
irreverently, or outrageously
In this picture, someone is desecrating the American
flag by walking on it.
enervate (adj.)
To lessen the vitality or
strength of; lacking
physical, mental, or moral
vigor
inclination ( n.)
A feeling of wanting to do
something : a tendency to
do something
This child clearly has an
inclination to partake in
fast food.
innovation (n.)
The act or process of introducing
new ideas, devices, or methods
Alexander Graham Bell, Thomas Edison, and
Leonardo da Vinci are all famous for the innovations
that they introduced to the world.
rebuttal (n.)
The act of contradicting or opposing by formal
legal argument, plea, or countervailing proof
Pee-Wee Herman's rebuttal is not the most
mature response.
warrant (n.)
A reason for thinking, deciding, or
doing something
In an argument, you must provide a
warrant to explain why your data
supports your claim.