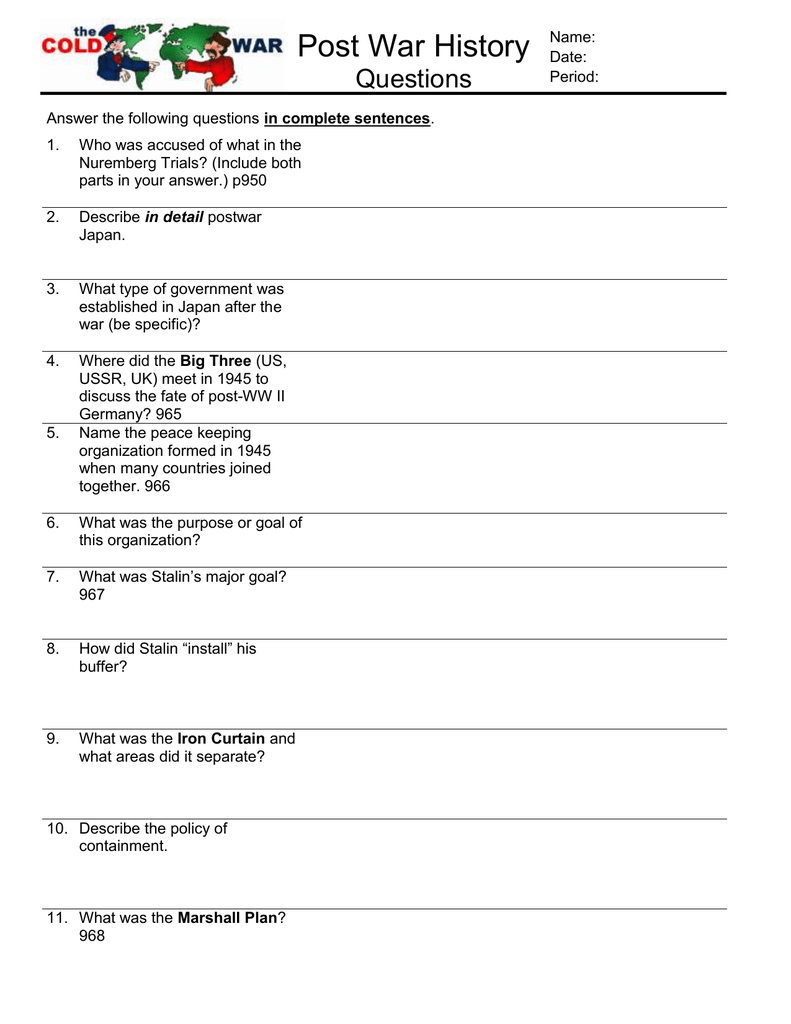 Post War History
Questions
Answer the following questions in complete sentences.
1.
Who was accused of what in the
Nuremberg Trials? (Include both
parts in your answer.) p950
2.
Describe in detail postwar
Japan.
3.
What type of government was
established in Japan after the
war (be specific)?
4.
Where did the Big Three (US,
USSR, UK) meet in 1945 to
discuss the fate of post-WW II
Germany? 965
Name the peace keeping
organization formed in 1945
when many countries joined
together. 966
5.
6.
What was the purpose or goal of
this organization?
7.
What was Stalin's major goal?
967
8.
How did Stalin "install" his
buffer?
9.
What was the Iron Curtain and
what areas did it separate?
10. Describe the policy of
containment.
11. What was the Marshall Plan?
968
Name:
Date:
Period:
12. What was the Berlin Airlift?
13. What was the Cold War and
who was fighting it? 969
14. What was NATO?
15. What was the Warsaw Pact?
16. What did the Soviets get in
1949? 969
17. What was Sputnik? 970
18. What country had the first
human in orbit? When? (p971,
timeline)
19. Who took over China in 1949?
972-973
20. Who led the Communists in
China? 972
21. Who (name both) supported the
North Koreans in the Korean
War? 976-977
22. How did the Korean War end?
23. Why did America fight the
Vietnam war?
24. What was the Domino Theory?