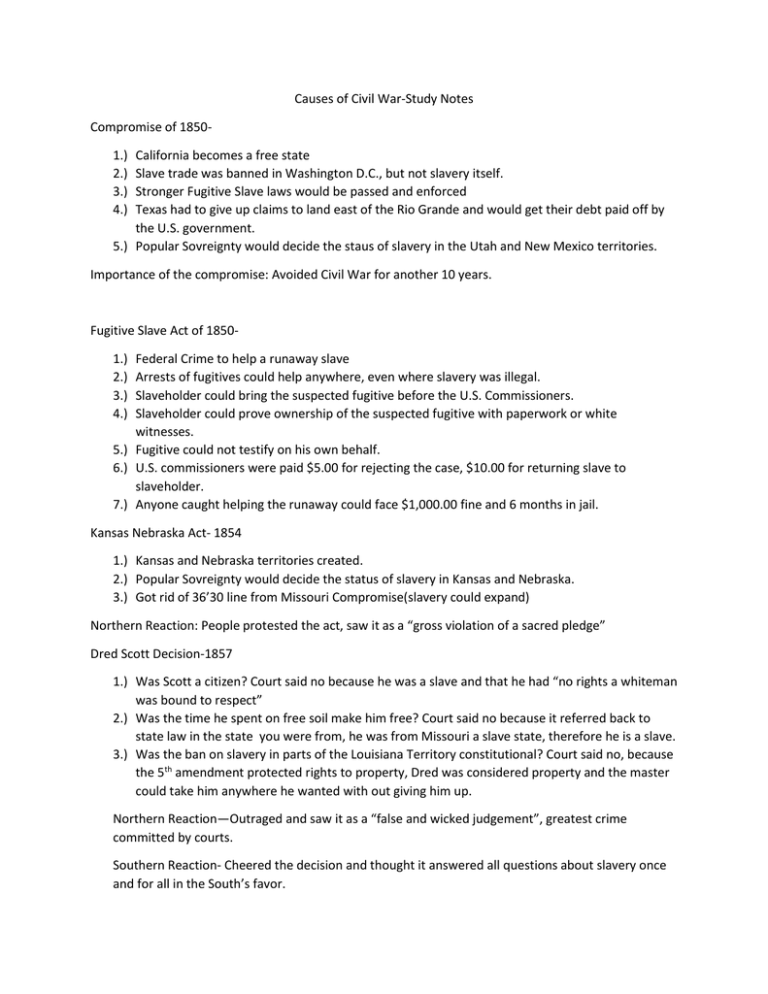 Causes of Civil War-Study Notes
Compromise of 18501.)
2.)
3.)
4.)
California becomes a free state
Slave trade was banned in Washington D.C., but not slavery itself.
Stronger Fugitive Slave laws would be passed and enforced
Texas had to give up claims to land east of the Rio Grande and would get their debt paid off by
the U.S. government.
5.) Popular Sovreignty would decide the staus of slavery in the Utah and New Mexico territories.
Importance of the compromise: Avoided Civil War for another 10 years.
Fugitive Slave Act of 18501.)
2.)
3.)
4.)
Federal Crime to help a runaway slave
Arrests of fugitives could help anywhere, even where slavery was illegal.
Slaveholder could bring the suspected fugitive before the U.S. Commissioners.
Slaveholder could prove ownership of the suspected fugitive with paperwork or white
witnesses.
5.) Fugitive could not testify on his own behalf.
6.) U.S. commissioners were paid $5.00 for rejecting the case, $10.00 for returning slave to
slaveholder.
7.) Anyone caught helping the runaway could face $1,000.00 fine and 6 months in jail.
Kansas Nebraska Act- 1854
1.) Kansas and Nebraska territories created.
2.) Popular Sovreignty would decide the status of slavery in Kansas and Nebraska.
3.) Got rid of 36'30 line from Missouri Compromise(slavery could expand)
Northern Reaction: People protested the act, saw it as a "gross violation of a sacred pledge"
Dred Scott Decision-1857
1.) Was Scott a citizen? Court said no because he was a slave and that he had "no rights a whiteman
was bound to respect"
2.) Was the time he spent on free soil make him free? Court said no because it referred back to
state law in the state you were from, he was from Missouri a slave state, therefore he is a slave.
3.) Was the ban on slavery in parts of the Louisiana Territory constitutional? Court said no, because
the 5th amendment protected rights to property, Dred was considered property and the master
could take him anywhere he wanted with out giving him up.
Northern Reaction—Outraged and saw it as a "false and wicked judgement", greatest crime
committed by courts.
Southern Reaction- Cheered the decision and thought it answered all questions about slavery once
and for all in the South's favor.
John Brown's raid on Harpers FerryJohn Brown wanted to raid the federal arsenal at Harpers Ferry and seize weapons to arm slaves and
have them revolt against the plantation owners. The plan failed and he was sentenced to death.
After his death North and South had different views of what he had done.
North- Mourned his death. Some hailed him as a hero. Abraham Lincoln agreed with his cause but
thought he took it too far by using violence.
South- Feared another John Brown. Armed themselves and thought the only true way for them to
be safe was to secede from the Union.