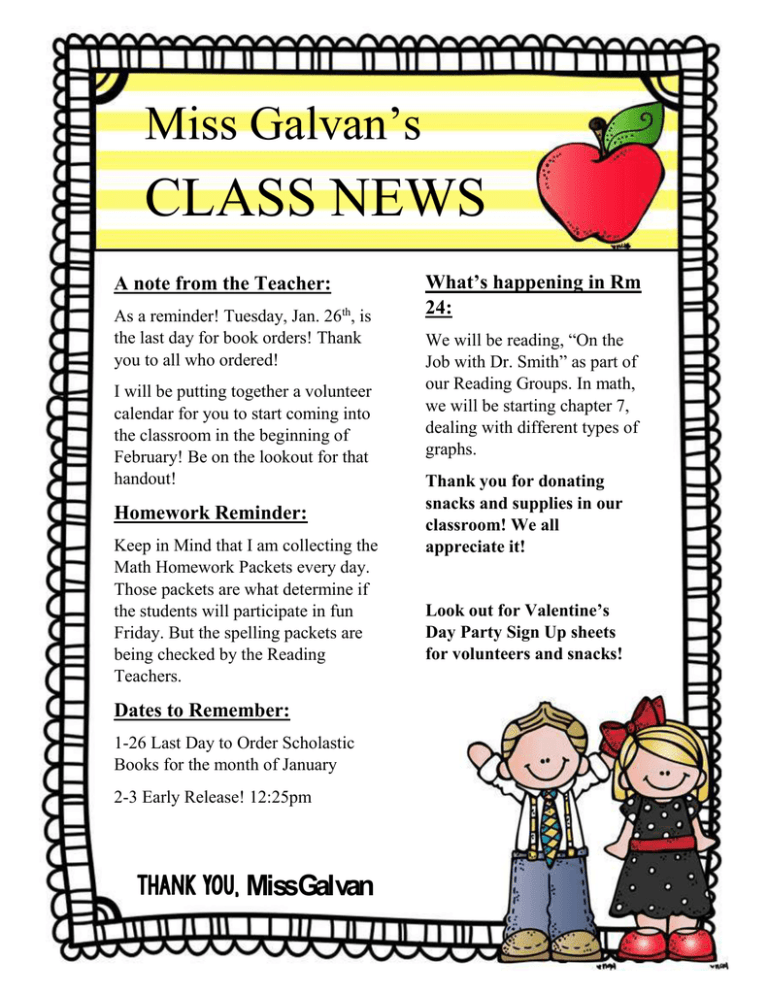 Miss Galvan's
CLASS NEWS
A note from the Teacher:
As a reminder! Tuesday, Jan. 26th, is
the last day for book orders! Thank
you to all who ordered!
I will be putting together a volunteer
calendar for you to start coming into
the classroom in the beginning of
February! Be on the lookout for that
handout!
Homework Reminder:
Keep in Mind that I am collecting the
Math Homework Packets every day.
Those packets are what determine if
the students will participate in fun
Friday. But the spelling packets are
being checked by the Reading
Teachers.
Dates to Remember:
1-26 Last Day to Order Scholastic
Books for the month of January
2-3 Early Release! 12:25pm
MissGalvan
What's happening in Rm
24:
We will be reading, "On the
Job with Dr. Smith" as part of
our Reading Groups. In math,
we will be starting chapter 7,
dealing with different types of
graphs.
Thank you for donating
snacks and supplies in our
classroom! We all
appreciate it!
Look out for Valentine's
Day Party Sign Up sheets
for volunteers and snacks!
Coming to you soon!