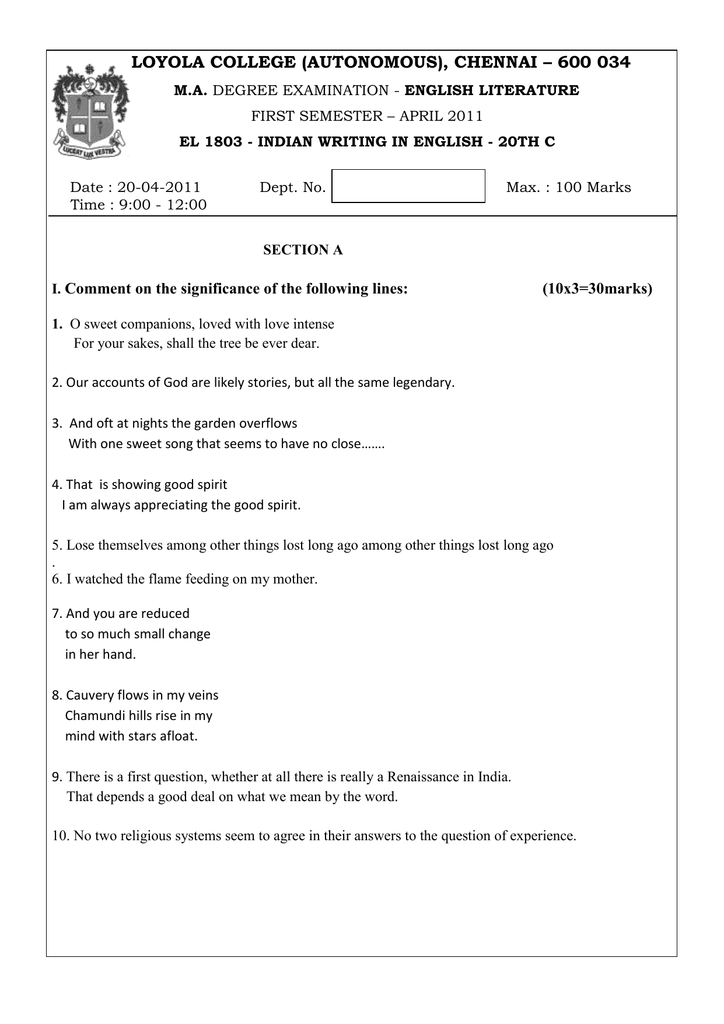 LOYOLA COLLEGE (AUTONOMOUS), CHENNAI – 600 034
M.A. DEGREE EXAMINATION - ENGLISH LITERATURE
FIRST SEMESTER – APRIL 2011
EL 1803 - INDIAN WRITING IN ENGLISH - 20TH C
Date : 20-04-2011
Time : 9:00 - 12:00
Dept. No.
Max. : 100 Marks
SECTION A
I. Comment on the significance of the following lines:
(10x3=30marks)
1. O sweet companions, loved with love intense
For your sakes, shall the tree be ever dear.
2. Our accounts of God are likely stories, but all the same legendary.
3. And oft at nights the garden overflows
With one sweet song that seems to have no close…….
4. That is showing good spirit
I am always appreciating the good spirit.
5. Lose themselves among other things lost long ago among other things lost long ago
.
6. I watched the flame feeding on my mother.
7. And you are reduced
to so much small change
in her hand.
8. Cauvery flows in my veins
Chamundi hills rise in my
mind with stars afloat.
9. There is a first question, whether at all there is really a Renaissance in India.
That depends a good deal on what we mean by the word.
10. No two religious systems seem to agree in their answers to the question of experience.
SECTION B
II. Answer any EIGHT of the following in about 150 words each:-
8x5=40
11.'When politics turns dirty and futile, an Individual's role in shaping history becomes
How does Juggat Singh prove this in Train to Pakistan?
important."
12. Analyse the conflict between theology and monarchy as depicted in Tughlaq.
13. How successful is Mulk Raj Anand in his depiction of the abuse of an exploited class in The
Untouchables ?
14. Attempt an appreciation of Dom Moraes' expression of his traumatic childhood in A Letter .
15. Attempt an appreciation of the display of compassionate humanism and energy of ordinary
The Guide.
life in
16." Creativity comes out of sustained attention to one's own experience, one's own locality, landscape "How does this statement form the basis of A.K. Ramanujan's poem Small– Scale Reflections on a
Great House?
17. Analyse the conflicts and human concerns discussed by Tagore in Mukta-Dhara.
18. How does Raja Rao's Kanthapura become a microcosm of the traditional Indian society with its
entrenched caste hierarchy?
19. Elaborate on the Central theme of self-discovery in English, August.
20. What are the major conflicts dealt with by Babhani Bhattacharya in So Many Hungers?
SECTION C
III. Attempt any TWO of the following in about 500 words each: -
(2x15=30marks)
21. A Critical study of the beginnings of Indian writing in English in terms of the Anglo-Indian,
Indo-anglian and Indian literature, and its growth and development .
22. Do you believe that India can embody the best of its unique cultural heritage and also
simultaneously become a 'modern nation'? Elucidate Sri Aurobindo's assertion that the
true gift of the renaissance was the modern Indian Nation.
23. In what ways have Ezekiel, Ramanujan and Kolatkar carved out a distinct identity of
their own in terms of style and techniques? Discuss.
24. Bring out the essence of the unquestioning theory of Hindu Dharma as reflected in SriRadhakrishnan's
essay.
********.