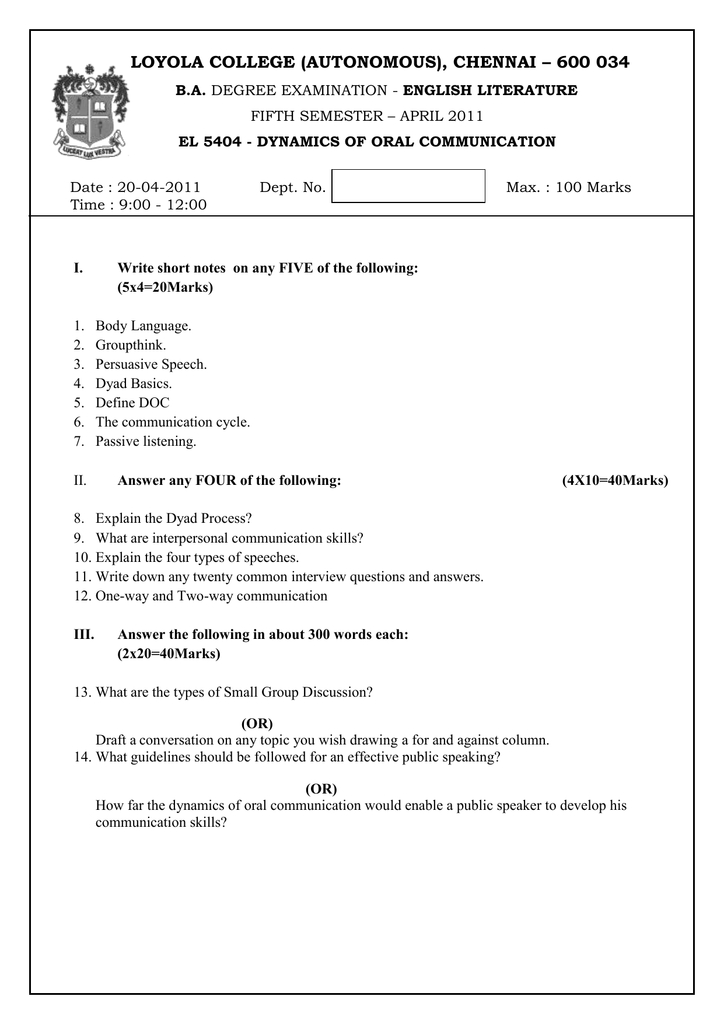 LOYOLA COLLEGE (AUTONOMOUS), CHENNAI – 600 034
B.A. DEGREE EXAMINATION - ENGLISH LITERATURE
FIFTH SEMESTER – APRIL 2011
EL 5404 - DYNAMICS OF ORAL COMMUNICATION
Date : 20-04-2011
Time : 9:00 - 12:00
I.
1.
2.
3.
4.
5.
6.
7.
II.
Dept. No.
Max. : 100 Marks
Write short notes on any FIVE of the following:
(5x4=20Marks)
Body Language.
Groupthink.
Persuasive Speech.
Dyad Basics.
Define DOC
The communication cycle.
Passive listening.
Answer any FOUR of the following:
(4X10=40Marks)
8. Explain the Dyad Process?
9. What are interpersonal communication skills?
10. Explain the four types of speeches.
11. Write down any twenty common interview questions and answers.
12. One-way and Two-way communication
III.
Answer the following in about 300 words each:
(2x20=40Marks)
13. What are the types of Small Group Discussion?
(OR)
Draft a conversation on any topic you wish drawing a for and against column.
14. What guidelines should be followed for an effective public speaking?
(OR)
How far the dynamics of oral communication would enable a public speaker to develop his
communication skills?