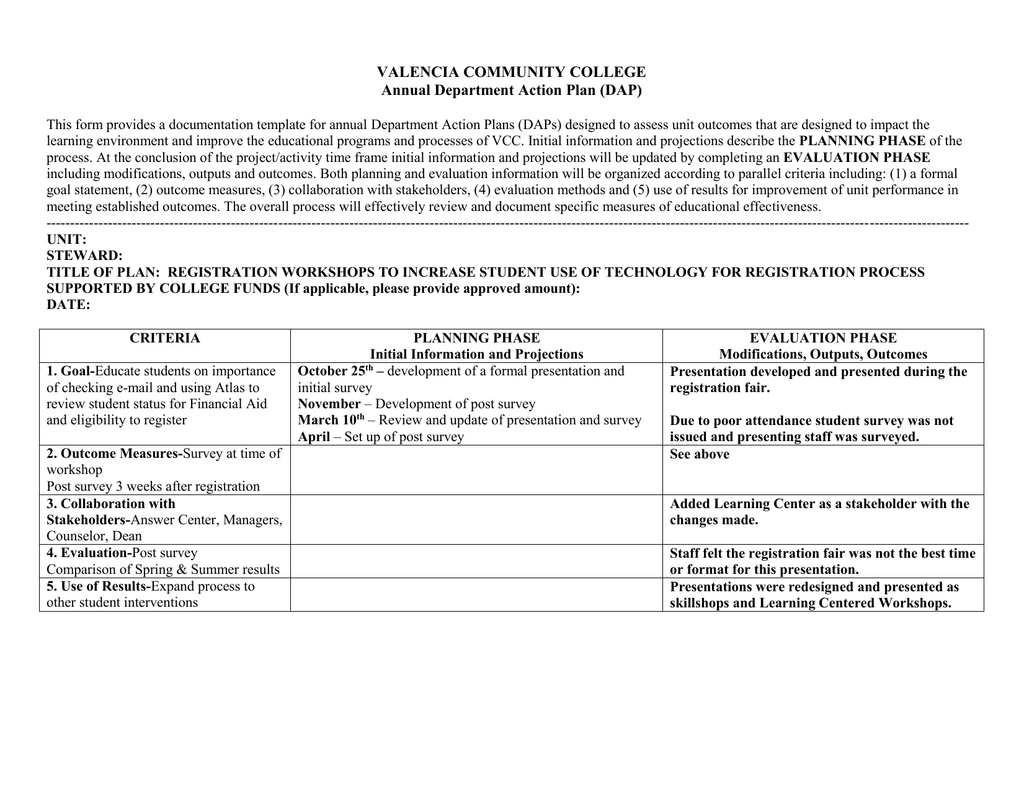 VALENCIA COMMUNITY COLLEGE
Annual Department Action Plan (DAP)
This form provides a documentation template for annual Department Action Plans (DAPs) designed to assess unit outcomes that are designed to impact the
learning environment and improve the educational programs and processes of VCC. Initial information and projections describe the PLANNING PHASE of the
process. At the conclusion of the project/activity time frame initial information and projections will be updated by completing an EVALUATION PHASE
including modifications, outputs and outcomes. Both planning and evaluation information will be organized according to parallel criteria including: (1) a formal
goal statement, (2) outcome measures, (3) collaboration with stakeholders, (4) evaluation methods and (5) use of results for improvement of unit performance in
meeting established outcomes. The overall process will effectively review and document specific measures of educational effectiveness.
--------------------------------------------------------------------------------------------------------------------------------------------------------------------------------------------------UNIT:
STEWARD:
TITLE OF PLAN: REGISTRATION WORKSHOPS TO INCREASE STUDENT USE OF TECHNOLOGY FOR REGISTRATION PROCESS
SUPPORTED BY COLLEGE FUNDS (If applicable, please provide approved amount):
DATE:
CRITERIA
1. Goal-Educate students on importance
of checking e-mail and using Atlas to
review student status for Financial Aid
and eligibility to register
2. Outcome Measures-Survey at time of
workshop
Post survey 3 weeks after registration
3. Collaboration with
Stakeholders-Answer Center, Managers,
Counselor, Dean
4. Evaluation-Post survey
Comparison of Spring & Summer results
5. Use of Results-Expand process to
other student interventions
PLANNING PHASE
Initial Information and Projections
October 25th – development of a formal presentation and
initial survey
November – Development of post survey
March 10th – Review and update of presentation and survey
April – Set up of post survey
EVALUATION PHASE
Modifications, Outputs, Outcomes
Presentation developed and presented during the
registration fair.
Due to poor attendance student survey was not
issued and presenting staff was surveyed.
See above
Added Learning Center as a stakeholder with the
changes made.
Staff felt the registration fair was not the best time
or format for this presentation.
Presentations were redesigned and presented as
skillshops and Learning Centered Workshops.