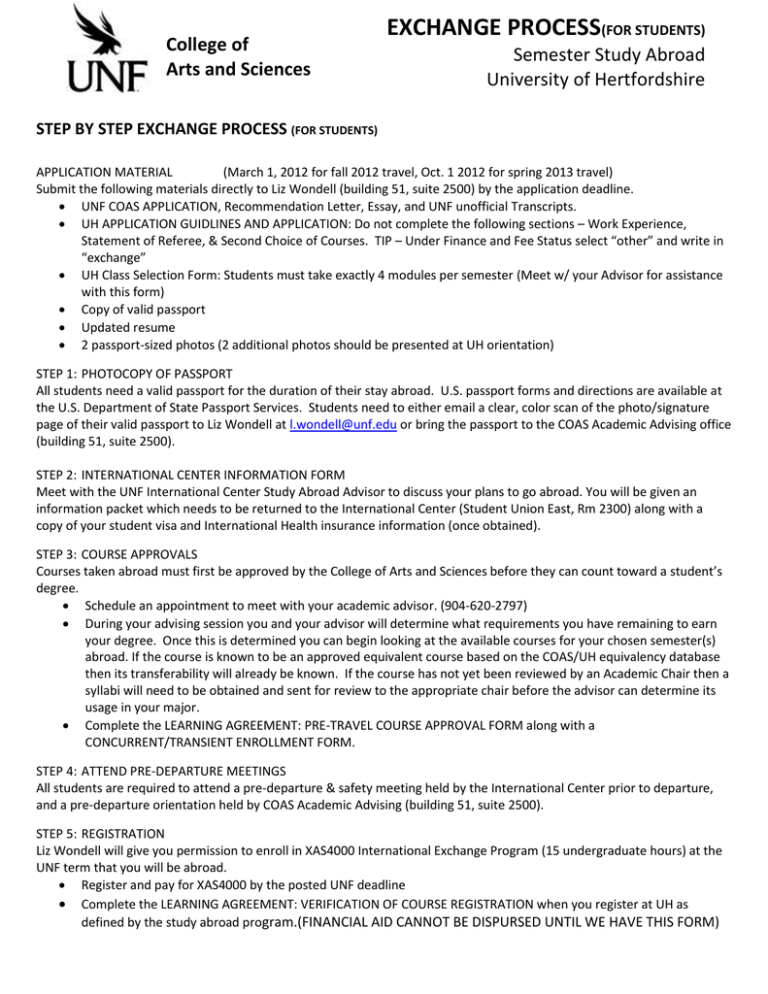 College of
Arts and Sciences
EXCHANGE PROCESS(FOR STUDENTS)
Semester Study Abroad
University of Hertfordshire
STEP BY STEP EXCHANGE PROCESS (FOR STUDENTS)
APPLICATION MATERIAL
(March 1, 2012 for fall 2012 travel, Oct. 1 2012 for spring 2013 travel)
Submit the following materials directly to Liz Wondell (building 51, suite 2500) by the application deadline.
 UNF COAS APPLICATION, Recommendation Letter, Essay, and UNF unofficial Transcripts.
 UH APPLICATION GUIDLINES AND APPLICATION: Do not complete the following sections – Work Experience,
Statement of Referee, & Second Choice of Courses. TIP – Under Finance and Fee Status select "other" and write in
"exchange"
 UH Class Selection Form: Students must take exactly 4 modules per semester (Meet w/ your Advisor for assistance
with this form)
 Copy of valid passport
 Updated resume
 2 passport-sized photos (2 additional photos should be presented at UH orientation)
STEP 1: PHOTOCOPY OF PASSPORT
All students need a valid passport for the duration of their stay abroad. U.S. passport forms and directions are available at
the U.S. Department of State Passport Services. Students need to either email a clear, color scan of the photo/signature
page of their valid passport to Liz Wondell at [email protected] or bring the passport to the COAS Academic Advising office
(building 51, suite 2500).
STEP 2: INTERNATIONAL CENTER INFORMATION FORM
Meet with the UNF International Center Study Abroad Advisor to discuss your plans to go abroad. You will be given an
information packet which needs to be returned to the International Center (Student Union East, Rm 2300) along with a
copy of your student visa and International Health insurance information (once obtained).
STEP 3: COURSE APPROVALS
Courses taken abroad must first be approved by the College of Arts and Sciences before they can count toward a student's
degree.
 Schedule an appointment to meet with your academic advisor. (904-620-2797)
 During your advising session you and your advisor will determine what requirements you have remaining to earn
your degree. Once this is determined you can begin looking at the available courses for your chosen semester(s)
abroad. If the course is known to be an approved equivalent course based on the COAS/UH equivalency database
then its transferability will already be known. If the course has not yet been reviewed by an Academic Chair then a
syllabi will need to be obtained and sent for review to the appropriate chair before the advisor can determine its
usage in your major.
 Complete the LEARNING AGREEMENT: PRE-TRAVEL COURSE APPROVAL FORM along with a
CONCURRENT/TRANSIENT ENROLLMENT FORM.
STEP 4: ATTEND PRE-DEPARTURE MEETINGS
All students are required to attend a pre-departure & safety meeting held by the International Center prior to departure,
and a pre-departure orientation held by COAS Academic Advising (building 51, suite 2500).
STEP 5: REGISTRATION
Liz Wondell will give you permission to enroll in XAS4000 International Exchange Program (15 undergraduate hours) at the
UNF term that you will be abroad.
 Register and pay for XAS4000 by the posted UNF deadline
 Complete the LEARNING AGREEMENT: VERIFICATION OF COURSE REGISTRATION when you register at UH as
defined by the study abroad program.(FINANCIAL AID CANNOT BE DISPURSED UNTIL WE HAVE THIS FORM)
Accommodations
Hertfordshire encourages exchange students to apply early for on-campus accommodation, which is only guaranteed for
students spending two semesters at UH. All university accommodations are self catering and meal plans are not available.
At College Lane Campus the accommodation is fully furnished with mainly single bedrooms and shared
bathrooms/showers. At de Havilland Campus there are fully furnished single study bedrooms. All rooms have internet
access. Please note that students will be asked to pay for their accommodation in full on arrival.
Academic Calendar
The fall semester (Semester A) runs from mid-September to mid-January; the spring semester (Semester B) runs from late
January to late May. Students attending Semester A may arrange to leave at the end of December and take proctored
exams at UNF in January.
Visa & Health Insurance Information
Students are required to individually obtain the necessary visa for study abroad prior to departure. Most semester
programs are more than 90 days. Students should visit the U.S. Department of State webpage which links to each country's
Embassy. Many visa applications must be made in person — please plan ahead! For additional visa information and to
discuss UNF's requirement for health insurance coverage, please visit UNF's International Center (Building 58E, Room 2300).