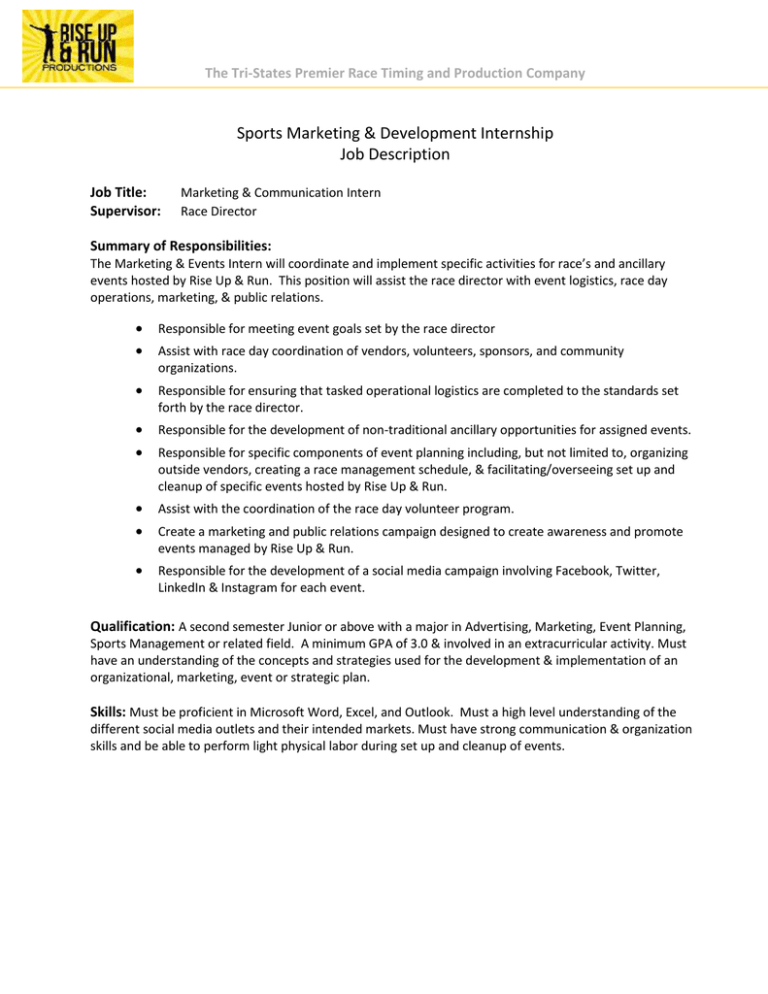 The Tri-States Premier Race Timing and Production Company
Sports Marketing & Development Internship
Job Description
Job Title:
Supervisor:
Marketing & Communication Intern
Race Director
Summary of Responsibilities:
The Marketing & Events Intern will coordinate and implement specific activities for race's and ancillary
events hosted by Rise Up & Run. This position will assist the race director with event logistics, race day
operations, marketing, & public relations.


Responsible for meeting event goals set by the race director

Responsible for ensuring that tasked operational logistics are completed to the standards set
forth by the race director.


Responsible for the development of non-traditional ancillary opportunities for assigned events.

Assist with the coordination of the race day volunteer program.

Create a marketing and public relations campaign designed to create awareness and promote
events managed by Rise Up & Run.

Responsible for the development of a social media campaign involving Facebook, Twitter,
LinkedIn & Instagram for each event.
Assist with race day coordination of vendors, volunteers, sponsors, and community
organizations.
Responsible for specific components of event planning including, but not limited to, organizing
outside vendors, creating a race management schedule, & facilitating/overseeing set up and
cleanup of specific events hosted by Rise Up & Run.
Qualification: A second semester Junior or above with a major in Advertising, Marketing, Event Planning,
Sports Management or related field. A minimum GPA of 3.0 & involved in an extracurricular activity. Must
have an understanding of the concepts and strategies used for the development & implementation of an
organizational, marketing, event or strategic plan.
Skills: Must be proficient in Microsoft Word, Excel, and Outlook. Must a high level understanding of the
different social media outlets and their intended markets. Must have strong communication & organization
skills and be able to perform light physical labor during set up and cleanup of events.