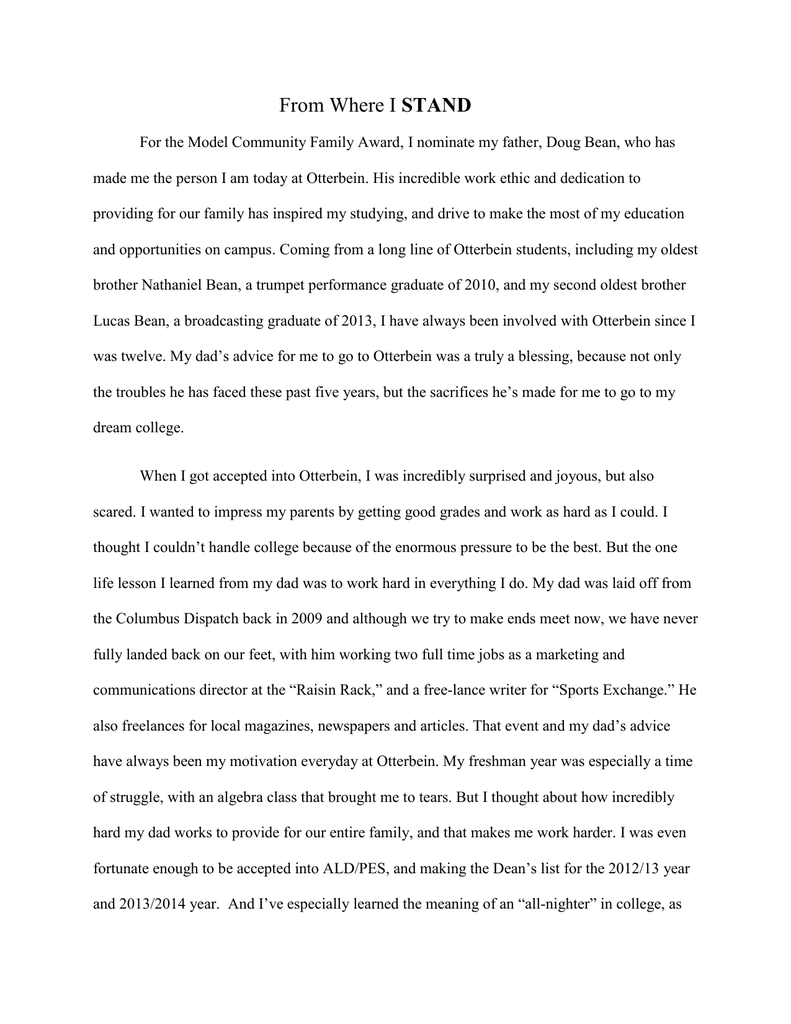 From Where I STAND
For the Model Community Family Award, I nominate my father, Doug Bean, who has
made me the person I am today at Otterbein. His incredible work ethic and dedication to
providing for our family has inspired my studying, and drive to make the most of my education
and opportunities on campus. Coming from a long line of Otterbein students, including my oldest
brother Nathaniel Bean, a trumpet performance graduate of 2010, and my second oldest brother
Lucas Bean, a broadcasting graduate of 2013, I have always been involved with Otterbein since I
was twelve. My dad's advice for me to go to Otterbein was a truly a blessing, because not only
the troubles he has faced these past five years, but the sacrifices he's made for me to go to my
dream college.
When I got accepted into Otterbein, I was incredibly surprised and joyous, but also
scared. I wanted to impress my parents by getting good grades and work as hard as I could. I
thought I couldn't handle college because of the enormous pressure to be the best. But the one
life lesson I learned from my dad was to work hard in everything I do. My dad was laid off from
the Columbus Dispatch back in 2009 and although we try to make ends meet now, we have never
fully landed back on our feet, with him working two full time jobs as a marketing and
communications director at the "Raisin Rack," and a free-lance writer for "Sports Exchange." He
also freelances for local magazines, newspapers and articles. That event and my dad's advice
have always been my motivation everyday at Otterbein. My freshman year was especially a time
of struggle, with an algebra class that brought me to tears. But I thought about how incredibly
hard my dad works to provide for our entire family, and that makes me work harder. I was even
fortunate enough to be accepted into ALD/PES, and making the Dean's list for the 2012/13 year
and 2013/2014 year. And I've especially learned the meaning of an "all-nighter" in college, as
my dad will sometimes stay up until 5 a.m. finishing a story for a web article. Nothing I
experience will ever be as difficult as what he's been through, and is my driving force in
studying at Otterbein.
I'm also very blessed that my dad has allowed me to pursue my passion, which happens
to be reading, writing, and analyzing literature and art. Currently I'm studying as an English
major with a minor in studio art, and I'm so grateful my dad fully supports me. Of course I'm
scared about whether or not I'll find a job right away after graduation, but my dad's advice just
pushes me further by doing whatever I can to gain job experience, like applying for internships,
work study in the Otterbein library, attending lectures and events hosted by the CCPD, and my
recent participation in the Ottership program, where I job-shadowed an Otterbein alumni for a
day. My dad truly motivates my pursuit to do what I love, while participating in the wonderful
job and networking opportunities on campus.
This lesson of hard work has encouraged, and will continue my entire experience at
Otterbein. It's a blessing to go to my dream college, and to have my dad work so hard for me to
go here means the world. His effort to provide for our family of eight is amazing, and having to
experience a lay-off and start over back to the beginning makes me want to do my best at
Otterbein, my job, and my future career. I don't think I'd ever have gotten this far in my
education, nor would I ever think it possible to make it in college, without the inspiration of my
dad. He has shaped me into the person I am today and I look forward to continuing my
wonderful experience at Otterbein University. My dad is my hero, inspiration, and model to my
Otterbein experience.