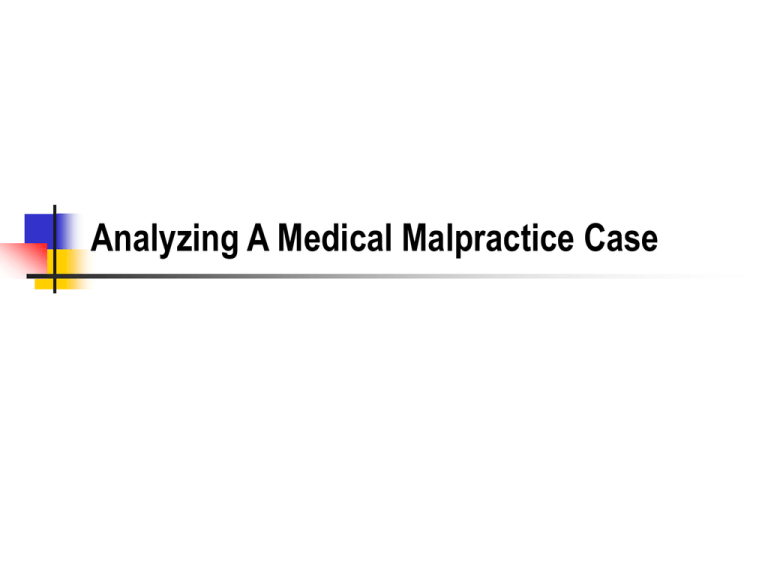 Analyzing A Medical Malpractice Case
Who Drives the Litigation Machine?


Plaintiffs' lawyers have the burden of finding and
bringing the cases
 Running cases
 Lots of conflicts, some prosecutions
Defense lawyers have to hustle insurance
companies and medical businesses
 Just as ruthless, but more dignified
How do Tort Lawyers Get Paid?


Plaintiff lawyers
 Contingent fees
 1/3 to 50%
 plus expenses, many want expenses
reimbursed or fronted by the client, but it varies
Defense lawyers
 Traditionally by the hour, plus expenses
 Some are now on bids
What are the Incentives for Plaintiff
Lawyers?





Pick big cases
Work them as cheaply as possible until you are
sure they are good
Drop them if they turn out to be hard
 Different from criminal law - it is always an
economic decision
Settle when you can
Winning is good even if you lose on appeal
What are the Incentives for Defense
Lawyers?


Hourly
 Drag everything out
 Be careful to not do critical things until the end
 Lots of dilatory practice
Fixed fee
 See plaintiff's lawyers
What is the Starting Point?




Damages
 Injury
 More loveable than the defendants
A person with legal standing to bring the claim
The prima facie case you have to present to jury to be
allowed to get a verdict
 Usually defined by the jury instructions
The expert testimony to establish standard of care,
breech, and causation
Plaintiffs





Who is the patient?
Who else is claiming an injury?
 Spouse/Ex-spouse?
 Parents?
 Common law relatives?
 Bystanders?
Who has the legal right/duty to bring a claim?
What are the conflicts of interest?
Who can you trust?
 Are you sure?
Physician Defendants





Who does the patient think did wrong?
Who was the primary physician?
Where there any consultants?
Where there any hospital based physicians?
 You will need to review the records carefully to look
for hidden physicians
What are the legal relationships between the physicians
and with any employers or contractors?
Non-Physician Defendants



Paramedical personnel
 Nurse practitioners?
 Physician's assistants?
 Nurse anesthetists?
 Other paramedical personnel
Who is the employer?
Who has the legal duty to supervise?
Corporate Defendants



Hospital
 Vicarious liability for employees
 Negligent supervision or retention of
contractors
Laboratories
Product manufacturers and sellers
Proof = Facts


You win cases on facts and expert testimony, not
on tort theories
Where do you find facts?
 Medical records
 Witness interviews
 Informers
 Detectives
Physician office records




Patient charts
Appointment books
Any other records
Physician's personal diary and records
Hospital records







Chart
Nurses' notes
Physician's notes
Physician's orders
Vital signs
Tests
Consent forms
Off-chart records








Private notes by staff
Cardex
Pharmacy records
Lab records
Risk management records
Billing office records
Pharmacy records
Independent lab records
Fact Witnesses


Who knows something?
Who did they tell?
What was the negligence?




Systems errors?
Individual negligence?
Cover-up?
Bad faith?
Timeline Analysis



Grid
Who knew what and when?
Be able to show the jury the timeframe
Timeline Analysis
Person
1:00 PM
ER Nurse
Checked
in patient
ER Doc
2:30
4:00
6:00
Noticed
bleeding
Saw
patient
Told of
bleeding
Analyzing Cases





Does the plaintiff get money from the ruling?
What is not in the case?
 Settling parties
 Unappealed issues
What is the timeline of the facts?
What is the legal issue?
How does the ruling deal with the legal issue?