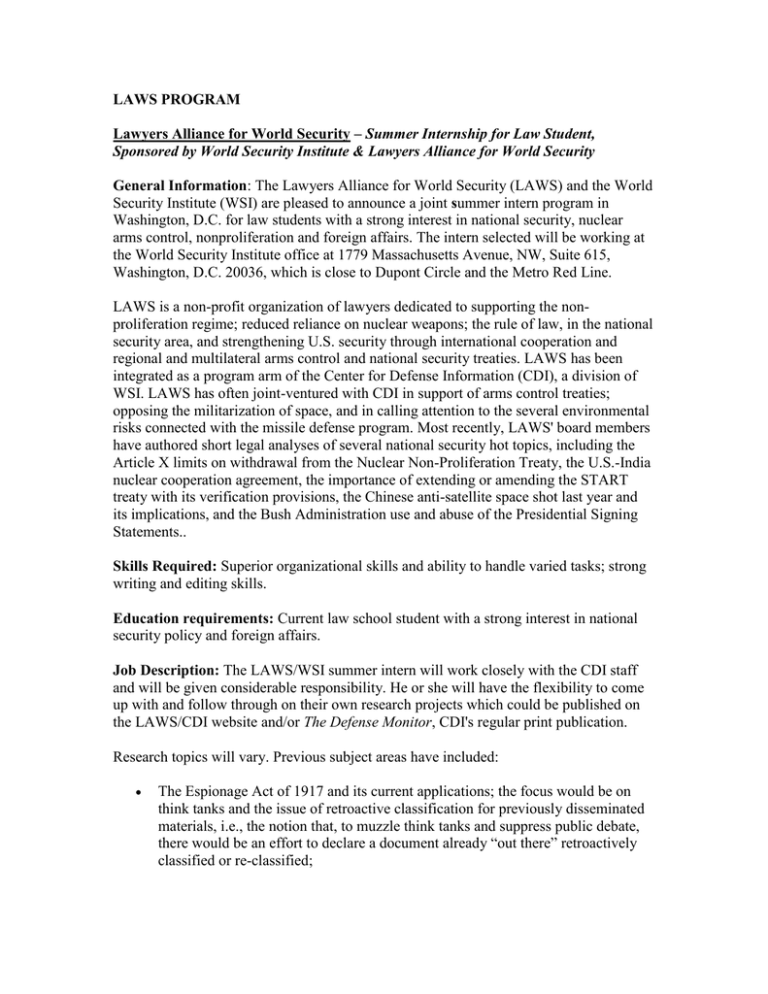 LAWS PROGRAM
Lawyers Alliance for World Security – Summer Internship for Law Student,
Sponsored by World Security Institute & Lawyers Alliance for World Security
General Information: The Lawyers Alliance for World Security (LAWS) and the World
Security Institute (WSI) are pleased to announce a joint summer intern program in
Washington, D.C. for law students with a strong interest in national security, nuclear
arms control, nonproliferation and foreign affairs. The intern selected will be working at
the World Security Institute office at 1779 Massachusetts Avenue, NW, Suite 615,
Washington, D.C. 20036, which is close to Dupont Circle and the Metro Red Line.
LAWS is a non-profit organization of lawyers dedicated to supporting the nonproliferation regime; reduced reliance on nuclear weapons; the rule of law, in the national
security area, and strengthening U.S. security through international cooperation and
regional and multilateral arms control and national security treaties. LAWS has been
integrated as a program arm of the Center for Defense Information (CDI), a division of
WSI. LAWS has often joint-ventured with CDI in support of arms control treaties;
opposing the militarization of space, and in calling attention to the several environmental
risks connected with the missile defense program. Most recently, LAWS' board members
have authored short legal analyses of several national security hot topics, including the
Article X limits on withdrawal from the Nuclear Non-Proliferation Treaty, the U.S.-India
nuclear cooperation agreement, the importance of extending or amending the START
treaty with its verification provisions, the Chinese anti-satellite space shot last year and
its implications, and the Bush Administration use and abuse of the Presidential Signing
Statements..
Skills Required: Superior organizational skills and ability to handle varied tasks; strong
writing and editing skills.
Education requirements: Current law school student with a strong interest in national
security policy and foreign affairs.
Job Description: The LAWS/WSI summer intern will work closely with the CDI staff
and will be given considerable responsibility. He or she will have the flexibility to come
up with and follow through on their own research projects which could be published on
the LAWS/CDI website and/or The Defense Monitor, CDI's regular print publication.
Research topics will vary. Previous subject areas have included:

The Espionage Act of 1917 and its current applications; the focus would be on
think tanks and the issue of retroactive classification for previously disseminated
materials, i.e., the notion that, to muzzle think tanks and suppress public debate,
there would be an effort to declare a document already "out there" retroactively
classified or re-classified;





Legal issues surrounding the use of conventional and nuclear weapons against
Iran and possibly Iran's withdrawal from the NPT;
Options for extending or amending the START treaty;
The potential illegality of China's ASAT Test;
Legal questions pertaining to property rights in space, mining on planets, private
space stations, etc.; and
Space debris regulations, with a focus on anti-satellite weaponization and/or
debris liability, perhaps looking at the Chinese demolition of their own satellite
and resulting hazards interfering with the peaceful use of space.
Eligibility: The LAWS/WSI summer internship is open to current law school students
with a strong interest in national security policy and foreign affairs. Strong writing
capabilities, prior experience in the LAWS/WSI issue areas through related course work
or work experience, and solid computer skills are appreciated.
Compensation: World Security Institute interns are paid $1,000 per month. In some
cases by pre-arrangement, interns may earn academic credit. Interns are responsible for
obtaining their own housing.
All new hires, when applying, are required to present appropriate identifying documents
and documentation of authorization to work in the United States. Interns are responsible
for obtaining their own travel and visa arrangements; WSI does not serve as a sponsor for
intern work authorization. If you are not a U.S. citizen, please inform yourself as to the
options available for gaining work authorization, the costs, and the time frame.
How to Apply: We will be accepting applications until March 15; however, we
encourage applicants to send their resumes as quickly as possible to ensure our
consideration.
The projected start date for this position is June 1 running through August 31.
A complete application includes: e-mail address; resume; cover letter; writing sample
(3-5 pages in length is sufficient); transcripts of your law school courses and grades; two
letters of recommendation; your country of citizenship and, if not the United States, the
availability of appropriate work authorization.
Electronic material: Any materials available electronically may be sent by e-mail as long
as they bear the name of the candidate. The subject line should contain the following:
"Summer 2009 LAWS/WSI Internship."
Please send all materials to: Professor Stephen Dycus, Vermont Law School, Chelsea
Street, South Royalton, VT 05068, or by e-mail: sdycus@vermontlaw.edu.
More Information: For more information on the World Security Institute and the
Lawyers Alliance for World Security, please visit our websites:
www.worldsecurityinstitute.org, or www.cdi.org/LAWS/.