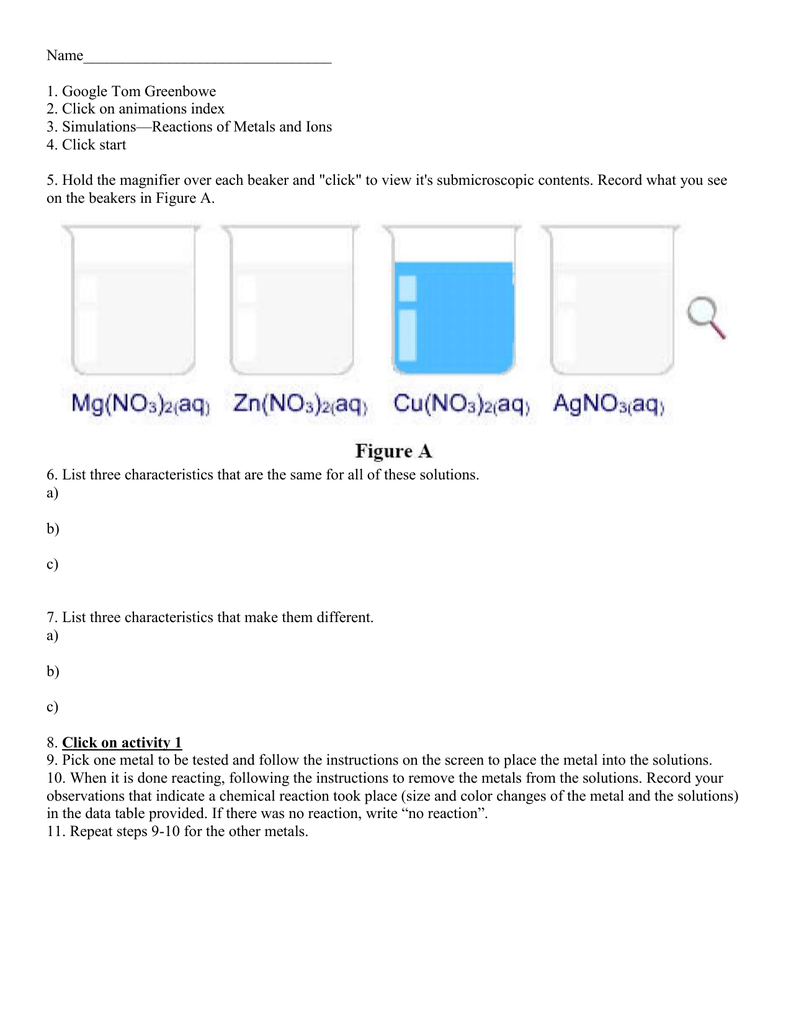 Name________________________________
1. Google Tom Greenbowe
2. Click on animations index
3. Simulations—Reactions of Metals and Ions
4. Click start
5. Hold the magnifier over each beaker and "click" to view it's submicroscopic contents. Record what you see
on the beakers in Figure A.
6. List three characteristics that are the same for all of these solutions.
a)
b)
c)
7. List three characteristics that make them different.
a)
b)
c)
8. Click on activity 1
9. Pick one metal to be tested and follow the instructions on the screen to place the metal into the solutions.
10. When it is done reacting, following the instructions to remove the metals from the solutions. Record your
observations that indicate a chemical reaction took place (size and color changes of the metal and the solutions)
in the data table provided. If there was no reaction, write "no reaction".
11. Repeat steps 9-10 for the other metals.
Mg+2(NO3)2(aq)
Zn+2(NO3)2(aq)
Cu+2(NO3)2(aq)
Ag+(NO3) (aq)
Mg(s)
Cu(s)
Zn(s)
Ag(s)
Which metal reacted in the most solutions?____
Which solution had the most metals react in it?
Molecular Scale Observation
1. Click on the button at the bottom of the simulation that says "Molecular Scale Reactions".
2. Drag the zinc metal and place it into the copper nitrate solution.
3. Watch carefully as the atoms and ions interact. Watch the step by step simulation.
a. What atom/ion was oxidized? ______
b. What atom/ion did it (answer to a) become? ______
c. What atom/ion was reduced? ______
d. What atom/ion did it (answer to c) become? ______
e. How many electrons are exchanged? _____
f. What metal was formed and what did you see happen in activity 1 that verified this?