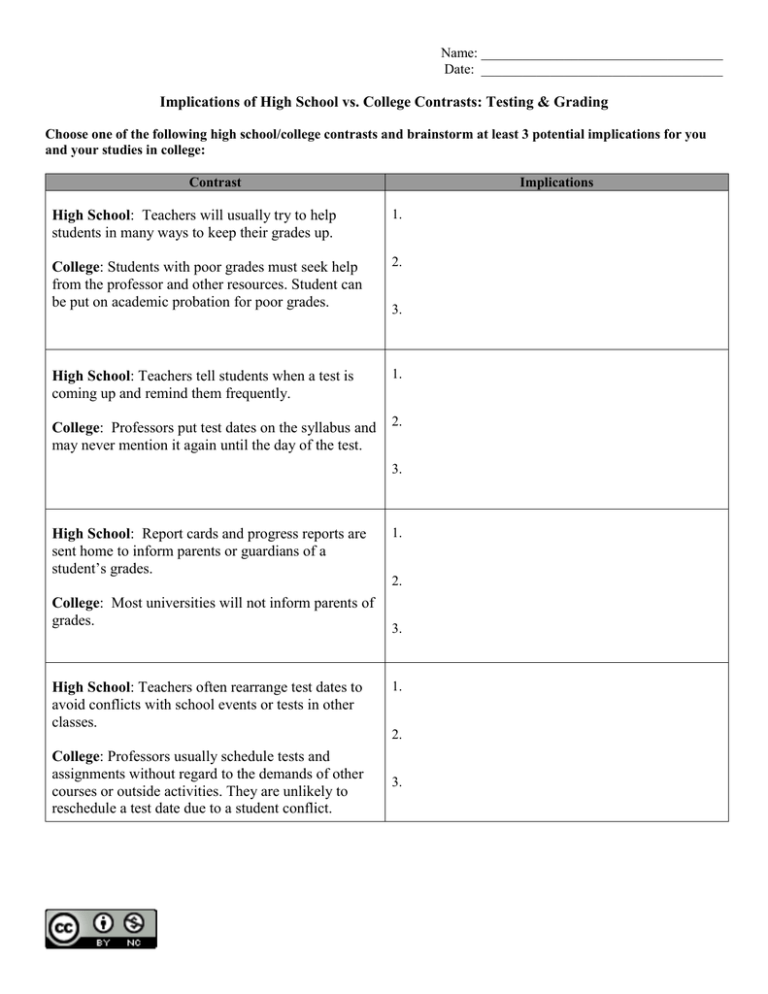 Name: ___________________________________
Date: ___________________________________
Implications of High School vs. College Contrasts: Testing & Grading
Choose one of the following high school/college contrasts and brainstorm at least 3 potential implications for you
and your studies in college:
Contrast
Implications
High School: Teachers will usually try to help
students in many ways to keep their grades up.
1.
College: Students with poor grades must seek help
from the professor and other resources. Student can
be put on academic probation for poor grades.
2.
High School: Teachers tell students when a test is
coming up and remind them frequently.
1.
College: Professors put test dates on the syllabus and
may never mention it again until the day of the test.
2.
3.
3.
High School: Report cards and progress reports are
sent home to inform parents or guardians of a
student's grades.
College: Most universities will not inform parents of
grades.
High School: Teachers often rearrange test dates to
avoid conflicts with school events or tests in other
classes.
College: Professors usually schedule tests and
assignments without regard to the demands of other
courses or outside activities. They are unlikely to
reschedule a test date due to a student conflict.
1.
2.
3.
1.
2.
3.