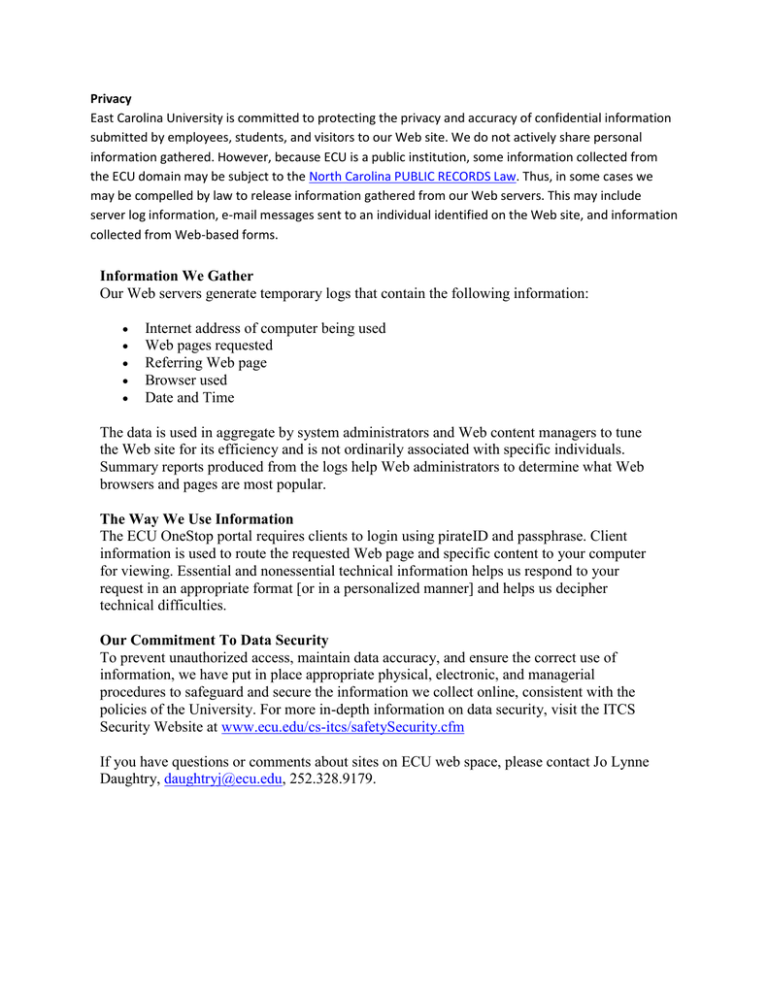 Privacy
East Carolina University is committed to protecting the privacy and accuracy of confidential information
submitted by employees, students, and visitors to our Web site. We do not actively share personal
information gathered. However, because ECU is a public institution, some information collected from
the ECU domain may be subject to the North Carolina PUBLIC RECORDS Law. Thus, in some cases we
may be compelled by law to release information gathered from our Web servers. This may include
server log information, e-mail messages sent to an individual identified on the Web site, and information
collected from Web-based forms.
Information We Gather
Our Web servers generate temporary logs that contain the following information:





Internet address of computer being used
Web pages requested
Referring Web page
Browser used
Date and Time
The data is used in aggregate by system administrators and Web content managers to tune
the Web site for its efficiency and is not ordinarily associated with specific individuals.
Summary reports produced from the logs help Web administrators to determine what Web
browsers and pages are most popular.
The Way We Use Information
The ECU OneStop portal requires clients to login using pirateID and passphrase. Client
information is used to route the requested Web page and specific content to your computer
for viewing. Essential and nonessential technical information helps us respond to your
request in an appropriate format [or in a personalized manner] and helps us decipher
technical difficulties.
Our Commitment To Data Security
To prevent unauthorized access, maintain data accuracy, and ensure the correct use of
information, we have put in place appropriate physical, electronic, and managerial
procedures to safeguard and secure the information we collect online, consistent with the
policies of the University. For more in-depth information on data security, visit the ITCS
Security Website at www.ecu.edu/cs-itcs/safetySecurity.cfm
If you have questions or comments about sites on ECU web space, please contact Jo Lynne
Daughtry, daughtryj@ecu.edu, 252.328.9179.