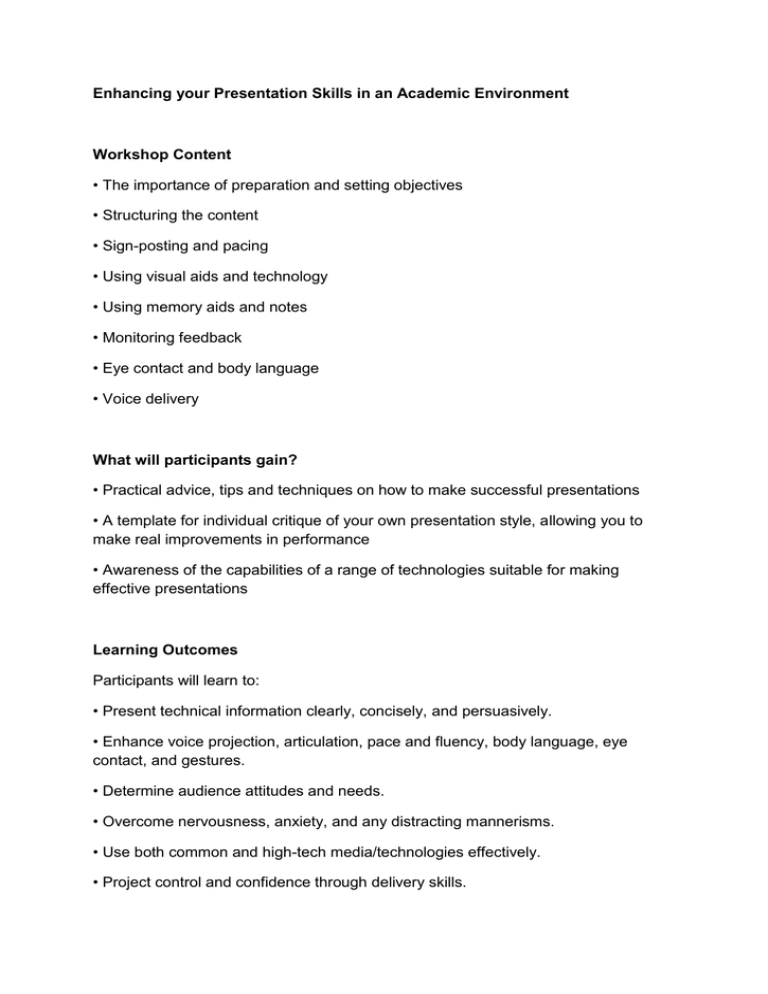 Enhancing your Presentation Skills in an Academic Environment
Workshop Content
• The importance of preparation and setting objectives
• Structuring the content
• Sign-posting and pacing
• Using visual aids and technology
• Using memory aids and notes
• Monitoring feedback
• Eye contact and body language
• Voice delivery
What will participants gain?
• Practical advice, tips and techniques on how to make successful presentations
• A template for individual critique of your own presentation style, allowing you to
make real improvements in performance
• Awareness of the capabilities of a range of technologies suitable for making
effective presentations
Learning Outcomes
Participants will learn to:
• Present technical information clearly, concisely, and persuasively.
• Enhance voice projection, articulation, pace and fluency, body language, eye
contact, and gestures.
• Determine audience attitudes and needs.
• Overcome nervousness, anxiety, and any distracting mannerisms.
• Use both common and high-tech media/technologies effectively.
• Project control and confidence through delivery skills.
• Structure presentations to gain maximum effect.
• Use audience involvement techniques to identify and handle questions.
• Set up a specific reflective action plan to improve participant's presentations in an
academic environment.