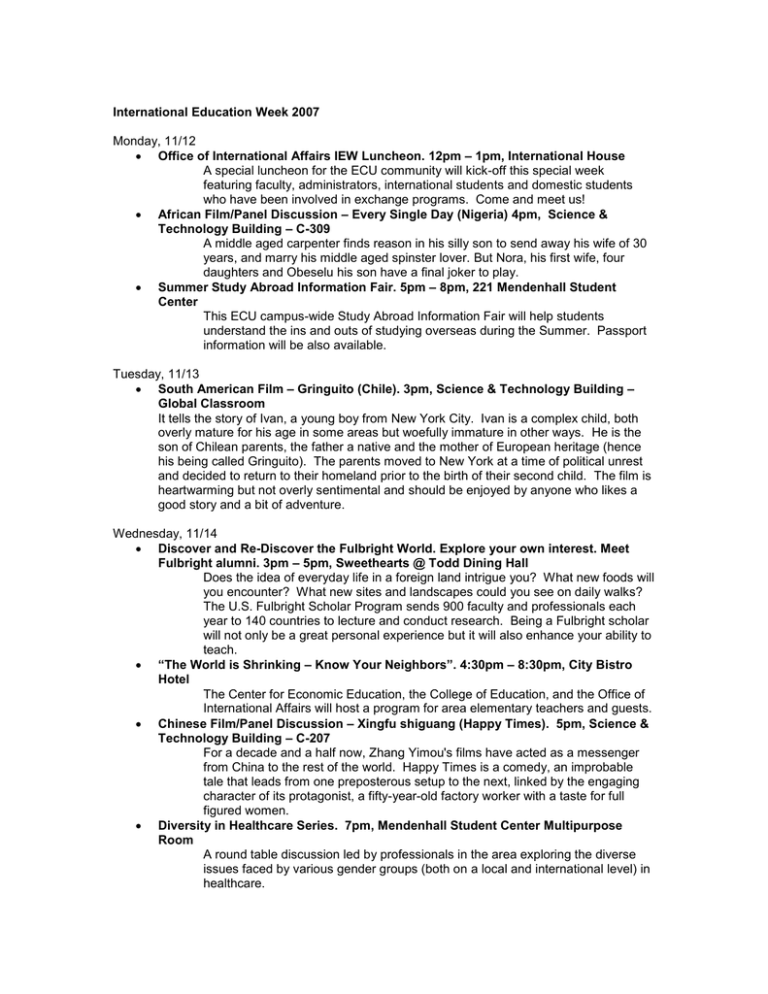 International Education Week 2007
Monday, 11/12
 Office of International Affairs IEW Luncheon. 12pm – 1pm, International House
A special luncheon for the ECU community will kick-off this special week
featuring faculty, administrators, international students and domestic students
who have been involved in exchange programs. Come and meet us!
 African Film/Panel Discussion – Every Single Day (Nigeria) 4pm, Science &
Technology Building – C-309
A middle aged carpenter finds reason in his silly son to send away his wife of 30
years, and marry his middle aged spinster lover. But Nora, his first wife, four
daughters and Obeselu his son have a final joker to play.
 Summer Study Abroad Information Fair. 5pm – 8pm, 221 Mendenhall Student
Center
This ECU campus-wide Study Abroad Information Fair will help students
understand the ins and outs of studying overseas during the Summer. Passport
information will be also available.
Tuesday, 11/13
 South American Film – Gringuito (Chile). 3pm, Science & Technology Building –
Global Classroom
It tells the story of Ivan, a young boy from New York City. Ivan is a complex child, both
overly mature for his age in some areas but woefully immature in other ways. He is the
son of Chilean parents, the father a native and the mother of European heritage (hence
his being called Gringuito). The parents moved to New York at a time of political unrest
and decided to return to their homeland prior to the birth of their second child. The film is
heartwarming but not overly sentimental and should be enjoyed by anyone who likes a
good story and a bit of adventure.
Wednesday, 11/14
 Discover and Re-Discover the Fulbright World. Explore your own interest. Meet
Fulbright alumni. 3pm – 5pm, Sweethearts @ Todd Dining Hall
Does the idea of everyday life in a foreign land intrigue you? What new foods will
you encounter? What new sites and landscapes could you see on daily walks?
The U.S. Fulbright Scholar Program sends 900 faculty and professionals each
year to 140 countries to lecture and conduct research. Being a Fulbright scholar
will not only be a great personal experience but it will also enhance your ability to
teach.
 "The World is Shrinking – Know Your Neighbors". 4:30pm – 8:30pm, City Bistro
Hotel
The Center for Economic Education, the College of Education, and the Office of
International Affairs will host a program for area elementary teachers and guests.
 Chinese Film/Panel Discussion – Xingfu shiguang (Happy Times). 5pm, Science &
Technology Building – C-207
For a decade and a half now, Zhang Yimou's films have acted as a messenger
from China to the rest of the world. Happy Times is a comedy, an improbable
tale that leads from one preposterous setup to the next, linked by the engaging
character of its protagonist, a fifty-year-old factory worker with a taste for full
figured women.
 Diversity in Healthcare Series. 7pm, Mendenhall Student Center Multipurpose
Room
A round table discussion led by professionals in the area exploring the diverse
issues faced by various gender groups (both on a local and international level) in
healthcare.
Thursday, 11/15
 Bollywood Film – Lage Raho Munna Bhai (India, 2006). 3pm, Science & Technology
Building – C-309
This Indian musical comedy film is the second film in the popular Munna Bhai series
of Bollywood. Sanjay Dutt stars in this film as Munna Bhai, a Mumbai (Bombay)
underworld don, who begins to see the spirit of Mahatma Gandhi. Through his
interactions with the image of Gandhi, Munna Bhai begins to practice what he calls
Gandhigiri (Satyagraha, non-violence, and truth) to help ordinary people solve their
problems.
Friday, 11/16
 International Student Social – A Taste of India. 3pm – 5pm, International House
Come to our international student social where there will be samples of delicious
Indian cuisine.
 Countdown to Peace Exhibition Reception. 6pm, Mendenhall Student Center
Gallery
ECU faculty, Jodi Hollnger and Catherine Billingsly will host the "Countdown to
Peace" Art Exhibition highlighting the importance of global peace-movements by
exploring artworks in various medias.
Other Events
Saturday, 11/17
 Cultural Explosion: "Broadcasting the World's Talent". 4pm to 6pm, Mendenhall
Student Center Hendrix Theater
The African Student Organization (along with several other student groups) is
sponsoring a fashion show, diverse song and cultural dance. This special event
is meant to share ECU's ethnic pride and artistic variety.